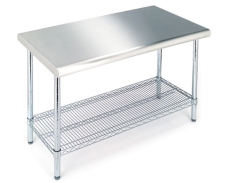 People are starting to see the value of best stainless steel tables for home applications from the kitchen to the hobby room, even the work shop or garage storage.
There are a lot of reasons why they work so well for such unforeseen uses, primarily the sanitary nature of them meaning they don't really rust and are easy to clean. They last quite some time longer than traditional tables under some conditions.
Choosing the right table isn't as cut and dry as you might initially think. It's true that all stainless steel is regulated and meets certain standards, which makes the materials issue less of a concern than with other, non-utility furniture. There are a number of things to consider, and one table isn't perfect for everyone.
Let's take a moment to look at the top ones on the regular market, and see which ones are the most suited for what conditions. What we learn about the extent to which these tables can be useful may surprise us!
Best Stainless Steel Tables of 2018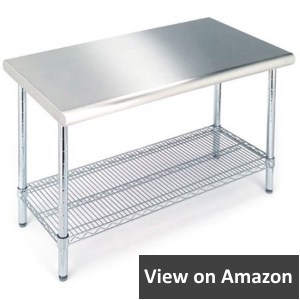 The first and most obvious slightly unconventional use of these tables is obviously home kitchens. Wheeled stainless steel tables are convenient for adding some easy-to-clean counter space that can easily rolled out of the way when no longer needed.
They can double as some extra shelf space as well, which can also be at a premium in home kitchens.
While not "pretty", they also make good serving carts when entertaining.
Seville is a leading brand in commercial kitchen solutions, which makes their products of extra interest when bringing such things into the home.
Packaging
This 49x24x35.4" table comes with wheels (depending on the listing!) and stationary feet, easily swapped out. Assembly is required, but is not difficult. The table is understandably heavy, at 52 pounds.
Performance and Technical Issues
This table is honestly a little too small for the larger commercial applications in large kitchens, and is definitely too small for any medical uses. It might be a tad cumbersome and large for some home kitchen uses as well.
If it needs to be put completely away when not being used, it may be hard to find a permanent home for something this bulky.
Moving this table without the wheels would be tiring, as it's quite heavy. The wheels do help with this, but installing them after the fact still involves handling a lot of weight, to get it upside down and back up again.
The grid work shelves may be a pain to clean if the table is used for messy food prep.
Is it Recommended?
While it could stand to either be a bit bigger or a bit smaller depending on its destination, this table would be a good serving cart, and easy to clean extra bit of counter space and good extra storage. Granted, tables like these don't add to the aesthetic value of a kitchen, but they're not hideous, and the practicality of them makes It a more than fair tradeoff.
This is a good table for home use if any steel table is.
Pros
While a bit bulky, is an excellent source of extra counter space.
Wheels make otherwise very heavy table easy to move.
Makes a good serving table, if a tad bleak and austere in appearance.
Easy to keep sanitary.
Cons
The table is heavy, making adding/removing the wheels an ordeal.
It's small for commercial use, but a bit space-hogging for home use.
Surface is easy to clean, but the shelf not so much.
FAQ About this Product
Q: Could this hold a countertop dishwasher?
A: Absolutely. This table is rated to hold about 1,000 pounds. An SPT dish washer would fit perfectly on this table, and is another great use for it.
Q: Can extra shelves be purchased?
A: Unfortunately, extra shelves cannot be purchased outside of the kit.
Q: I didn't buy mine online, and I am missing wheels. Can I order them?
A: Yes, but some listings include a set of wheels. Be sure you purchase this from the right source and listing, where all the necessary parts are provided at a reasonable price.
2. Gridmann NSF 18 gauge – Stainless Steel Commercial Work Table for Small Kitchens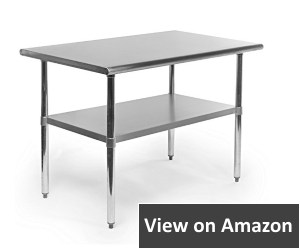 Commercial kitchens come in all sizes and have varied needs. Smaller kitchens for smaller restaurants and bistros don't have the space for large steel tables. This doesn't change the fact that sanitary surfaces and good shelf space are a must in these kitchens, however.
While compatible with wheels, this is designed to be a stationary table, making it most fit for smaller but commercial kitchens where its presence isn't obtrusive.
This Gridmann may have the advantage over the Seville for commercial kitchens due to the solid second shelf, rather than a grate.
Packaging
This 48×24 table weighs about the same as the Seville at around 50 pounds, and has a similar difficulty level for assembly (read: not very). No listings seem to include wheels, furthering the intentions of this table to be a stationary part of a kitchen.
Performance and Technical Issues
This table's asymmetrical, meaning the top occupies a fixed amount of space, but the second shelf does not offer the same surface for space used. This can be problematic if space is that much at a premium.
The lack of any offers including wheels limits the immediate uses and convenience of such a table. It's too expensive to be used as home storage, and its non-mobile packaging means it'd be a nuisance in a home kitchen.
Is it Recommended?
This table is likely to be a good fit for smaller commercial kitchens. It's a little too small for big kitchens, requiring several of them to provide the space needed. Putting multiple tables end to end means the bottom shelves will have considerable gaps as well.
The bottom shelf is an excellent storage place, and the surface is nice and large for its scope. For a small commercial kitchen, this should do quite nicely.
Pros
Ideal size for small commercial kitchens.
Solid bottom shelf is good storage.
Can handle considerable weight and is pretty resistant against scratching.
Cons
Too cumbersome without wheels, to suit home use.
Too small for large commercial kitchens.
Bottom shelf is smaller than the top.
FAQ About this Product
Q: How much weight can the bottom shelf hold?
A: Easily 200 pounds or more. This is a rigid, sturdy table intended to take abuse like that. It can hold heavy kitchen appliances.
Q: Does this table have a backsplash?
A: No, backsplashes tend to be part of costlier tables most of the time. This is a relatively budget (but quality) basic table.
Q: Will the legs accept casters?
A: it may be slightly tricky finding ones that fit, but casters can be go on the legs, absolutely.
Q: Will this hold a small portable over?
A: This table could hold a small floor model oven, were it not for the physical area difference.
3. TRINITY EcoStorage – Stainless Steel Kitchen Work Table with Wheels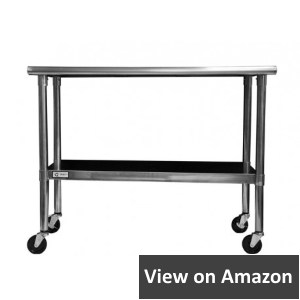 Caterers have traditionally had it rough. Their tables and serving carts are often inconvenient and not the sturdiest of designs, leading to a lot of accidents and equipment having to be replaced.
While it may be considered by some to be a tad unorthodox to have commercial tables out in serving areas, this simple, attractive table won't offend the senses.
This is one of the rarer, automatically wheeled tables, which makes it of special interest for any application that needs the mobility. This could also include in home care for the immobile, room service in hotels, the sky is really the limit.
Packaging
This 24x48x38.5" table includes wheels, is very easy to assemble, and weighs a little over 51 pounds.
Performance and Technical Issues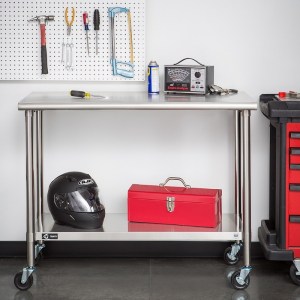 This table is mobile by design, which may make it helpful for some kitchen preparation processes, but actually makes it a nuisance most of the time.
While the wheeled nature of it is ideal for serving and transporting, the lack of a hand rail or other grips can make it a bit obtuse to actually control and maneuver it at times.
The wheels also mean that it's ill-suited for storage or any other use stationary tables may get. The wheels can lock, but this still provides less of a stable, in-place state for them than casters would.
The bottom shelf has a guard around it, making cleaning a bit difficult – there's nowhere for the water to go.
Its weight capacity is a bit diminished due to the wheels, being only 150 pounds per shelf. This further limits its applications outside serving.
Is it Recommended?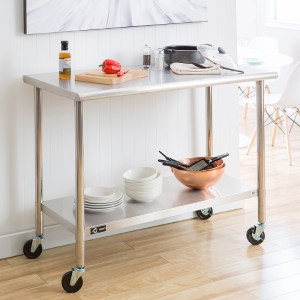 This table finds itself unable to really be what it's designed for, because of the wheels and the reduced weight capacity.
It'd be fine for eliminating carrying dangerous hot food around during prep, but the lack of maneuverability means this isn't as convenient as it would at first seem.
At the same time, as a serving cart, it's suited but the same lack of grips means it's a bit annoying to steer. However, for the price, which is quite a bit less than most serving carts of a similar caliber, the mild difficulty to maneuver this table is easily offset by the overall convenience.
Comparing this a lot of the tables and carts that caterers and similar services find themselves having to use, this table probably has quite a bit of appeal.
Being able to load the food onto this table, wheel it out and lock it into place would cut out a lot of time finagling things. If a nice cloth is tossed over it, the diners would never know the difference.
At the price, employing multiple tables like this to create the proper serving stations would likely be pretty convenient and straightforward as well.
Caterers should probably really look into this table.
Pros
Mobility and durable, sanitary materials make for a good serving cart for careering.
Good for temporary storage that can be reconfigured in layout.
Cons
Lack of grips or handles makes it hard to maneuver.
FAQ About this Product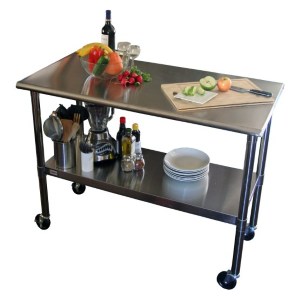 Q: Will this work for an outside barbeque area?
A: Certainly. The stainless steel construction doesn't mind being near heat and can stand up to rough weather pretty well.
Q: Will this table accept additional shelves?
A: Yes, in fact, Trinity sells them through their website. Be careful, though, as these may affect the durability of the wheels from added weight, and will reduce the weight acceptable for each shelf.
Q: Can this support a body, in an emergency?
A: It has been tested to support 300 pounds of distributed weight, but the wheels run a risk of collapsing at this upper limit. It could also tip, as human mass doesn't balance well. It's probably not a good idea to sit on this table.
4. TRINITY – Stainless Steel Fish Cleaning Outdoor Table, top general use solution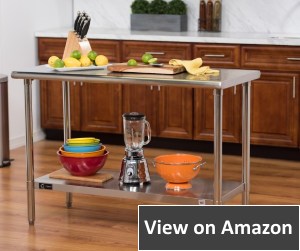 Stainless steel tables are values in modern times for their durability, and even the clean metallic look of them is beginning to be appreciated.
The ability to support a lot of weight, be easily-cleaned and taken apart and put back together has a lot of appeal to modern younger adults.
They simply don't care about classical furniture values, opting for practicality and less work being put into having them around.
This Trinity model, which is similar to the previous one, only with no wheels, is already popular as a general table solution in modern living spaces. It's very popular as a counter top solution in small, limited kitchens as well as just a nice general table and shelf unit anywhere in the house.
Packaging
This 24x48x33.5" table weighs about 43.8 pounds and takes minutes to assemble. It lacks wheels, though standard ones can be bought and put onto it.
Performance and Technical Issues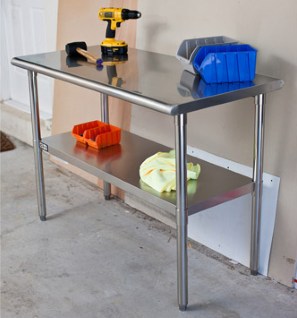 This table is heavy, and without wheels, it can be awkward, to say the least, to move it around. Scooting it, unless smooth casters are put on it, would damage floors.
It's a bit costly for the general purpose use it's seeing, but no stainless steel table is cheap. Despite having a neutral color due to being smooth steel, it will stand out in whatever room it adorns. Commercial tables have a distinct look that simply stands out.
This table has been known to tip over if the weight isn't distributed evenly, though it's somewhat rare. It's also a little less overall durable than some of the other models on this list, though that's the biggest reason it's best for general use.
Is it Recommended?
This table is a tad subpar for commercial kitchens, simply in capacity and weight capabilities. Its default lack of wheels means the tremendous solution of its cousin for caterers isn't there either.
However, as a long-lasting general table that won't need replaced for years if ever? It's probably well worth the money even if all it's used for is a TV stand.
These tables could also be good for storage shelves intended to hold things wooden shelves or tables wouldn't like very much. Having multiple units to do this would be a pricy endeavor, but if storage of that size is necessary, the materials being stored are likely worth considerably more.
Pros
Great for barbeques and other outdoor prep areas.
Great for additional counter space in limited kitchens.
Excellent, durable general-purpose table/shelf unit that will last a long time if not mistreated.
Can have wheels added if mobility becomes desirable.
Good as storage shelving if worth the price to do so.
Cons
Too limited for large commercial use, really.
Is very heavy, making it a pain to move without wheels.
FAQ About this Product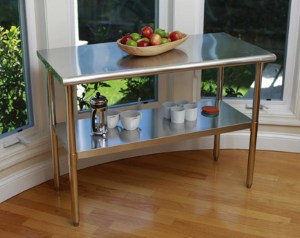 Q: Is this table hard to assemble?
A: Not at all. Most consumers say it took them between five to fifteen minutes maximum to put it together. The connections are all very cooperative and the entire affair comes together smoothly.
Q: Can I add wheels?
A: Yes, and Trinity sells them. However, if you know you want wheels, you may consider the wheeled model previously cited, as sometimes the wheels can be difficult to get onto these tables. This does, however, let you choose stronger wheels that won't collapse under heavier weight.
Q: Does this work as just a small kitchen table?
A: It certainly does, and this is one of the popular uses of this model. It's very stable and easy to keep clean, which makes dinner easier and cleanup less of a chore.
Q: Can I use this for heavier prep work like kneading dough, tenderizing meat or crushing garlic?
A: It'll take the abuse no problem, but don't do any of this directly on the surface of the table. The focused shock can cause dents, where chopping boards can absorb that and prevent these issues from happening.
5. Gridmann 18 gauge 430 – Stainless Steel Chef Table with Backsplash for Large Kitchens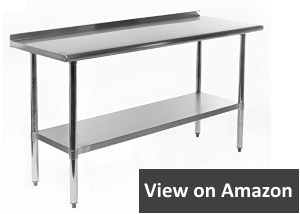 Finally, let's look at the table suited for the big commercial kitchens. They deserve some love too, and it can be hard to find tables that're just right for this kind of environment. The need for a backsplash, extended surface, strong legs and the ability to take some abuse limits the choices often.
Gridmann is a big name in commercial food service equipment, and this table epitomizes their considerate craftsmanship and attention to detail.
The backsplash means the messy, hectic environment of large commercial kitchens can be contained better. It also may make rapid cleaning easier, as the mess can't overflow behind the table, to make bigger problems.
Packaging
This 48×24 backsplash table weighs about 52 pounds give or take and takes roughly 15 minutes at most to assemble. Wheels are not included, nor are casters.
Performance and Technical Issues
This table honestly only has two shortcomings, one of which is of a broad scope, the other not so much. This table is really not suited to be anything but a stationary prep table in a larger commercial kitchen. It's a tad too big and awkward for home or small commercial kitchens.
The other issue is the fact that, again, the bottom shelf is smaller than the top, meaning if more than one of these were lined up for a large prep line, there would be irritating gaps in the shelving. This almost certainly would result in things being dropped. This isn't the end of the world, but it'd be a time wasting irritation that would add up.
Is it Recommended?
For larger commercial kitchens, a backsplash is really a must, and this is one of the unusual tables in that it has a good backsplash while the price is still reasonable. It's a sturdy table, and one that commercial kitchens would probably get a lot of good use out of, if the shelf gap isn't too big of an issue.
This is probably the most affordable, easily-implementable countertop solution for these kitchens, and the ease of cleaning just furthers this. This table has been seen in a lot of these kitchens already, and most food service people have had little in the way of negative things to say about it.
It's easy to assemble and I would recommend having someone help you with the bottom shelf just for leveling otherwise, it's just for poles that you tighten. Rubber feet at the bottom that are adjustable in case there is an uneven surface.
Pros
Backsplash.
Very reasonable price for use in large commercial spaces.
Durable and strong, up to the challenges of a hectic restaurant kitchen, no sweat.
Far easier to put together than most commercial kitchen tables.
Cons
Not really suited for home or small kitchen use.
Not really suited for general table use.
Asymmetrical shelves, when there's no good reason for it.
Wheels not included. Industrial kitchens need tables to move for cleaning sometimes, which becomes a pain with this.
FAQ About this Product
Q: Can this be bought pre-assembled?
A: No, this just isn't practical.
Q: Can extra shelves be acquired for this one?
A: At the time of writing this, they do not offer individual additional shelves for this or most other units.
Q: How do the shelves attach?
A: They simply grip the support poles with tightening screws. This has the benefit of the shelf height being adjustable – be sure to use a level!
Buyer's Guide
When purchasing a stainless steel table, you have to consider the space where it's going, and what you plan to do with it.
Cleaning Stainless Steel Tables
Table came from a restaurant becomes dirty a little bit of food grime and stuff on it and we're talking about the gentle giant (Gentle Giant is a cleaner, listed with USDA as OCP (Organic Crop Production).
This cleaner can be safely used on any surface in your home or business), so it's pretty easy to do on something like this there's a scrub but you see how it just cleans off this stuff really the light stuff, medium stuff it was the heavy stuff that was really really tough on that fryer that the one that was the last time it was cleaned.
Remember it's important to know you should never use steel wool bleaches for chloride based cleaners under stainless steel.
Shelving and backsplash for commercial kitchen
Obviously, a large commercial kitchen probably needs a solid, stationary table with good shelving and a backsplash to keep things neat.
Home kitchen use should be a smaller wheeled or stationary table that's not always in the way, especially if the kitchen is exceptionally small. If the idea is just to get a durable, easy to clean table for multi-purpose home use, a larger stationary table with no backsplash is probably going to suit your needs.
If you're in the catering industry, or serve guests or the disabled, a wheeled table can work as a sanitary prep table and a convenient food cart at the same time. Be prepared for difficult maneuvering with these most of the time though.
It all comes down to the size of your space and how much of an actual fixture you're ok with the table being, if it's not going to be mobile. Price is less of a question with these, as most affordable-scale tables run more or less the same 50 dollar range.
One final caveat, though, is to beware of wheels collapsing on some of the mobile tables, if overloaded. The same could be said for tipping over if mishandled.
These tables have spread out of sterile commercial environments, invading home kitchens, hobby rooms and even living rooms due to their outstanding quality and staying power.
Pondering where this will go from here, it's easy to imagine stainless steel tables with laser-etched finishes to make them more aesthetically pleasing. This could cause a good bit of upheaval in the home furniture industries!
https://amzn.to/2DGIKMp you can buy stainless steel table for fish!
You got three back splashes and one-piece front raised – is no matter what's your mess or what you're cleaning, everything stays contained to this top, nothing can drip off onto the floor.
The best part about stainless steel: no matter what's your mess, there's no bacteria, it's always sanitary, that's super fast and easy to clean, simply spray down with a good cleaner wipe it down.