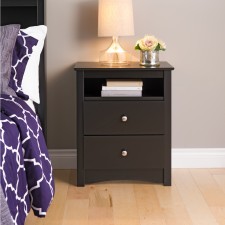 Best Nightstands have historically been one of the afterthought pieces of furniture.
Often disregarded as just a place for a lamp, clock and maybe glasses and a book to rest, people have tended to think "I'll be asleep, how much attention will I pay to this thing?". The fact they tend to be in more private areas of a home – notably the bedroom – also contributes to this.
People generally have been satisfied with them matching the general motif of the room and that was the end of it.
However, in this new century, they have more important of a role. This sneaked up on us all, with smart phones, tablets and laptops. We find ourselves watching TV, playing games, reading and even getting work done while stretched out on our comfortable beds these days.
A good nightstand is more important than ever. Let's look at some good modern designs built around the fact new life has been breathed into this household artifact.
Best Nightstands (and best bedside tabless) of 2017-2018
Best Nightstands Brand
Dimensions (LxWxH), inches
Material
Colors
Check Price
Home Styles Arts and Crafts Nightstand, 1 Drawer(

Editor's Choice

)
18x16x24
Hardwood solids and hardwood veneers
White, Black, Cottage Oak
Check Price
Winsome Wood Shaker Nightstand, Antique, 1 Drawer (

Editor's Choice

)
22x16x25
Solid and composite wood
Walnut Finish
Check Price
Prepac Sonoma Tall 2-Drawer Nightstand, 2 Drawer
23x16x28
Laminate composite wood
White, Black, Cherry, Gray, Espresso
Check Price
Sauder Orchard Hills Nightstand, 1 Drawer
20x15x23
Laminate composite wood
Carolina Oak Finish
Check Price
Sauder Shoal Creek Nightstand, 1 Drawer
21x18x24
Laminate composite wood
Oiled Oak
Check Price
Zinus Square Bedside Table
20x20x20
Square steel tubing frame
Espresso, Gray
Check Price
Prepac Sonoma Bedside Table, 2 Drawer
23x16x22
Durable composite woods
Black
Check Price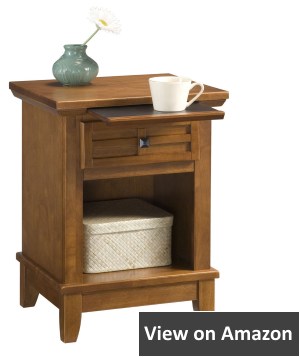 This average-sized cottage oak finish night stand offers a drawer, a voluminous alcove shelf and a slide out surface to hold a laptop, plate of food or cup of coffee.
The modern design is based around classical mission style. It's intended to match contemporary decor or classic antiquity without standing out, while still being striking.
Packaging
This is a 24x18x16"raised wood night stand weighing about 42 pounds. It requires assembly and contains all the components necessary to do so.
Performance and Technical Issues
While embellished contemporary mission-style furniture like this is able to match most environments, the idea that "finished wood veneer matches everything" is a bit of a myth. These night stands won't really fit well in room themes based around finished metal furniture.
The slide out panel is convenient, but these can break if used carelessly, and cause some pain when moving the stand. Being on a slide track, it can also malfunction.
Cottage oak finish has been known to be fragile from time to time, meaning chips and blemishes could be incurred if handled carelessly.
Standing on short legs/feet, these expose a space that can collect cob webs, dust bunnies and other detritus that flush-to-floor furniture doesn't permit. This space can also cause sorrow to wayward feet.
This is a heavy night stand, moving it may be onerous.
Is it Recommended?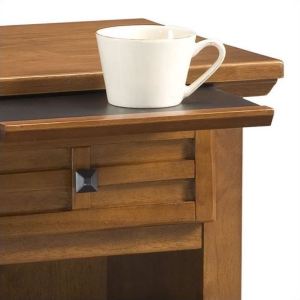 This neutral style is likely to please most tastes. It generally should fit in well with a room designed for any age, even children.
However, the sliding surface could injure a child, or be broken easily by them meaning rambunctious children probably shouldn't have this particular night stand.
Those who spend a lot of time kicked back on their bed with technology should enjoy this night stand, though as they have plenty of room for their phone, laptop and their coffee without needing a clumsy TV tray or the like.
Pros
Matches most other wood furniture.
Slide out tray is designed with tech users in mind, adding surface area.
Large drawer actually can hold plenty of personal items.
Solid wood construction makes it durable and long-lasting, versus much of the particle board furniture commonly sold.
Cons
Somewhat heavy.
Doesn't fit well in a metal-furniture-heavy environment.
Finish may be fragile.
Tray may break and makes it awkward to move.
FAQ About this Product
Q: Is the drawer real, or is it simply decorative?
A: The drawer is indeed real, though the slide out tray can get in its way from time to time.
Q: What are the dimensions of the alcove shelf?
A: The bottom shelf is about 14×14", though it's partially obstructed by supports. This leaves a workable area of about 12.4×14".
Q: What are the dimensions of the drawer itself?
A: About 13.5×12.5" give or take. It's a large drawer, as night stand drawers go.
Q: Is the back finished?
A: Yes, the back is finished – usually a finished white though occasionally, the oak finish is on the back with some units.
2. Winsome – One Drawer Antique Walnut Nightstand for Men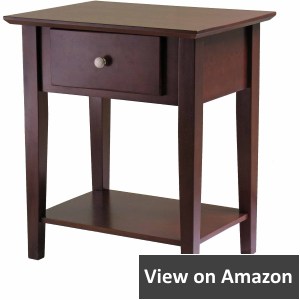 This classic Shaker design personifies Americana, while managing to convey a sense of modernity at the same time. With various colonial and Victorian styles being so in vogue once more, there aren't a lot of places where this traditional, sturdy design doesn't fit in.
The antique walnut finish on this night stand is durable and less prone to showing nicks and scratches than a lot of other finishes.
Packaging
This is a 16×22.1×25" traditional Shaker night stand that weights about 31 pounds. Assembly is required, with all components necessary included.
Performance and Technical Issues
The asymmetrical shape of Shaker furniture, being wider at the top than the bottom, can make it a little difficult to place this night stand flush to a wall and bed, leaving some empty space behind it. This can also make loading it up for moving difficult at times.
The open design, while preventing "shadowing" of the carpet and wall, produces a lot of area that needs dusted. The lack of backing for the bottom shelf means it's sometimes easy for things to fall off and be hard to get to behind this somewhat heavy piece of furniture.
Antique walnut finish matches most décor and hides scratches and nicks, but it also shows every speck of dust vividly. It also has a tendency to form rings from hot mugs or condensation much more easily than some other finishes, meaning beverages need to be handled with care around this stand.
Is it Recommended?
Those looking for a good, classic American design would see this as a successful find most likely. Antique walnut finish is one of those styles few people consider outright unappealing, and the simple, sleek design suits most tastes.
It has more limited surface space and may bring more upkeep than some other night stands, but the sturdy construction probably makes up for it. Even ultramodern metal furniture doesn't clash too terribly with this type of design and finish.
This is probably an easy "yes" if nothing else especially tickles the fancy.
Pros
Classic design suits modern and antique decor.
Sturdy solid wood construction.
Classical designs like this are "in". Furniture trends move more slowly and come back around sooner. This won't go out of style for some time and won't stay out of style for long when it does.
Cons
Walnut finish is prone to rings and shows dust strongly.
Slightly trapezoidal shape may make placing it difficult for the more OCD-prone decorator.
Lack of features may not suit the in-bed multitasking computer user.
FAQ About this Product
Q: How tall is it from the shelf to the drawer frame? Wil lit fit a speaker?
A: It'll fit a bookshelf or smaller tower speaker for sure. It's about 13" of vertical space.
Q: Will the finish hold up against a wet wipe?
A: It's a durable finish, but it's best to use an actual wood surface cleaner that preserves the essential oils and gloss.
Q: What are the dimensions of the drawer itself?
A: The drawer is a decent size, at about 10.5x9x5". This is smaller than some large drawers in modern designs, but larger than some traditional designs.
3. Prepac Sonoma – Tall Modern 2 Drawer Black Nightstand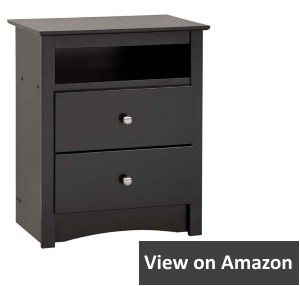 Young adults, while not as rambunctious as children, need more durable furniture that hides dust well. They also tend to need more drawer space due to their somewhat pack rat nature, and their general disinterest in classic designs or the "finer points" of furniture calls for an unassuming, contemporary design.
This Sonoma night stand is probably one of the better choices for older children and teens. The wide top makes for plenty of space for devices, and the two large drawers provide plenty of space for them.
The black finish matches even the most eclectic teen room décor and is very gender neutral.
Packaging
This is a 16×23.2×28 2-drawer night stand. It weighs about 46.4 pounds and requires assembly. All components needed for assembly are included.
Performance and Technical Issues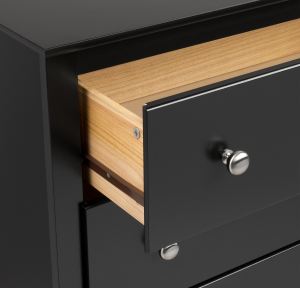 The black finish clashes with especially bright décor, and clashes with any room using more classical furniture designs. It also very clearly shows blemishes, scratches, pits and nicks, where some other finishes do not.
The arched kickplate can make it wobbly on some less than level, older floors and can do strange things to plushier carpets.
The alcove area above the top drawer is too small to be used for a lot of practical things, but too big for others, often making it somewhat wasted space. It's ok for books or stowing a laptop, but that's about it. It winds up being a nook that needs dusted often and, when used by youth, is a magnet for food wrappers and other rubbish quite often.
A similar design some time back resulted in a cat being stuck and unable to get back out. While comical and probably unlikely to happen again, it's worth considering that a small child may have the same encounter.
The beveled top creates some sharp corners that could be painful. This is also a very, very heavy piece of furniture.
Is it Recommended?
While not perfect, it's still probably the best design for young people. Its black finish blends in with the eccentric decorative tastes of teens and older children. The stocky, sturdy construction holds up against abuse as well.
This, or possibly its three-drawer big brother, is probably a great choice if you're furnishing a child or teen's room.
Pros
Gender neutral design and finish is ideal for young people.
Sturdy design means it'll last, even with a lot of moves or being handed down.
Plenty of drawer space.
Curved kickplate adds a little bit of artistic flair, so it's not a hulking box.
Symmetrical design makes it easy to place.
Cons
Black finish can show nicks and scratches at times.
Very, very heavy.
Space above the top drawer seems like it should be useful, but is ultimately a nuisance.
Sharp corners could make for painful encounters.
FAQ About this Product
Q: Could an average cat sleep in the space where the bottom drawer goes?
A: Yes, but this is probably a bad idea. Track-slide drawers can come undone, which could mean the cat would be injured or at the very least have a bad day.
Q: Is this a single stand or a set?
A: This is a single stand, but for the quality and durability, the price to get two isn't unreasonable at all.
Q: Is there a space to run a cord so a laptop can sit in the top space and charge
A: Unfortunately, no. As much of a tasteful modern design as this is, it's not very tech-minded.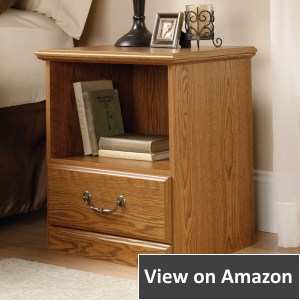 Furnishing a guest bedroom can be a bit of a tricky task. You're saying a lot about your personality by the space you give someone to sleep in, and it's impossible to predict what kind of space and storage your guests may need.
In modern times, technology and personal proclivities can also complicate this, making it really hard to feel like your guest rooms are furnished right.
It's often best to opt for durable, neutral furniture with plenty of open space. Sauder's Orchard Hills night stand is likely one of the better examples of this.
Packaging
This is a 20.5×15.3×22.8" single-drawer night stand. Some assembly is required, all components are included. It weighs about 33.2 pounds – heavy for its diminutive size.
Performance and Technical Issues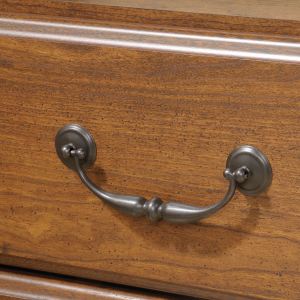 This night stand has a neutral finish that makes it blend in, and its compact size means it fits in most reasonable spaces. However, it's not that serviceable for a regular, perpetually-used room. The single drawer being so low-set, and the large open shelf make for inconvenience in regular daily living.
The finish is also very susceptible to gouges and chips, as well as rings and stains. It's also pretty heavy.
The height of this stand places the beveled edges at just the right place to cause extra pain compared to others.
This is unsuited for children due to the finish's relative fragility. The faux-iron drawer handle could cause some pain to fingers if grabbed wrong.
Is it Recommended?
Sauder has a very good reputation in home furnishings, and they've earned it. Their furniture is durable (albeit some finishes can't be) and affordable.
This stand's open space means guests can easily stow their random-access items within easy reach. Guests tend to not unpack into dressers and chests if not staying for a long duration. The small size means it makes the room feel bigger, which is important for a guest room.
This isn't a stand most would recommend that highly otherwise, but it's probably the best one for guest rooms, hotel rooms or bed and breakfasts – anywhere welcome guests may stay.
Pros
Neutral design doesn't make a statement about you as a host.
Small size frees up space without sacrificing surface area.
Large shelf space above the drawer is great for stowing a travel bag.
Cons
Small size and low drawer make it less than ideal for daily use.
Diminutive height means corners might hurt.
Finish is somewhat easily damaged.
FAQ About this Product
Q: Can a speaker fit in the shelf space?
A: Most bookshelf speakers will fit, but there is no space to run wires. There are of course ways around this, but there are also stands better suited to this.
Q: Can I get this pre-assembled?
A: Absolutely not. Most furniture must be assembled, due to the difficulty of shipping it otherwise. It could break, and it would be bulky and costly and impractical. Fortunately, this one is easy to assemble.
Q: Is it safe for a cat to sleep in the shelf space?
A: Sure, since there's no drawer or anything above it that could cause injury.
5. Sauder – Unique 1 Drawer Oak Small Nightstand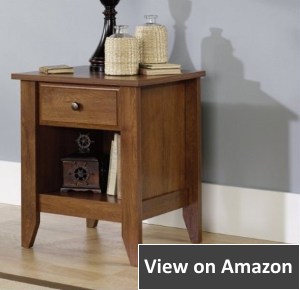 Busy professionals live the kind of life that everyone once did – the life that meant night stands were more of an after thought piece of furniture. Busy people are often exhausted when they go to bed, and may read for a while before sleeping and that's it.
This attractive design is ideal those who need simple, minimalist use of a night stand, omitting fancy design conventions and just doing what night stands were invented to do.
Packaging
This is a 20.9×17.5×24.1" night stand that weighs about 34 pounds. It requires assembly, all the components necessary are included.
Performance and Technical Issues
This is a no-frills night stand, meaning it has limited surface area, a basic size for the drawer, and a small storage space. Those who spend a lot of time in bed with their laptops or mobile devices may feel cramped with this being their only "table" area.
Geometric design with protruding supports is a lot to dust, and produces negative space.
Oiled oak has a tendency to discolor if over-exposed to UV or heat, meaning coffee cups or brightly sunlit rooms could ruin the finish of this night stand.
The small storage space really isn't terribly useful, being good for a couple books, but that's about it. As tablets replace hard print books, exceptionally small spaces like this will become less practical.
This is pretty heavy, and the design of the legs may not be that friendly to some varieties of carpet, rug or flooring.
Is it Recommended?
This is an attractive design that fits in with most bed rooms. The simple design is ideal for people who want a solid night stand, but aren't awake in bed enough to need the extra drawer space or surface area of other stands.
While oiled oak has often been out of style, darker themes in most areas of design mean that this muted but organic look is going to grow in popularity. Busy people should find this to be something of a goldilocks solution – just right.
Pros
Simple, perfect for those who just need a classic night stand.
Oiled oak finish matches both brighter and darker motifs.
Has the Sauder name, which commands a certain quality.
Cons
Storage space is too small to be really good for much.
Design of legs might not be nice to some carpets and flooring, given the weight of this stand.
Drawer space is big enough for traditional needs, but not much more.
FAQ About this Product
Q: How much weight will the top hold?
A: The top is rated for 30 pounds, but it can probably hold a little more. Remember, though, that the added weight makes the design of the legs potentially more hostile to floor.
Q: If I buy two of these, will they ship together?
A: They will be individual boxes, but their orders will be processed at the same time, meaning they will arrive together. Depending on the listing, this could trump up the shipping costs – be careful!
University students often find themselves at a premium for space where they're living, meaning every piece of furniture needs to do double the work. This means not only does it need to be practical, but it needs to be strong and durable.
It also needs to stand up against a lot of moves as students tend to not stay in one spot too terribly long.
Zenus' modern minimalist design is like a mini metal set of shelves. Its open and basic design means it can be any type of small furniture you need it to be, unless you're planning on sitting on it.
Packaging
This 20x20x20 cubic metal night stand is part of an affordable, modern and practical collection by Zenus. It weighs about 12 points and must be assembled. All parts are included.
Performance and Technical Issues
This night stand is only a night stand if you place it by a bed. It's really just a tasteful set of two squat metal shelves. This means it's not particularly decorative or "homey" in its design.
The metal corners may cause some pain if collided with. The metal has a tendency to be shockingly cold. We've all rolled a little too far in our sleep, only to be routed by a minor jab from our night stand.
The cold metal here may make for a rude awakening.
The metal is theoretically more durable than wood, but somehow, this often proves to be the opposite in application.
Is it Recommended?
This is probably ideal for students or single adults whom need all their furniture to be practical. The bottom shelf, exposed by the open design, is fine for a charging laptop, a speaker or really anything. The symmetrical cubic design makes it easy to repurpose it as a small table or set of shelves as well.
This is probably not ideal for a domestic household, but younger bachelors and students will probably think this is a very useful night stand indeed.
Pros
Design makes this the most "useful" night stand of the selections.
Metal is easy to clean and doesn't scratch or chip as easily.
Open design means the bottom shelf is actually as useful as the top.
Can be more than a night stand and not look silly for it.
Weighs nothing compared to other choices.
Cons
Whole not ugly, this type of practical modern design does lack conventional character.
The metal may not be as durable as solid wood furniture.
No drawers.
Metal gets very cold.
FAQ About this Product
Q: Would this safely and securely hold a PC?
A: Most definitely. This stand has been tested holding far heavier things, including a mini fridge.
Q: Does this have a glass top?
A: There is no glass top. However, its standard size means finding a glass top (or really any other material) would not be difficult.
Q: The frame is metal, are the shelves?
A: No, the shelves are a wood finish particle material. Particle materials have a bad name, but this is of a higher quality than some.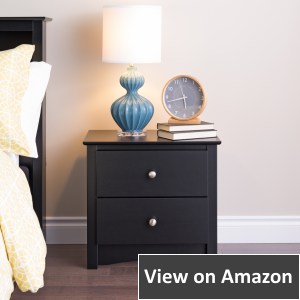 We'll close with a nice, affordable "one size fits all" solution. A lot of people simply don't fit the demographics we've made recommendations for thus far. Perhaps they spend more time relaxing in bed than busy business people, but less than heavy device users.
Perhaps they just want a simple, tasteful design that's a good compromise between all the needs we've discussed, without costing a fortune.
This smaller, 2-drawer Sonoma by Prepac seems to be a good balance of most of the elements of the others, while mastering none.
Packaging
This 16×23.2×21.8 two-drawer Sonoma weighs about 36.8 pounds. It of course needs assembly, and includes everything needed to do so.
Performance and Technical Issues
This black night stand shows dust, so you'll have to be attentive to that, just as with most other such finishes. It lacks any storage space, being solely drawers. Those who actually need the storage alcove offered with other stands might find this one too limited.
The black can also show wear and tear. It's very heavy for its size.
Is it Recommended?
This is a simple solution, but not so simple as to be more specialty, like the Shoal Creek. It has plenty of surface area, and plenty of drawer space. It blends in well, and matches most rooms that don't overdo it with whites.
If no other solution matches a mixed lifestyle, this one probably will do just fine. And it's a nice compromise for the price.
Pros
Nice square design means it fits anywhere.
Black finish allows it to match all but the brightest motifs.
Good compromise of most attributes for anyone who just doesn't fit in the above categories.
Very affordable, and of excellent quality for the price.
Cons
No storage space.
Same sharp corners of larger Sonomas.
Very heavy, making it hard to move.
Black finish shows dust and damage more readily.
FAQ About this Product
Q: is this true black?
A: Not quite. It's a dark espresso, which is a very popular color as darker designs go.
Q: Can the back piece be left off for wires?
A: Yes, but drawers may pinch the wires, or they may catch in the tracks.
Q: Can alternate knobs be put on the drawers?
A: Sure, as long as the threading fits, you can put any knobs you want on it as you put it together.
Buyer' Guide
It's surprising how much forethought needs to go into buying mundane furniture like a night stand. It's not just about a place for a lamp and a clock radio, especially today. You need to consider the type of room. Is it your own, or a guest room? If it's the latter, something neutral, basic and multi-purpose is likely the wise decision.
Do you spend much time relaxing in bed with your devices? You may want more surface area and places for wires to run, then. Do you have limited space, and need all your furniture to do overtime? Then you want something more basic and open and less "fancy".

Do you plan on moving it often? Heavier ones are obviously going to make it more difficult. Do you hate to dust? Then you probably don't want dark finishes. Does asymmetry bother you? If so, you want to avoid some classical designs.
In the future, materials will probably change for night stands, and more tech-centric features will be added to them. Some already have USB ports and wiring added to them, as well as speakers. Only time will tell which modern and classic designs persist into the future. But, as long as people need beds, they'll need night stands too. At least there's a nice variety to choose from.
You can add this to your nightstand: