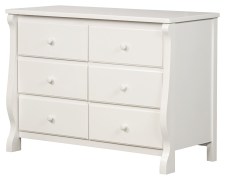 Best Dressers reviewed in this article are sturdy and easy to put together (2 hours to fully assemble). We prepare 5 top rated dressers for you:

tall (

for small spaces

);
short (for use as an entertainment console or

changing table

);
with three, five and six drawers;
for kids we are

strongly recommend that any dressers within your child's reach be tethered to the wall

(and must be JPMA certified and follow ASTM safety standards);
for adults.
Best Вresser of 2018
Best Dresser Brands
Dimensions (LxWxH), inches
Colors
Construction
Extra
Check Price
Delta Children Universal Dresser, 6 drawers (

Editor's Choice

)
49x21x35
Black, Black Cherry, Grey, Dark Chocolate, White, Espresso
Solid wood with metal glide system
ASTM and JPMA certified (non-toxic)
Check Price
Stork Craft Avalon Universal Dresser, 6 drawers
51x17x38
Black, Cherry, Espresso, Grey, White
Wood with metal glide system
With changing table
Check Price
Sauder Pogo Dresser, 3 drawers
30x19x47
White
Wood with metal drawer sliders
With storage bin
Check Price
Southern Enterprises Baskets Dresser, 5 drawers
18x13x52
Black and Caramel Finish
MDF, veneer, wicker, and round pipe
Wicker storages
Check Price
Prepac Sonoma Tall Chest, 6 drawers
23x16x53
Black
Laminated composite woods with metal roller glides
Non-toxic
Check Price
Let's start with what's probably the top catch-all design of the lot. This is a large dresser with a black finish and a simple but artistic twist to its frame that intends to both give it character and keep it simple enough to fit mostly anywhere.
While the name would suggest it's designed for a child's room, this is simply the brand name. This is an age-neutral design.
Packaging
This 52.5x25x12" six-drawer dresser weighs 118 pounds and requires assembly. All the components necessary, as well as instructions are included.
It can also be transformed into convenient changing table with the addition of Delta Children Changing Kit and Summer Infant Contoured Changing Pad.
Performance and Technical Issues
Like most furniture with a dark or black finish, this dresser might be the bane of someone who either has little time to dust or would rather not be bothered with it frequently. Finishes like these show dust and dirt very easily, just as true whites do.
While these dark finishes match most motifs, they do clash with rooms that have a lot of true or off white. This isn't necessarily a "bad" kind of clash, if you want the dresser to pop, but is probably not the best situation.
This is a huge dresser, which means it's not suited for places where space is at a premium. Single people who like to live a somewhat simple lifestyle may find half the drawers to be unnecessary. Empty drawers tend to be junk magnets.
Black finishes also show scratches and chips, meaning this dresser needs to be loved.
This is a heavy object. Most dressers on this list will be heavy though. Still, it's worth pointing out when it reaches triple digits like this!
Is it Recommended?
This dresser probably is the "general demographic" solution out there, ideal for pretty much any age. While small children could cause damage that shows readily, that's just a thing to contend with, where children are concerned.
The slightly ornate frame adds just enough flair to make this dresser look tasteful, while not overdoing it or clashing with an otherwise modern and minimalist room. It's big, but even if half the drawers don't get used, the surface area almost definitely will be.
This is a good default choice, but also probably perfect for couples.
Pros
Large size and drawer count means it fits most needs, if exceeding some.
Black finish lets it match most rooms.
Fantastic surface area.
Compromise between artistic flair and simplicity.
Cons
Black finish is prone to showing dust, scratches and nicks.
Very large, making it unideal for places where space is at a premium.
FAQ About this Product
Q: How well do the drawers hold up after long use.
A: The drawers have been said to hold up against small children opening them constantly, over the course of a year or longer.
Q: How well does the finish hold up?
A: Black finish might show damage more vividly than others, but that doesn't mean it's weak. The finish on these dressers holds up against a decent amount of reasonable abuse from children, with no real scratches. This doesn't mean it shouldn't be treated with respect though!
Q: Is this dresser matte or glossy black?
A: It is glossy.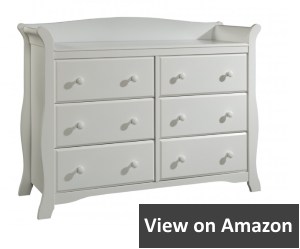 Decorating a nursery is a big step for expecting parents. It's something of a monumental step in the rest of their lives. Unfortunately, a lot of parents overdo the baby-specific décor, even going so far as to letting this influence their furniture choices.
The problem with this line of thinking is that babies grow up very fast, rendering such otherwise unfitting furniture obsolete and useless in a couple years. Choosing a tasteful, practical design that could find use elsewhere down the line is a more thrifty and fruitful idea.
Packaging
This 56.8×22.9×12.1" dresser weighs a massive 140.8 pounds. Obviously, it has to be assembled. Instructions and all components are included.
Performance and Technical Issues
This dresser's white finish shows less scratches and damage, but definitely shows dirt more quickly. It also could yellow if overly exposed to the sun.
Being designed as a nursery dresser, it's still harder to repurpose this dresser for other locations after the baby gets older.
The ornate design may not match a lot of modern tastes, which further compounds the difficulty in repurposing this dresser for post-baby use.
This thing is impossibly heavy, meaning moving it, even across the room, is going to be quite the task – it'd be impossible by yourself. The partly-enclosed nature of the top makes for more corners to clean, and slightly less versatile "table" area, which gives this dresser a tad less mileage in the long run.
Is it Recommended?
This dresser was designed to be in a nursery. In fact, it coordinates with a crib by the same manufacturer. The guarded top means this dresser could even serve as a changing station if need be.
The neutral white and muted curves fit with the general "bright" motif usually done with nurseries. It remains gender neutral, though, meaning planning to buy this dresser before knowing the baby's gender doesn't least to problems.
Finding further use for this dresser after the baby grows up is easier than a lot of baby furniture, but still not the easiest thing in the world. However, it's a practical dresser, meaning when the baby becomes a child, this dresser could still serve them well for a time.
The design is unlikely to appeal to boys past the age of 7 or so, however whom will see any kind of nursery-oriented furniture as "too feminine" for them.
As baby furniture goes, though, this is probably one you'd get the most long-term mileage out of. For what it is, it's excellent.
Pros
Plenty of drawer space.
Top is ideal for safe changing of baby.
Durability means this could become a generational piece of nursery furniture.
Probably get an entire childhood out of this dresser if the baby is a girl.
Cons
Very, very heavy.
White shows dirt and could yellow.
Design is just "nursery" enough to still be hard to find further use for.
FAQ About this Product
Q: Can the knobs be changed?
A: Easily. Most dressers have standard fittings for this, and most knobs comply with them.
Q: Could a changing table pad be placed atop this dresser?
A: Definitely. This is actually a strong part of this dresser's design. Babies should never be left unattended on this surface of course.
3. Sauder Pogo – Small White Dresser with Deep Drawers for Toddlers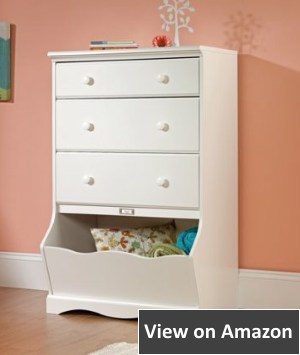 While the nursery dresser may find limited applicability after the baby reaches true childhood, this dresser is designed with them in mind. The white gender-neutral finish, soft and durable, aims to fit into any child's room regardless their interests.
The storage bin at the base is of extra interest in this design.
Packaging
This 30.1×19.4×47" dresser weighs only 17 pounds. As usual, assembly is required. Instructions and components are all included.
Performance and Technical Issues
Like other white furniture, this will show dust and stains easily. Being child-oriented, you may spend some time keeping this furniture clean, if you want its good looks to persist long-term.
The bin protrudes, which could result in some bruised shins.
Children like to climb so extra care would be needed to be taken in informing the child that climbing on this is not a good idea. The same can be said for climbing into the bin or putting pets in there.
Is it Recommended?
This is actually an excellent design all things considered. The curvy frame of the bin may be a bit old fashioned ornate for a lot of tastes, and the way it unavoidably protrudes could be a hassle, but the tradeoff is efficiency.
This could basically remove the need for a toy chest, while still providing all the drawer space a child could need. This would likely provide more room for the child to play, with less furniture crowding their bedroom.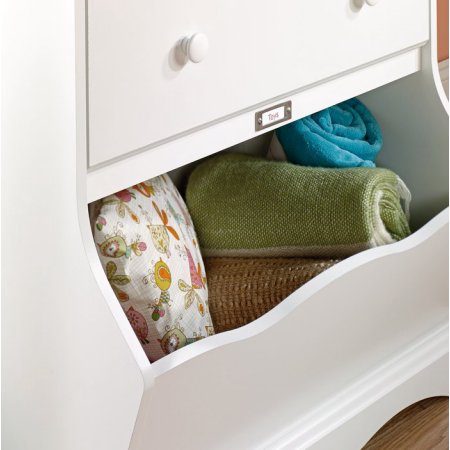 The lack of accessible surface area may be a concern, though, so a desk or something similar is probably needed to accent this if one isn't already present.
Overall, this is a good choice to consider for toddlers on up to preteens.
Pros
Bin is great for toy storage.
Plenty of drawer space.
Gender neutral design and finish.
Very light weight.
Extremely affordable.
Cons
White finish is susceptible to dirt and yellowing.
Climbing hazard for rambunctious children.
Protruding bin is a trip hazard.
Design has some outdated motifs.
While neutral, white furniture is becoming unpopular.
FAQ About this Product
Q: Can this be fastened to a wall for extra safety? I don't want my child to tip it over.
A: You could, but it's honestly not necessary. This dresser is very sturdy and well-balanced. No child is easily tipping this over. They'd have to mean to do it.
Q: Can the knobs be replaced? Are they just single hole screws?
A: Like most dressers made today, these do have single hole screw knobs that can easily be replaced if you so desire.
Q: Does the finish hold up against rough children?
A: It generally holds up well enough, though especially rough children are something impossible to proof furniture entirely against.
Q: Is this not true white?
A: Not quite, but it's a very bright white. There's the slightest touch of grey in the finish to soften it and make it fit into environments a bit better. True white furniture has been out of style for the greater part of 30 years.
Q: Can it be purchased assembled?
A: No, no furniture can really be bought pre-assembled.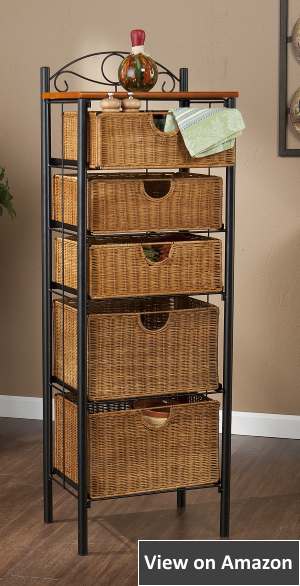 Dressers aren't actually an exclusive piece of furniture for bed rooms. Often, bathrooms need a compact, durable and tasteful set of drawers for linens, extra soaps and shampoos and other odds and ends.
Traditional bulky, wooden furniture doesn't really suit this environment aesthetically nor practically.
This is where something like this fits in well. It was designed more as a fashion statement for bed rooms centered around modern southern decor, but it's frankly the ideal solution for the lavatory.
Southern motifs are on their way out, which would otherwise mean this unit wouldn't suit many purposes moving forward.
The small size and open wicker basket drawers are more resilient against the hear and humidity showers produce, and just generally looks nice in an otherwise austere type of room.
Packaging
This 13.2x18x52.2" dresser has five drawers. Assembly is required but is easy and all needed components and instructions are included. It weighs 33 pounds, entirely due to the sturdy metal frame.
Performance and Technical Issues
The wicker basket drawers more or less just sit in the spaces allotted to them, with no tracks or safety stoppers to prevent them from falling out if overloaded. Wicker is a nice material, but it can break if dropped and can attract insects which think it'd be a nice place for a nest.
The southern style means they really don't suit a lot of modern decor outside of art rooms or bathrooms, leaving them kind of at odds with their intended purpose as bed room dressers. Aside from "artsy" people, this look isn't popular anymore.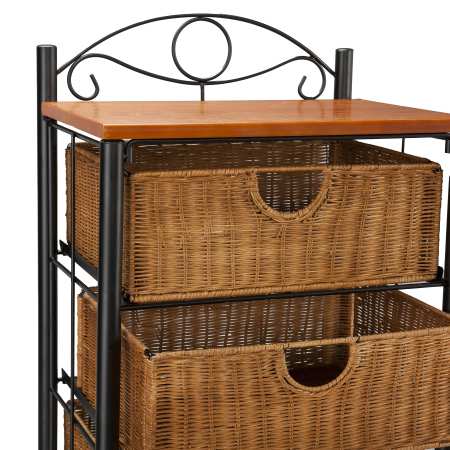 The drawers are deep, but they're somewhat snug in their space, making it a chore to rifle through them.
The wicker will wear out a lot sooner than drawers in traditional furniture, and will survive far fewer moves.
Heavy amounts of metal-frame furniture can actually result in WiFi malfunctioning in houses, so use quantities of this kind of furniture wisely.
Overloading this dresser could result in it tipping over, which is a rare concern with most modern furniture designs.
Is it Recommended?
This is likely a good suggestion for arts and crafts rooms, bath rooms, utility rooms or perhaps enclosed patios. Heavy use in a bed room is something these drawers aren't really toughened against. Wicker isn't fragile like egg shells, but it isn't nearly as immortal as wood or metal.
Along with this, the southern chic motif has been falling out of favor for quite some time, making bed rooms decorated with this type of furniture seem antiquated or "backward" in modernity.
All of that said, this is a more or less definite yes for bathrooms etc., but a no for bed rooms.
Pros
Easy to maintain.
Is actually more ideal for bathrooms and the like than any other furniture.
Is easy to put together and find places where it can fit.
Drawers are large and deep.
Cons
Wicker wears out and breaks far sooner than wood or metal, meaning these drawers have a shelf life.
Southern style, which is unpopular, limits the locations this really fits into.
Awful heavy for something meant to be simple.
Awful expensive for a metal rack with some baskets sitting on it.
FAQ About this Product
Q: This looks different from other furniture. Must I assemble it?
A: Yes, it may be unconventional, but the same logistical problems mean it has to be assembled after delivery.
Q: Can the drawers hold heavy things like canned soups?
A: Yes. Wicker is actually strong, it just wears out faster than wood.
Q: Are the insides of the drawers particularly delicate?
A: No, the inside is made of the same material as the outside. The only thing to avoid is to leave especially hot things on or too close to the wicker, as it is rather flammable.
Q: Can this come back apart if I need to move?
A: Quite easily, and reassemble easily too. Be careful the baskets don't get crushed, and it's all good.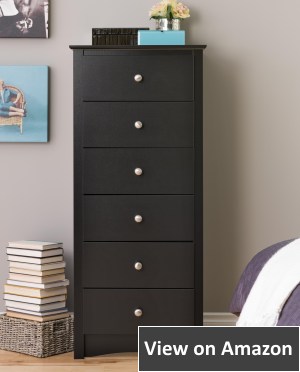 Finally, another catch-all solution for those whom don't need a lot of low-reach surface area. People in need of just drawer space in a simple design that stays out of the way would do well to go with a Sonoma style piece.
This Sonoma is tall and slim, meaning it can occupy a corner or a small bit of wall and not eat up a lot of space. Bachelors and older boys/teens need less surface space on dressers.
Packaging
This is a 17.6×23.2×53" six-drawer chest dresser that weighs about 77 pounds. Assembly is required, everything needed is included.
Performance and Technical Issues
The black finish, of course, has the same problem present with the wide Delta Children dresser. It shows scratches, dings and gouges readily, as well as dust.
What surface area is present is high up meaning some may be unable to reach it, others finding it impractical for more than some decorative plant or the like.
It's very heavy, which alongside the tall shape, means moving it alone would be very dangerous if at all possible for average people.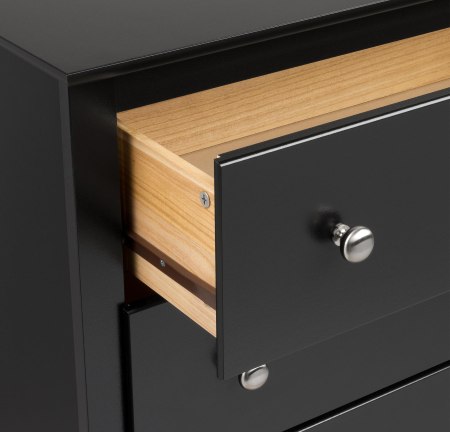 The top drawer is pretty high up, meaning some vertically-challenged people would find themselves needing a step stool to reach it, which is obviously inconvenient.
The curved kickplate is just enough space to let dirt and detritus accumulate under the dresser, but not enough to be able to clean beneath it. This could produce a haven for some insects and a lot of dust bunnies and dropped pocket debris.
The base design may be unideal for some types of flooring. It should never sit on antique rugs and may permanently crush deeper, softer carpet. Feet need to be placed under it unless on a tile/linoleum/hardwood floor.
Taller people may want to watch the sharp corners if accessing their dresser while not fully awake.
Is it Recommended?
This is probably the good solution for general consumers whom don't want a wide dresser.
Since wide dressers are falling out of favor due to that kind of surface area growing less important (electronics and other common denizens of such space being smaller or nonexistent now), "high boy" style chest dressers are becoming more popular and sought after.
This is a good, solid, reliable example of those, and one most practical home decorators would be more than comfortable recommending if the minor downsides above are non-issues.
Pros
Uses little space while providing lots of drawer space.
Solid construction.
Blends with almost any decor, and is gender neutral.
Balanced and sturdy, it's not going anywhere.
Cons
Black finish shows dust and scratches.
Weight and height make moving it daunting.
Height means people below average stature may find it inconvenient to use the taller drawers.
FAQ About this Product
Q: Do the drawers have a fixed order? That's a pain.
A: No, the drawers are all identical in shape and size, reducing the annoyance of assembly and making cleaning them out that much easier.
Q: Can the handles be changed?
A: Yes, like most modern furniture, they can easily be changed.
Q: Is this safe for a child's room?
A: Certainly, a grown man would have to put effort into tipping it over, let alone a child. They may find a lot of the drawers impossible to use, however.
Best Dressers – Buyer's Guide
Dressers may not be as much of an after thought as some other furniture given their very utilitarian purpose. But, choosing a dresser isn't as easy as one may think. There are a good many factors that will affect what dresser is right for any given consumer.
Surprisingly, aesthetic is only one of these many traits that must be weighed and metered. There are a lot of styles and designs of dressers available today, so it may be hard to figure out which one is right and choose the top rated dresser for any given needs.
Dressers are storage and surface area for daily life. Lifestyle itself, then, is a huge variable to consider. To make this a little easier, let's take a look at the top 5 dressers to fit general lifestyles in the 21st century. Remember, furniture like this is never cheap, so it's a bit of a commitment when you choose your dresser!
Buying a dresser is an expensive, long-term decision, so you really have to make sure you've accounted for every factor before making a commitment.
This is a case where, stereotypically, gender can play a factor. Are you female, and have a decent array if perfumes, makeups and other materials that need a dresser top? You'll probably want something wide and low. The same goes for men and boys whom still need a place to put their TV and game console.
Is it for a child's room? Then the age of the child matters. A nursery can have baby-centric furniture, but it shouldn't be too babyish, so it can be repurposed to some extent later. Is the child older? It needs to discourage climbing, have drawers they can reach and a finish that can survive them.
Do you want to save space? Then a "high boy" chest dresser is going to probably be the better solution. Is it for a bath room or other such place? Then something simple like a modular dresser or metal rack dresser is a better choice generally.
Finally, how much do you hate to dust? Really dark and really light finishes both show dirt and dust very sharply, needing more attentiveness in cleaning.
For the time being, furniture isn't going to change all that much, aside from the wide, horizontal space-consuming designs gradually fading. Space is going to be at more and more of a premium as the world becomes more crowded and large living spaces become too expensive for almost everyone.
The materials will change, the styles will change but the problems that need solved never will.