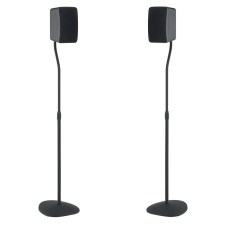 Best speaker stands reviews I have done after researching dozens of speaker stands, which includes these types:

satellite
bookshelf (small and large)
adjustable
tripod
for home theater
and I have shortlisted the
top 5 best speaker stands
which you can buy right now.
Best Speaker Stands of 2018
Best Brand Speaker Stands
Compatible with
Hides Cords
Adjustable
Child/Pet Safe
Check Price
Sanus Adjustable Height Speaker Stand (

Editor's Choice

)
satellite and small bookshelf speakers up to 3.5 lbs (Bose, Harmon Kardon, Polk, JBL, KEF, Klipsch, Sony)
yes
yes
yes
Check Price
Atlantic Satellite Speaker Stands(

Editor's Choice

)
vizio, energy 5.1, samsung ht, jamo, Klipsch and others
yes
yes
yes
Check Price
Bose FS-1 Bookshelf Speaker Floor Stands
Bose 301 and 201 Direct / Reflecting speaker systems
no
no
no
Check Price
Sanus Wireless Speaker Stand
Sonos Play 1,3,5
yes
no
no
Check Price
Starument, Pa Tripod Speaker Stands
electro-voice zlx, Harbinger HA, Alto TS215, Peavey Escort, Jbl Eon 300
no
yes
yes
Check Price
1. Sanus – Adjustable Speaker Stands for Home Theater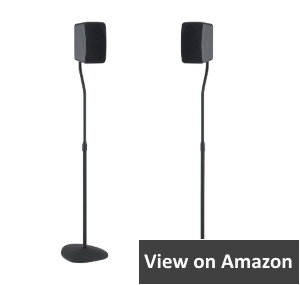 A feature sorely left out by many speaker stands is the ability to adjust the height either during assembly or on the fly. Sanus seems to agree with this sentiment, offering this adjustable design for bookshelf and satellite speakers.
Given the majority of speakers in use are of the bookshelf or satellite speaker design – for which this particular stand is designed – these are likely to be of the most interest to average consumers.
Packaging
Each of the two stands weighs about 5.5 pounds, and includes:

the adjustment knob
two parts of the stand shaft
the base
the mounting brackets
a keyhole adapter
Performance and Technical Issues
Some consumers have complained that after enough wear and tear, the stands may not stay at the desired height. This is actually inevitable with any adjustable stand that holds the kind of weight speakers have, given enough time though.
Adjustable designs like this tend to be a tad less sturdy as well, due to the support shaft not being a solid support. This means these are mostly ideal if placed away from foot traffic. These are unideal for households with rambunctious pets.
Is it Recommended?
These stands fit a very wide variety of book shelf and satellite speakers, making them one of the more versatile designs out there. They will not fit large tower speakers or exceptionally heavy ones, but those are less common than they once were.
The adjustable height isn't just handy to fit them in the most varied locations, it also adds a new dimension to sound adjustment. This can allow you to take the fullest advantage of a room's natural acoustics rather than having to fight them like can often be the case.
The materials are of good quality and they're remarkably easy to assemble despite the added complexity. Most owners of small book shelf speakers or surround systems with satellite speakers are likely to be happy with this stand.
Again, though, it's not recommended that these be placed where people have to walk very closely past them, or in rooms where active pets may be present.
Pros
This product's adjustability makes it easy to fit these stands in places either they or their sound might otherwise be obstructed.
A very wide variety of book shelf and satellite speakers fit on this stand, and the adjustable keyhole adapter makes this easy to take advantage of.
Remarkably good price.
Cons
Exceptionally large and heavy speakers are unlikely to fit safely on these stands.
These stands are slightly less sturdy than non-adjustable models, meaning they're not as safe to have in close proximity of heavy foot traffic or energetic pets.
Adjustable objects like this do indeed wear out after enough adjustments are made, giving this product a shelf life, albeit a considerably long one.
FAQ About this Product
Q: Will rear satellite speakers from Vizio models fit on these?
A: Most Vizio models and others of this basic form factor fit easily on this stand. Be aware, though, that they will hang from the back support, not sit on the L bracket.
Q: How much weight can this stand hold?
A: The stand is mostly metal construction and can hold 30 pounds easily enough. While no upper limit is specified, 50 is probably the limit.
Q: Will speakers with bottom screw holes fit?
A: The keyhole adapter allows a number of configurations that should allow this to work.
Q: Will Sonos PLAY models fit?
A: They can, though their slightly unique form factor means a stand designed specifically for Sonos products is probably going to serve you better.
2. Atlantic Satellite – Lightweight Speaker Stands for Homes with Pets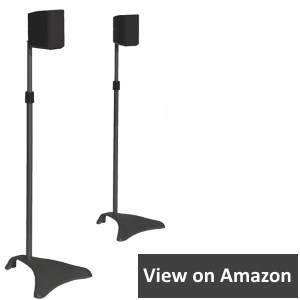 Those looking for an adjustable stand suited for book shelf or satellite speakers may have a hard time if they have pets or small children. A lot of these adjustable stands, while sturdy enough, aren't designed to deal with the shock of heavy nearby floor vibration or being brushed against by hyper children or active animals.
Fortunately, while it's not good deal for the price, this Atlantic stand is probably ideal for just such a situation. There are two aspects of its design that discourage the kind of accidents that could otherwise come from such careless beings playing near them that makes them most likely worth the price for parents of both regular children and the fuzzy variety.
Packaging
This set of two stands weighs a little over 11 pounds. It comes in about four pieces (not counting any screws or fasteners) and is very easy and straightforward to assemble. All parts but the adjustment knob, are solid metal, mostly cast iron.
Performance and Technical Issues
This is a mostly solid design, though any adjustable design intended to hold weight will eventually break down.
The design's base is not a flat and symmetrical design like most, which makes it harder to set these up flush with walls or alongside other furniture. It also means their need for a very even and level place to sit is far greater. This would actually be a far bigger issue if the obtuse design of the base wasn't very crucial to its ability to be safer around pets and children.
The need to thread the cords through the pole, a common thing with many of these stands, can result in some inconvenience if replacing or repairing speakers. This also runs a greater risk of shorts due to the copper in the cords breaking. Great care and patience must be exercised when threading them through the stand.
Is it Recommended?
The biggest reason to choose this stand over the comparable Sanus version is its greater safety around children and pets. The straighter support beam distributes the weight more rigidly through the entire structure. This makes it more resistant to local shock and being brushed against.
The non-flat base discourages climbing animals like cats and small dogs from getting up on the stand, as they tend to not like uneven, cold hard metal shapes. This is also likely to deter children in a similar fashion.
Given it has a similarly wide range of support, those with children or pets, or those who don't like the curved design of the Sanus alternative should be pleased with this speaker stand.
Pros
Reasonably priced, despite price versus quality being less ideal than the Sanus model.
Straighter design appeals to those with simpler aesthetic tastes.
Straight design and odd base also discourage playing children and pets from climbing around it.
Cons
Adjustable stands do wear out more quickly than non-adjustable ones.
Strange base design could injure a toe if placed near foot traffic.
"Cord hiding" design actually can be a pain, and make it possible to damage cords.
FAQ About this Product
Q: Will wires for Vizio products, which are thicker, still conceal in the pol?
A: Yes, most speaker cords and power cords will fit through the pole. Be careful with this.
Q: What're the height rangers for this stand?
A: It can be adjusted between 27" to 48". Remember the speaker adds to the height, as does the bracket if not adjusted to the speaker's height.
3. Bose FS-1 – Top rated Looking Bookshelf Speaker Stands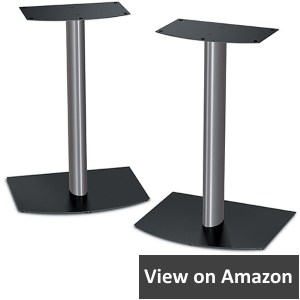 Coming from Bose themselves, this is one of the higher-end speaker stand designs available. Their mostly square base and general volume makes them one of the easier ones to easily place flush in corners, along walls or in other places mostly out of the way. Their black and silver finish means they mostly blend in with their surroundings tastefully.
Package Information
These speaker stands are sold in pairs and consist of three basic components along with fasteners to assemble them. Additional screws are provided to attach specific models of speaker for which these stands were initially designed.
Performance and Technical Issues
This product is intended to be easy to assemble, consisting of only three large parts per unit. However, many consumers have complained that the screws are entirely too tight. This has resulted in many stripped or broken screws, a few broken tools and quite a bit of frustration.
Furthermore, the form factor of these stands is very specifically intended for the short, wide trapezoidal shape of most Bose speakers. This makes it almost or entirely impossible to anchor many models of speaker to these.
Is it Recommended?
Screw issues aside, owners of Bose speakers, or speakers of the same form factor, should find these mostly ideal. They're attractive enough, while being plain enough to go largely unnoticed in most environments. The wide base makes them very sturdy – you're probably not going to accidentally knock these over.
Despite being mostly impossible to anchor speakers of any other form factor to these stands, the top is nearly as wide as the base, providing a wide and flat surface that a great many types of speakers can safely sit on. This is a bad idea if you have small children or exceptionally rambunctious pets which run a chance of knocking the speakers off.
These are nice speaker stands, and very sturdy, which is to be expected given their high price. If you can deal with the tight screws and chance you won't be able to actually anchor your speakers, you'll likely be happy with them.
Pros
The weight may make them awkward to ship and to move, but it also makes them difficult to tip over as well as quite durable.
The large top means speakers that don't anchor down can still sit mostly safely in place.
The simple black and silver look of these makes them match just about any room.
Cons
These speaker stands can be difficult to assemble due to screw threading being too tight.
These are quite heavy, each one weighing over 10 pounds. Some people may find that this makes them cumbersome to move.
These stands only perfectly fit Bose speakers and others of a similar form factor. Traditional speaker designs may not anchor to these and will have to sit somewhat precariously atop.
FAQ About this Product
Q: What are the dimensions of the mounting platform?
A: The mounting platform is roughly 11.5"x7.5".
Q: Have the manufacturers rectified the screw tightness problem in later inventory?
A: This remains a common problem with this model, unfortunately.
Q: Will the Bose 161s fit on the mounting platform?
A: Yes, this model fits quite snugly on the platform, as do many other Bose speaker products.
Q: Will JBL Studio 530 speakers fit on the platform?
A: Yes, though they almost certainly won't anchor due to form factor conflicts. They may be a little large, however, making them sit a bit more precariously than many speakers.
4. Sanus Wireless – Speaker Stands For Sonosplay 1,3,5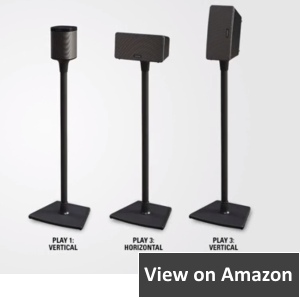 Sonos has become a big name in sound, especially for modern wireless sound systems. The somewhat tricky form factor of Sonos speakers makes it difficult to mount them on a lot of stands. This means Sonos owners are likely served with stands designed with them in mind.
Packaging
These are sold in pairs (surprisingly not all stands are), each one weighing about 2 pounds, though the shipping weight is somehow nearly 20 pounds. Each consists of a collar and base, a shaft and a mounting top.
Performance and Technical Issues
This is another case of a model-specific form factor being used. Some smaller speakers may be able to mount to these stands without much difficulty, but many will not.
Unlike some other model-specific stands, these lack a flat, generic surface that other speaker types can rest on. Unfortunately, much of the stand is made of lower-quality materials for the price usually asked.
The design requires the speaker's power cord to be threaded through the back-mounting bracket and down through the tube to the base. This means disassembly may be necessary to get the cord back out if you get new Sonos speakers. It can also result in shorts in the power cord if the threading is not done cautiously.
Is it Recommended?
If you have smaller wireless speakers by Sonos, or another brand with the same basic form factor, you should find these ideal. The base is sturdy and wide, they're light weight and the matte-finish black look of them means they're probably not going to be an eye sore that pops out.
Pros
Very light weight and easy to move.
Very easy to assemble.
Actually fits PLAY 5 and a few other models of Sonos speaker, despite claiming to only support PLAY 1 and PLAY 3.
Solid base means they're very unlikely to tip over.
Black matte finish means they match most tastes in decor.
Cons
Very model-specific form factor means a very limited range of speakers can sit on them.
The base collar has been known to be difficult to slide down the tube and properly fasten.
The power cords must be threaded through the stand which can cause inconvenience and possible harm to the cord if you're not careful.
Pricy for their size and materials used.
FAQ About this Product
Q: How tall are these stands with speakers installed?
A: With the PLAY 1 installed, they stand a little under 41 inches, or 3.41".
Q: This stand looks like it should fit some other models like the Samsung K950 rear speakers. The screw location is higher or lower, though. Will they still fit?
A: Sanus offers alternative brackets in the package to fit most other speakers of the same basic form factor.
Q: Will these fit Enclave Cinehome wireless speakers? Their mounting is a tad unusual.
A: This is not recommended. Sanus offers similar stands that do suit Enclave's speakers however.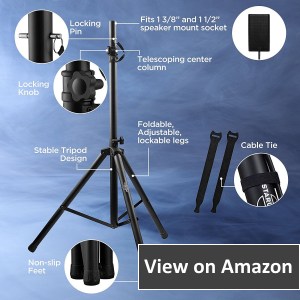 Most stands are made with small or special speakers in mind, leaving large "loud" speakers with tower form factors high and dry. Fortunately, this tripod stand was made with those speakers in mind.
It may not be as elegant-looking as the Bose stand, or as simple as one of Sanus' designs, but when it comes to these larger speakers, that's usually going to be the case.
Packaging
This set of two tripod stands includes 50 cable ties – the nice Velcro kind, not the cheap plastic zip ties. It requires little assembly, each stand weighing a little over 3 pounds. This design is naturally collapsible for easy moving or transport, requiring no disassembly.
Performance and Technical Issues
This tripod stand is modeled after industrial sound solutions and is therefore a tad more intricate. While it requires very little in the way of assembly, it's slightly less intuitive to set up and adjust than some other home speaker stands.
While the height is adjustable, it can only be set to six specific heights provided by pre-drilled holes along the support.
This stand really only works with speakers that have the appropriate pole mount on the bottom, to attach it to. There is no platform on the top which can be adapted to suit speakers of incompatible form factors.
Is it Recommended?
Larger "tower" speakers are very heavy and difficult to fit onto most home speaker stands. With both of these in mind, this tripod design is a logical solution. The base attaches to the support legs, adding extra overall support, and the metal construction is very sturdy and durable.
The only big issue some consumers may have with this design is, it's not very subdued or attractive, resembling a surveying or photography tripod in almost every respect. It doesn't blend in, because the required design means it simply can't.
If you don't mind the austere, industrial look of these stands, you'll probably find them a good solution for setting up larger speakers. The adjustable height means you can work with a room's acoustics better as well – the old standby of placing these larger speakers on the floor is a known damper to sound quality.
Pros
Very sturdy metal construction.
Little to no assembly, and very quick setup.
Very portable and uses very little space when being stored.
Tripod support system means it's very difficult to knock these over.
Very good price, included cable ties are of great quality.
Cons
Adjustable height is limited to six pre-drilled settings.
Industrial design would generally be considered unattractive in most homes, meaning some aesthetic balance must be sacrificed.
Form factor is limited only to speakers with pole mounts.
FAQ About this Product
Q: Will this stand fit Electro-Voice zlx12p 12" loudspeakers?
A: Yes, it will actually fit any 1 3/8" or 1 1/2" socket on a pole mount speaker.
Q: How much weight will this support?
A: It can support to 110 pounds very easily. Be sure the ground is very level when speakers this heavy are used.
Q: Can this be adapted for bracket-mounted speakers?
A: It will hold a 1 1/2" bracket very loosely, which means it's technically possible to this. It's very much not recommended.
Q: Do they come with a bracket, or is there a bracket specifically available for this stand?
A: No, there is no bracket included nor one made to adjust this stand. It works only with speakers that can accept pole mounting. Attempting to fasten a bracket to this stand is really not safe nor recommended.
Speaker Stands – Buyer's Guide
There was a time when an impressive entertainment center was quite the behemoth – a massive big screen TV, a sound system made of several modules, and towering speakers occupying entire shelves.
As things got smarter and more integrated, the whole affair became much smaller. That is, the whole thing except for the speakers. For good, clearly audible sound, speakers can only shrink so much.
With the entertainment center itself no longer a piece of furniture, speakers often find themselves without a proper place to live in modern homes. Thankfully, there are a great many speaker stands available to solve this problem, while blending unobtrusively into the environment.
However, like a lot of specialized products, it can be pretty difficult to pick out the right brand and model.
There's no one perfect solution for everyone, of course. There are a lot of factors to consider, such as speaker shape, environment and of course personal taste. Let's take a look at the five top rated speaker stands available on the market right now.
Speaker stands were once considered something of an undesired solution for entertainment systems in the days of large furniture-sized televisions and stereos. Now, with the changes to home equipment, these designs finally take their leave of public places and studios and find themselves invaluable in homes.
There are a great many speaker types and form factors though, meaning there's no universal solution for them. Some may find themselves needing two or more different types of stands for just one sound system. Some companies are working on modular stands adjustable in more ways, potentially allowing designs closer to being universal.
Just remember, the more adjustable parts a stand has, the more effort that must be put into making them sturdy, and the more easily they might break down.
There are a lot of factors to contend with when buying speaker stands. It's easy to think that size and appearance are the main things to worry about but this just isn't the case. First of all, speakers come in all shapes, sizes and weights. Most sound systems worth their salt tend to have at least two or three different speaker form factors at play.
Environment presents a great number of issues to consider as well. It may in fact be surprising just how many environmental factors are involved in this decision.
These are all equally important things to consider when choosing the right stand(s) for you, so let's take a moment to run through what these issues are and just why they matter so strongly.
Form Factors
Speakers generally fall into a few general form factors. Most speakers in a given sound system will be satellite/bookshelf designs. These are smaller, boxy speakers generally intended to be placed strategically in a room to produce surround sound or evenly-dispersed stereo. These are the easiest speakers to do stand shopping for simply because more "one size fits all" types of stands are available for them.
The other common form factor is the large "tower" speakers. These are the stereotypical big rectangles people think of when they imagine powerful, loud speakers. They're heavy, and they're usually limited to "pole mount" stands. Pole mount stands are more limited in variety.
Unfortunately, a lot of other speakers are of arbitrary design, Bose being a notable example with their flat, wide trapezoidal units. These tend to involve very limited-variety specialty stands which are in turn pricy.
Environment
The environment where these speakers are used is a tremendously important variable. Often, the acoustics of a room can be challenging, meaning stands with adjustable heights are necessary to get the best sound. This is especially true when the sound system is surround.
Following this train of thought, you also need to consider the inhabitants of this space. If you have small children or very active pets, you probably want to avoid stands you can't properly anchor speakers to. You also probably want stands that have a solid base with a design that discourages pets from trying to climb around on them.
Sometimes, to get the good sound, it's impossible to tuck the speakers in corners where foot traffic can give them a wide berth. You want to make sure that your speaker doesn't make the stand so top heavy that floor vibrations or accidental brushes against them may tip them over or jostle them to the point they become loose.
Aesthetic
Aesthetic is going to be a final thing to consider, after you've found a stand suited to your environment that holds your speakers snugly. Ideally, you want your speakers to not stick out like a sore thumb, but rather blend into the environment like any other appliance. Even in brightly-decorated rooms, matte-finish dark colors are probably going to be easier to accomplish this with.