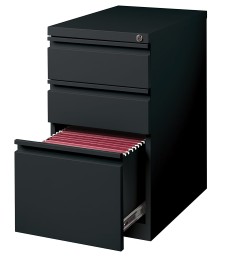 Best filing cabinet has been used to organize office spaces efficiently.
Keeping and maintaining your office clean and organized is of paramount importance. It does not matter if it is your home office or work office, keeping it organized indicates high standards of professionalism.
Imagine coming to an office that has files and office equipment cramped all over. You will even be demotivated to work.
However, when you organize your workspace and have everything placed in its right spot, you will automatically enhance your productivity.
Best Filing Cabinet of 2017-2018
Best Brand of Filing Cabinet
Dimensions (LxWxH), inches
Paper sizes
Material
Extra
Check Price
Home Decorators Collection
Oxford 3 Drawer Filing Cabinet, Chestnut

21x16x41
Letter, legal
Hardwood veneer
Also available at White and Black colors
Check Price
Hirsh Industries 3 Drawer Mobile Filing Cabinet, Black (

Editor's Choice

)
20x15x28
Letter
Metal
With drawers lock and wheels
Check Price
Lorell 18 Deep, 2 Drawer Filing Cabinet, Putty(

Editor's Choice

)
14x18x25
Letter
Steel
With drawers lock
Check Price
Lorell Soho, 3 Drawer Vertical Filing Cabinet
14x18x36
Letter
Steel
Lock secures top two drawers
Check Price
Lorell 3-Drawer Mobile Filing Cabinet
14x18x29
Letter
Steel
With supply drawer and easy roll casters
Check Price
Z-Line Designs 2 Drawer Lateral Filing Cabinet, Espresso
29x16x28
Letter, legal
Good quality laminate
Includes lock for security
Check Price
Hirsh Industries 18 Deep, 3 Drawer Filing Cabinet, White
14x18x27
Letter
Steel
Top drawer perfect for small supplies. Lock secures top two drawers
Check Price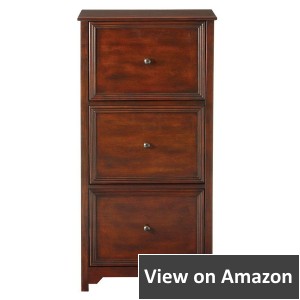 Without a doubt, the Oxford File Cabinet is one of the best filing cabinets that you could get to organize your office. It comes with three spacious drawers that can hold some if not all of your documents.
Besides organizing your office, this filing cabinet will also enhance the decor in your office with its chestnut color. Its manufacturers have definitely put in a lot of work in its construction.
It is made of a sturdy and durable material, hardwood veneer, and then given a smooth and luminous finish. The 3 drawers it comes with enhance its versatility.
Pros
The file cabinet is easy to assemble.
It features a sturdy construction.
The drawer slides are firm and they slide smoothly.
Documents fit in easily.
It comes with anti-tip brackets for attaching it to the wall.
Cons
It is in the higher price range.
Some of its parts do not fit well.
The packaging material is too soft, and it disintegrates when you unbox the parts.
2. Hirsh Industries – Modern 3 Drawer Filing Cabinet for Office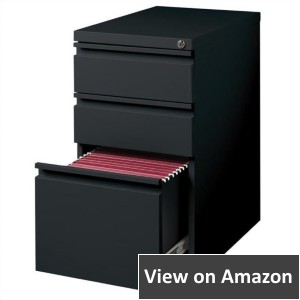 Are you tired of an unorganized office? If you are, you might consider getting yourself the Hirsh Industries 3 Drawer Mobile File Cabinet.
This filing cabinet has an ergonomic design and is made of 30 percent recycled materials. If you advocate for recycling and you are in love with the color black, you might also love this filing cabinet.
It is designed with hidden casters and includes steel ball bearings to let you open and close its drawers quietly and without difficulty. The drawers are also designed to accommodate hanging file folders to offer a more convenient storage.
You can rely on this filing cabinet to keep your private documents safe using its core-removable lock that only needs one key for all the drawers. Moreover, this cabinet's durability is undisputed.
Pros
The filing cabinet has a sturdy construction.
It does not need to be assembled.
Its drawers slide easily and they are strong.
It uses only one lock to close or open all the drawers.
The cabinet matches up to ANSI/BIFMA standards limited life warranty.
Cons
The drawers only hold letter-sized envelopes.
It is pricey.
3. Lorell – 2 Drawer Lockable Filing Cabinet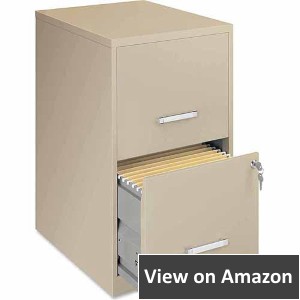 An organized office is impressive, and it leaves you feeling motivated throughout the day. If you have had enough of crampy office space, you could go for the Lorell 14340.
This filing cabinet is constructed with two 18-inch deep drawers. The two drawers can store all your documents safely.
The Lorell 1430 comes with factory-installed locks to keep private documents secure and a nylon roller suspension. Its drawers also have a high-side design to eradicate the need for hanging file folder frames.
Pros
It is economically priced.
The drawers function excellently.
It has a lightweight design.
It includes a key-lock for enhanced security.
Cons
The drawers do not come out fully, which may create problems when trying to access files at the back.
The handles do not come attached.
The light material can easily be dented.
4. Lorell Soho – Vertical Filing Cabinet For Small Spaces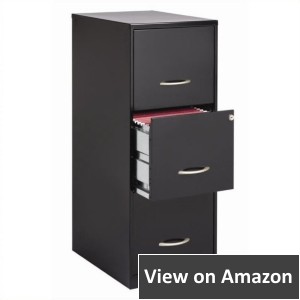 Get your office the LLR18573 and enjoy an efficient easy filing of documents and storage of your office stationery. This is a sturdy, modern filing cabinet that includes 3 drawers. You can use the two top drawers to store records because they are lockable. What's more, they include handles for easier pulling and closing.
This filing cabinet is designed to store letter-size hanging files.
The LLR18573 – Lorell SOHO has a 3/4 drawer extension to let you reach the furthest file easily.
Pros
The filing cabinet has excellent drawer extension.
You will only assemble the handles.
It is available at a good price.
It has an ergonomic and lightweight design.
The filing cabinet is portable.
Cons
The filing cabinet is made of a light material that can easily be dented.
You can only locks its two top drawers.
5. Lorell Mobile – Filing Cabinet with Rolling Casters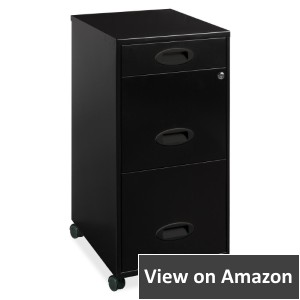 If you have been looking for an easily portable filing cabinet to keep your office in order, you are in luck. The Lorell 17427 is designed with casters to let you move it to different positions in the office.
This filing cabinet is constructed with 18-inch deep drawers that fit letter-size hanging files. It also includes a lock that secures the two top drawers.
Besides the two top drawers that you can lock, the filing cabinet also has a supply drawer that makes it suitable for work environments.
Pros
It includes 4 casters.
It is available at an excellent price for the value.
The filing cabinet is a great choice for work environments.
Its top drawers come with high quality locks.
Cons
The drawers do not have a good extension.
You cannot lock the bottom drawer.
When we talk about quality, we talk about the Z-Line Designs File Espresso Cabinet. This filing cabinet has a brown-espresso finish with black accents.
Interestingly, it includes metal rails to let you file your documents easily. Besides the metal rails, it also features a lock to secure your records.
This filing cabinet has a sturdy construction.
Its glides are heavy duty for durability plus they extend fully for easier file access.
Its two drawers accommodate both letter and legal size hanging files.
Pros
It has an excellent value.
The filing cabinet features a sturdy construction.
It helps you secure your documents and files.
It has a great design.
It fits letter and legal size hanging files.
Cons
Assembling it is a tough task.
It is pricey.
7. Hirsh Industries – 3 Drawer Locking White Filing Cabinet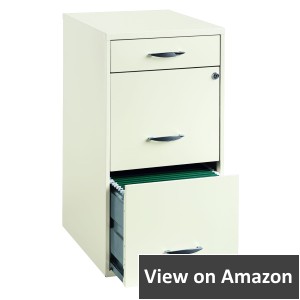 The last item on our list is the Hirsh Industries 3 Drawer Steel File Cabinet. This cabinet has three drawers. Two of the drawers hold letter-size hanging files (the bottom and middle).
The top drawer is smaller, and you can use it to store small office supplies such as stationery. This filing cabinet comes in white, and it comprises 30 percent recycled materials.
It has full high-side drawers that offer storage for other office essentials. It has locks for the two top drawers.
Pros
The filing cabinet is available at a good price.
It offers easy storage for your documents.
Apart from files, you can store other office essentials in the cabinet.
It comes assembled; you only have to attach the handles.
The cabinet is lightweight.
Cons
The material used to make it is flimsy.
Its drawers do not extend much.
It may tip over if top drawers are filled first.
Best Filing Cabinet – Buyer's Guide
There is a lot of paperwork and files within an office, and the best way to keep them organized is by keeping them in a storage space. What better way to store and organize such documents if not by storing them in a filing cabinet?
Despite the technological changes that have replaced some office equipment, filing cabinets have remained in use. This article will carry out a brief review of some of the ideal cabinets that you could equip your office with.
It will also include a complete buying guide and some of the benefits of having a filing cabinet.
How to Find the Best Filing Cabinet for Your Office
Have you been facing a hard time when you get into your office because of cramped documents all over the place?
Have you been in a position where you searched for a particular document for a couple of days before finding it somewhere in the office?
If you have, you can get such stresses off your mind by purchasing a filing cabinet for your office. Filing cabinets are instrumental in creating space necessary for an efficient work environment.
However, before you venture into the market to purchase a file cabinet, you need to conduct intense research to ensure you get the best item. Overall, there are different brands in the market and each has different features.
The cabinet's distinct specifications make some filing cabinets better at serving you than others. You want to get your office a filing cabinet that will give you easy access to your files.
Here are some of the features and details you need to consider before making a purchase.
Why Do You Need To Buy A Filing Cabinet?
We might have mentioned some of the reasons you need to get your office a filing cabinet. The major one is to keep your office space clean and organized. Filing cabinets are particularly essential for offices that are yet to go paperless.
In fact, most businesses still use papers to carry out important business tasks such as invoicing. Such records need to be kept safe because losing them could mean that your business will start losing money too.
Over and above, here is why you need to purchase the top filing cabinet.
It will help you to keep your office organized.
Filing cabinets provide you with easier access to important documents.
Locked cabinets will keep important documents and records safe.
Filing cabinets help you create more space in the office. The extra space could be used for other activities.
Some are small enough to fit under your office table(s).
They are efficient declustering tools.
Types of File Cabinets
The following are the types of filing cabinets.
Lateral
A lateral file cabinet is the first type on our list. This type of cabinet features drawers that extend from the longest side of the cabinet. These types of files have wide but shallow drawers. The design makes them ideal for areas with tight spaces.
Moreover, they are ideal for you if you have many documents that you need to file. They are designed to hold both letter and legal-size documents. The number of drawers on lateral file cabinets differs from one model to the other.
The lowest number of drawers in this type of cabinet is two. These type of file cabinets are convenient because you can peruse through the documents while sitting. Most of the cabinets are 20 inches deep with 30 – 42-inch widths.
Vertical File Cabinets
Unlike lateral filing cabinets, vertical cabinets are narrow but they have deep drawers. Most of these filing cabinets have a width of between 15 and 20 inches.
These type of filing systems are mostly ideal for use in your personal office. This is because they are designed to hold fewer files compared to the lateral filing cabinets.
Their depth requires their drawers to have longer extensions. This allows you to access even those files that are at the back of the drawers easily.
Mobile Filing Cabinets
Just as their name suggests, these filing cabinets are portable. They are ideal for huge offices because you can move them around from one part of the office to the next or from one department to another.
They are designed with casters – most come with 4, which allow you to roll the cabinets on any type of floor within your office.
Even when you find a mobile filing cabinet lying in the middle of the office, you can easily move it to the desired position by yourself. Other types may require you to ask for help from colleagues.
Mobile filing cabinets are usually small, and they have a lightweight design. You can easily place your cabinet under the desk and access it only when you need to.
Flat Filing Cabinets
This type of cabinets is usually designed to accommodate large documents that are stored in a flat position. The cabinets are ideal for businesses that use large files or documents such as construction companies.
They are designed with short and spacious drawers that are perfect for storing large documents such as blueprints. Flat filing cabinets allow you to store these documents without folding them.
Side Tab Filing System
These filing cabinets are designed to accommodate file folders in a vertical position. This type of filing cabinets is most suited for storing hospital and dispensary records.
This type of workstations requires storage equipment that lets them access information/documents as quickly as possible. Their design does not include doors or any locks to let you locate a folder in a quick glance. They only have shelves.
Rotary Filing System
You could also go for the rotary filing cabinets that are designed to spare as much space as possible. This type of cabinets is designed with two faces.
This means that you can rotate the cabinet to access files or folders from either side of the cabinets. The rotary filing cabinets can feature as little as two and as much as eight shelves.
This means that they will give you an ample storage.
Tambour Door Filing Cabinets
These are filing cabinets designed for offices that have limited space. They are designed with doors that fold back into the cabinet. They also include shelves.
Card Filing Cabinets
These filing cabinets are specifically meant to store cards. They can accommodate different card sizes such as 3" x 5" and 4" x 6" size index cards. This filing system has a front-to-back configuration.
Storage Islands
We conclude the types of filing cabinets with the storage islands. These cabinets are the most versatile of all the types. This is because they are a combination of any type of filing cabinet, and they include a counter height work platform.
As such, your employees can use the cabinets as tabletops while working and you can store all your important documents in them.
How to Choose the Right Filing Cabinet
Cost
One of the most important factors to keep in mind is the cost of the filing cabinet. There are a number of factors that determine the price of a filing cabinet, and different manufacturers price their items differently.
Undoubtedly, some filing cabinets will be costly while others will be have a fair price. Therefore, you need to find a filing cabinet that falls within your budget limits.
Size
When buying a filing cabinet, you need to be space-conscious. One of the major motives behind getting a filing cabinet is to declutter your office space. As a result, size is a major consideration that you have to make.
You have to consider how many documents and files you need to store. You do not need a filing cabinet that is too small or too big for your storage needs.
However, it is imperative to consider that as your business grows, so will your storage needs. It would also be wasteful to spend money on a big cabinet that you will never use.
What type of files will you be storing?
Different filing cabinets are designed to accommodate different types of files. For instance, if you are in the construction industry, you will find it hard to use a similar filing cabinet with an individual in the medical industry.
Moreover, some documents need more security than others do. If such is the case in your office, it is preferable to go for a cabinet that has a sturdy construction for maximum security.
The drawer extension type
Filing cabinets are made with different drawer extensions. Some filing cabinets will have a full extension, others have a 3/4 extension, while others have an over travel.
A cabinet that has a great extension will let you access back files a lot easier. Keep in mind, however, that the bigger the extension, the more the filing cabinet is likely to cost you.
Do you need to lock your documents
If you are storing documents that need to be kept secure, it is advisable to buy a filing cabinet that includes a lock system. This ensures that you and other persons entrusted with a key are the only ones that can access the documents.
The cabinet materials
Filing cabinets are made of different materials. It is up to you to choose the one that suits you. Some of the common materials include:
Aluminum and steel – the cabinets made from steel or aluminum are mostly designed to deliver long-lasting performance. Keep in mind that steel can withstand impacts more than aluminum.
Wood – when compared to filing cabinets made from metal, wood filing cabinets feature a more stylish design. Wood cabinets also have a sturdy construction, which makes them durable. They also add to the décor of your office. However, cabinets made from wood are prone to scratches.
Plastic– these are the cheapest options that are available in the market. If you choose this material, you should know that your filing cabinet will need replacing after only a short time. Plastic filing cabinets are also not as secure as wooden or metal cabinets. Despite all this, they are ideal for storing documents.
Conclusion
Filing cabinets are some of the necessary office accessories that help to keep your office neat and in an orderly manner. They also make it easier for you to find specific documents among the piles.
We have carried out a comprehensive review in this article and listed some of the top rated filing cabinets on the market. If you are looking to purchase a filing cabinet for your office, you might consider those on our list.