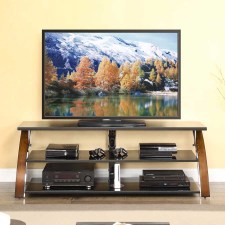 Best TV stand is likely a centerpiece in your living space. Make sure that you choose a TV stand that will match well with your home's style and function the way you expect it to.
Do you prefer a clean, minimal look or would your ideal TV stand serve additional purposes, maybe as shelving for media or gaming equipment?
Your everyday surroundings influence your mood, your feelings, and your daily productivity.
Here's a list of 8 top TV stands – hopefully, you'll find one that will be a good fit for your home.
Best TV Stands of 2017-2018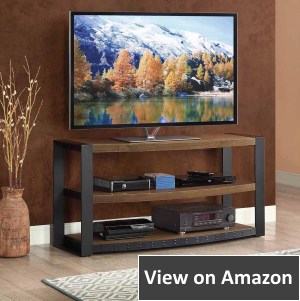 This rustic TV console is a great option for someone who enjoys changing things up every now and then and customizing their entertainment experience. You can place your TV directly on the stand or you can mount it to the wall or onto the included swivel mount.
On top of being an incredibly versatile piece of furniture, this thing is built to last. It doesn't look like a self-assembled furniture piece at all.
This console can withstand a lot of weight and it would work well for those with home theater equipment. There's plenty of room for speakers and a soundbar. This console is also an organized technology enthusiast's dream: It couldn't be simpler to hide all of your various cords and wires using the simple, well-hidden cable management solution.
The slightly distressed and rustic style of this TV stand may not speak to everyone's taste, but if you enjoy the look of this console and value durability, this might be the perfect TV stand for you.
Pros
Use the built-in mount or place the TV directly onto the console
The mount is able to swivel and tilt
Extremely sturdy and well-built
Charming rustic style
Cable management is simple and well-concealed
Able to withstand 135 pounds
Cons
This is a larger item that won't work well in smaller areas
The box is extremely heavy and will likely need multiple people to carry it, especially if being used upstairs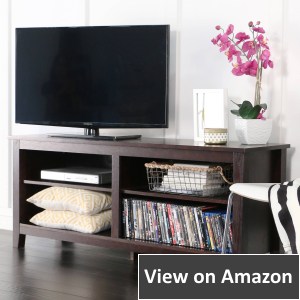 This unique console is the ultimate space-saver. It mounts to your wall and withstands up to 75 pounds. The unimposing design is sleek and perfect for contemporary homes.
The storage space included isn't huge, but it's enough to hold a moderately-sized collection of movies or games as well as three slots for video game consoles, streaming devices, or DVD/Blu-Ray players.
This console is great if you enjoy modern or minimalistic design.
Pros
Holds a decent number of electronics, movies, and games
Saves space by mounting to the wall
Sleek, minimal design
Great price for a sturdy, floating TV stand
Cons
Wall mounting may be difficult for some people to accomplish, this piece is around 60 pounds and is generally a two-person job
Dividers are not adjustable
The cable management system isn't amazing, the hole should be larger if you have more than two electronics being used here. You will be able to make do regardless, but it will take some work for three or more cables.
3. Whalen Furniture – 65 inch TV stand for Entertainment Center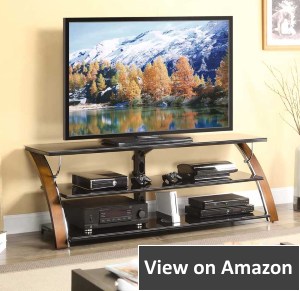 This piece is probably what many people think of when they hear the phrase "media center". It's got three glass shelves and can likely hold all of your various devices as well as quite a few movies and video games.
This is quite a large console, so it probably won't be the good option for an apartment or smaller space.
Also, the tiered design and glass/steel material makes it somewhat of a hazard for small children who may be tempted to climb on it.
The packaging is a pain to deal with because the styrofoam included in the box is so thin that it will inevitably crumble and spread throughout the entire room.
You'll probably have to get a vacuum out to get all of the pieces up. That being said, this is a sturdy piece of furniture for a good price and would work well for families without small children.
Pros
Low price and great value
Easy and quick assembly: No tools required
Durable but lightweight enough to move easily
Wood grain finish on both sides
Cons
Not a lot of storage space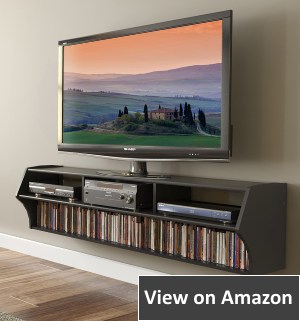 If you're looking for a TV stand that can serve multiple purposes, you might like this one. This stand has tons of storage space without being too bulky.
It's not too expensive and should you ever replace this stand with an upgrade, this piece can function as a bookshelf or a general storage solution that will look great in any office, bedroom, or living area.
One of the top parts about this console is that the style is so understated – it will suit a number of different decor styles because it doesn't have much going on style-wise.
This TV stand will take on the style of whatever home it's placed in and there are a whopping seven color options to choose from.
Pros
Lots of shelving
Multifunctional and can be repurposed when finished using as a TV stand
Does well with most home decor styles, many colors available and the finished product looks beautiful
Cable management is simple and works well
Removable mount and adjustable shelving
Cons
Not for small spaces
Takes an hour or two to assemble
You may need to purchase more wood glue to assemble this than what it comes with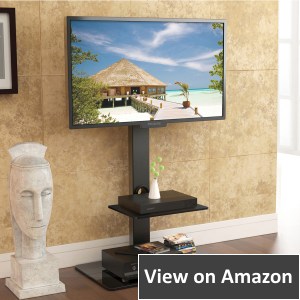 This sleek TV stand is another space-saving wonder.
It's a low-cost mount that will work well for TVs between 32″ and 50″.
You can choose to purchase this stand with two or three small shelves attached.
They're not big enough to store your game or movie collection, but they will hold your Xbox and Blu-Ray player nicely.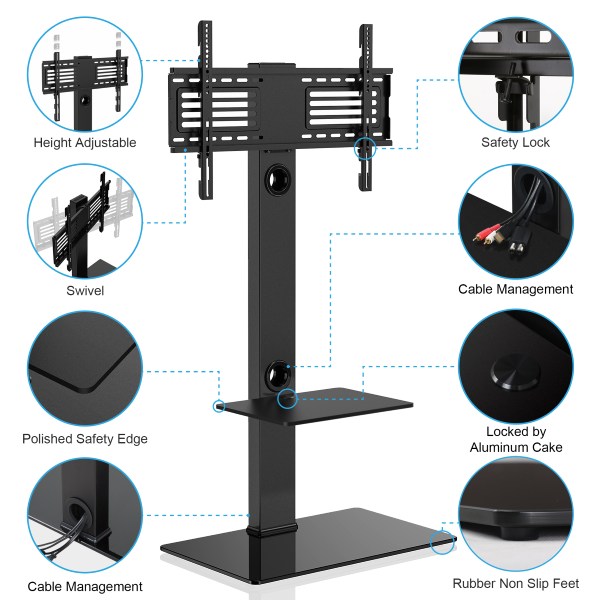 This stand might be the

good option if you want to mount your TV but you live in a rental and cannot make holes in the walls
.
Pros
Sleek, minimal design
Mount your TV without creating any holes in the wall
Swivels easily, great for living spaces with multiple seating and viewing areas
Compact piece of furnature that doesn't take up much space
Cons
Not very much storage space included
Even though it claims to hold TVs up to 65″, this piece is not sturdy enough to hold TVs that are larger than 50″
The cable management system is essentially non-existant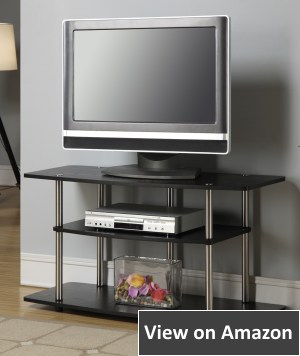 This console is the bigger version of the original Convenience Concepts Designs2Go 3-Tier TV Stand. The pricing markup is minimal and you get the same stylish console, just in a bigger size that can hold larger TVs.
While the manufacturer says that this shelf holds TVs up to 42″, you can probably get away with TVs up to 55″ because this stand is so durable. The weight limit is 85 pounds.
Considering the price, this TV stand is an amazing value because it provides a decent amount of shelving, is a compact size without being too small or flimsy, it looks great, and it comes in several colors.
You can add fabric storage bins to the bottom shelf to add your own flair to the piece and create a drawer-like effect or you can simply use the bare shelves. The assembly takes 10 to 15 minutes maximum and you don't need any tools to do it with.
Pros
Very durable and holds up to 135 pounds
Stylish and classic look
Adequate shelving space for a moderatly large collection of media
Cons
Black foil underneath the shelving is easily scratched off, possibly not making this choice for anyone with kids
Packaging is messy with lots of brittle styrofoam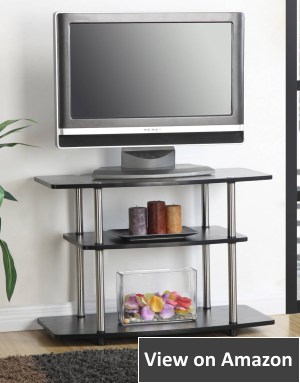 This little console might be perfect for you if you have a smaller TV and aren't looking to spend a whole lot of money on a TV stand.
Whether you're a college student, someone trying to budget wisely, or you live in a smaller space, this 3-Tier TV stand will get the job done without taking over your living area.
It can support up to 80 pounds and has a sleek design that fits well with many different styles. It fits screens of up to 65 inches.
If you like the idea of this TV stand but have a larger TV, there is a bigger version for a small price markup – check out the last item on this list!
Pros
Awesome price
Lightweight, but also steady and durable
Easy and quick assembly
Reasonable amount of shelving
Simple and sleek design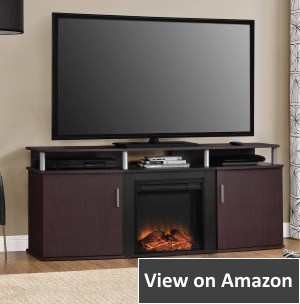 There's nothing quite like a fireplace to add a sense of cozy ambience and class to a room. Unfortunately, there are many situations where this just isn't possible. Fireplaces are quite the construction, and many rooms in many buildings just can't practically do it.
Artificial fireplaces are not new, and they're not quite the same. They're better than nothing, though.
This TV stand, being large and solid to start with, makes use of its presence as a major piece of furniture. It includes an LED fireplace insert with fully-controllable heat. This means it serves as a TV stand, decorative illumination and energy-efficient space heating.
Packaging
This large, stately unit weighs a staggering 114 pounds, and has a volume of about 18×63.1×26". It requires assembly, but the fireplace insert does not make it any more complicated than any stand of this form factor and size.
Performance and Technical Issues
This stand is of particle board construction. This material has gotten much better over the years, but it's one of those materials that degrades faster and faster once damaged. Once a gouge happens to a corner or shelf, and the vinyl finish is gone, the particle board will erode faster and faster.
The overall design, while stately, is the bland, generic type of modern that's been in use since the turn of the century. It doesn't look bad, but it's nothing special, when the fireplace insert isn't accounted for.
The top surface isn't that big by today's standards. Only a single display can fit on it, and there are increasing reasons for additional displays in a set. This stand also lacks that much accommodation for sound systems. Time to shop for speaker stands!
Finally, of milder note, but the cherry is dark, meaning dust will show easily. But, then, your screen shows dust too so.
Is it Recommended?
Despite the minor issues above, this is a very nice stand when you take in the whole ensemble. The dark cherry finish blends well with most rooms, it's just the right height for best screen viewing, and the fireplace insert is a real treat.
It's an LED fireplace, and the artificiality is pretty blatant. Even so, it's a pleasant light source that's relaxing and classic. The clean, efficient heat is good for up to 400 sq. ft, meaning you can warm up the proximity for effect or to lessen the load on the house's heating system.
If you're going to entertain, have a significant other you like to spend cozy time with while you Netflix and chill, or you just want your entertainment area to have that comfortable tableau, you'll probably like this stand. It's heavy, it's a bit bland otherwise, but worth it.
Pros
Design may be bland, but not an unpleasant bland.
Cherry finish shows dust but is otherwise attractive.
Plenty of cabinet space.
Supports a huge display.
LED lighting has long lifespan.
Heat is nice and can be turned off if all you want is the ambience.
Cons
Extra outlet spot occupied by insert.
Finish shows dust and scratches.
FAQ About this Product
Q: Can this support a display wider than the stand?
A: yes, as long as the base is properly supported and the pressure points are fortified, it's fine.
Q: Is the heater safe at high settings?
A: It's no different than any household space heater in all regards.
Q: If the heat is off, does the LED display get hot?
A: No, LEDs produce no perceptible heat.
Q: Is the artificial fire child safe?
A: The fire illusion is just a light show and is therefore harmless.
Best TV Stands – Buyer's Guide
These are some of the things you'll want to take into consideration when buying a new TV stand. Take the time to find the top rated TV stand for your home by considering all of these elements before making a purchase. By thoroughly identifying exactly what you expect from your TV console, you'll save yourself from potentially buying a stand that doesn't work for you.
Style
It may be just a TV stand, but every furniture purchase you make should match your home's style! You'll be unhappy with your purchase if you simply buy the first TV stand with good reviews. Look carefully at the photos that are available for each stand you consider. Would it work well with your style?
Would it stick out like a sore thumb? Is it something you could see yourself being happy with five years from now? There are so many options available that it doesn't make sense for you to buy a TV stand that you don't absolutely love the look of.
Dimensions
Measure the area where you intend to put your new TV stand. Then measure it again! Make sure you know exactly what kind of space you're working with. An inch or two can be the difference between a TV stand that will work right for your home and one that won't. You're better off choosing a stand that is a couple inches shorter than your available space over one that is too big.
Don't buy off of looks alone. Pay attention to dimensions and be sure that the console you buy will fit your TV and the space you intend to place it in.
Storage
Do you need your TV stand to function as a storage solution as well? If so, you can rule out most wall-mounted stands. If you know that you're looking for something that will house your entire entertainment collection, you can skip over the more minimalistic TV stands on the market in favor of something more robust and functional.
Assembly and Moving
If you find it difficult to assemble furniture or you have a handicap that doesn't allow you to assemble items without help, you may want to find a TV stand that requires minimal work to assemble unless you plan to enlist help. If you move often and need your furniture to be easily disassembled or small enough to fit through doorways, keep that in mind.
There's nothing more disappointing than making a significant purchase only to end up realizing you've wasted money because you can't bring the item with you next time you move. If there is glue involved in the assembly process, it won't be a product that is easy to move to your next home unless it is small enough to fit through each doorway.
Warranty
Check to see whether each TV stand you consider comes with some kind of warranty. Many TV consoles come with a limited warranty for a specific number of years. If this is important to you, make sure you find one with a reasonably long warranty. Some TV stands have up to a five-year limited warranty.
Is it Childproof?
If you have kids, take extra care when buying furniture to ensure you're getting something that's safe to introduce into your home. Some people feel that wall-mounted consoles pose a risk to children because they may detach from the wall. If buying a TV stand that remains on the ground makes you less nervous than the idea of a mounted console, go with your gut feeling.
Also, some materials might be less suited for children. Glass, for example, tends to be more difficult to childproof than wooden alternatives. Most TV stands have pointed corners and you may want to take measures to make them less dangerous. You probably won't be able to find a perfectly childproof TV stand right out of the box, but you can find one that can be easily childproofed with additional products once you receive it.
Cable Management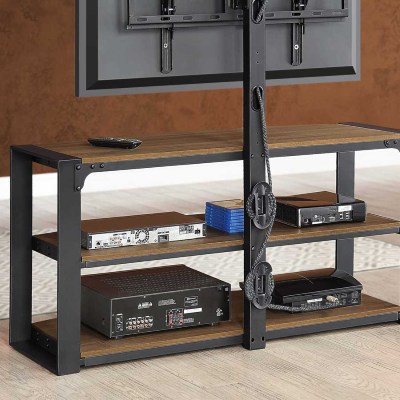 For some people, cable management tops the list of things to look for when shopping for a new TV stand. For others, it doesn't cross their mind. If you have a lot of gadgets to place on your console and plan to use it as an entertainment center, you will likely want to make sure that your new TV stand has a decent cable management system in place.
The more electronics you have, the more unsightly your cable mess will be if there isn't anywhere to conceal it. If cable management is something that's important to you, look for a TV stand that includes knobs or other solutions hidden in the back to wrap your wires around as well as conveniently placed holes to feed cables through without being seen.
A TV stand is often more than just that. Find one that suits your needs and you'll be glad you took the time to search for the perfect solution. Consider what you intend to use your console for and keep in mind that your TV will be a focal point in your living room.
If you're a big entertainment fan, you might enjoy having your TV and entertainment center take up a large portion of your living space. If you're someone who watches TV sparsely but still wants a high-quality entertainment setup, you'll probably prefer a more compact TV stand that allows more room for other pieces of furniture.