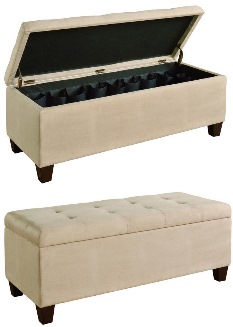 Best Storage benches make the perfect solution for the storage of children toys, pillows, blankets, shoes, magazines, books, hats, among others.
An added advantage is how the benches can also be used as tables or footrests.
Choosing the right one often proves almost impossible, therefore, the following review and buyer's guide of some of the modern benches will help you decide.
Best Storage Benches of 2018
Name
Size: Width, Height, Depth, inches
Place type
Material
Specialties
Check Price
Seville Classics Foldable Storage Bench (

Editor's Choice

)
Dimensions:
31.5 x 15.7 x 15.7
Inner Bin Dimensions:
14.8 x 7.1 x 4.1
entryway bench with storage, a bed bench, or footrest
Polyester (synthetic non-woven fabric)
strong enough for most people to sit.
Check Price
Simpli Home Avalon Rectangular Faux Leather Storage Bench (

Editor's Choice

)
Dimensions: 48 x 18.1 x 16.1
Inner Bin Dimensions:
44 x 14 x 10
regular table and a perfect storage center
PU Leather / Fabric
extra-long
Check Price
Otto & Ben Button Design Memory foam Seat Folding Storage Ottoman Bench
Dimensions: 15 x 15 x 15,
30 x 15 x 15
Inner Bin Dimensions:
13.25 x 13.25 x 13.25
multi-purpose bench
aux Leather
Memory Foam padded top
Check Price
ClosetMaid Cubeicals 3-Cube Storage Bench
Inner Bin Dimensions:
11.25 x 11.25 x 11.75
multi-purpose bench
Laminated wood
Highly versatile and convenient
Check Price
Sorbus Storage Bench Chest– Collapsible/Folding Bench
Dimensions: 43 x 15 x 15
Chest, Pouffe Ottoman, Coffee Table, Seat, Foot Rest
Faux Leather
lightweight and can be placed anywhere in your home
Check Price
Linon Carmen Shoe Storage Ottoman
Dimensions: 48 x 20 x 20
at the foot of the bed
Microfiber
Has storage pockets to store many shoes
Check Price
Otto & Ben Smart Lift Top Ottoman Bench
Dimensions: 45 x 15 x 15,
Inner Bin Dimensions:
43.5 x 13.5 x 13
footrest, a toolbox, a bench
Linen Fabric
Has interior partitions
Check Price
Simpli Home Cosmopolitan Storage Ottoman Bench
Dimensions: 33 x 17 x 17
Inner Bin Dimensions:
30 x 14 x 11
multi-purpose bench
Faux Leather
fairly durable
Check Price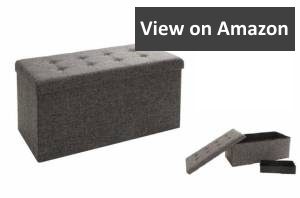 Seville Classics Foldable Bench offers style and versatility. It is a beautifully designed bench, which doubles as a coffee table or a footrest among many other tasks.
Seville Classics Bench has all the particular qualities you are looking for as an addition to your home. It comes with a sturdy build, is lightweight and has an elegant charcoal ash grey finish, which is a perfect complement to most home decors.
The storage compartment is hidden and can be accessed by removing the top coverage, which folds away quick and easy. Space is generous and enough to fit clothes, magazines, toys, shoes, among other small items, this is why the product is more popular in dorms, apartments, and most homes.
The bench is one hundred percent Polyester. The charcoal grey fabric's top cushion is button-tufted for stability and a stylish look. The fabric is non-woven and is fully synthetic to add more touch to the look and feel of the foldable bench. It supports a total of 500 pounds, making it sturdy enough for several people to sit on it.
Pros
It is foldable and lightweight for easy portability around the room
The charcoal ash grey finish compliments many home color designs
Strong and highly durable
Versatile and perfect for a variety of uses
Spacious enough for substantial storage of items
Cons
The bench has an irritating chemical smell when new
Other users complain about its color being a lot darker and not complimenting typical home designs
Might not be the top choice for everyday use, but is a lot ideal for the guest room
The quality, according to some testimonies, is poor

When you have lots of mess lying around the house and you are unsure where to start from in arranging them, the perfect solution is Simpli Home Avalon Bench. It is handcrafted, extra-long, and it features a durable faux leather with elegant exterior stitches.
The bench packs an engineered solid pine wood frame with plywood extras to support the upholstery. The top lid is padded, has a child safety hinge to ensure that it doesn't jam, and upon lifting, it reveals an ample functional storage ideal for concealing all the mess around your home.
Simpli Home works as an incredible bench for several persons, as well as a regular table and a perfect storage center. It is available in a wide assortment of colors including tanners brown, slate grey, satin cream, fawn brown, blue, and midnight black.
As a result, if you are looking to use it in your doorway, the guest room, bedroom, living room or wherever you choose, it will fit your design just perfectly. Depending on your taste, the neutral colors will bring more ambience better.
The stylish build of Simpli Home Avalon bench makes it among the highest ranking benches on the market. Together with all its amazing features, it makes exactly the type of bench you want for a variety of uses.

Pros
Available in different colors to fit various home décor designs
It offers easy assembly
The faux leather is fairly durable and easy to clean
Ample and spacious storage to fit different things for concealment
Cons
The cushioning at the top is rather thin
Other users claim the wood is not strong enough, making the product's quality questionable
The side seam tears away after several uses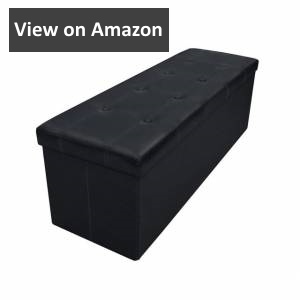 The Otto & Ben 30" Button design is a multi-purpose bench constructed with high-quality memory foam to guarantee comfortable sitting. The surface has faux leather and is padded to make it have a luxurious feel and look like the other Ottoman products on the market.
It combines a quick and intuitive assembly that can be achieved quickly as well as a strong build that provides stability. The strength is reinforced by medium density flipper board, which is strong enough to ensure that it supports up to 250 pounds.
The bench is foldable with a lid design that is tufted. It lies flat and unfolds to reveal a storage space enough to store away all the mess in your room. Folded, the bench doubles as a footrest, a perfect sitting couch, or a beautiful small table. When not in use, the bench can be easily folded flat and stored effortlessly. The faux leather material is waterproof and easy to maintain. Cleaning the bench involves wiping dry, or spot cleaning using a cloth.
It is a perfect choice for those seeking simple, yet convenient office benches, bedroom footrests, or those who just simply need a bench they can rest on away from the standard upholstery. It is also a perfect toolbox if your needs extend that far.
Pros
The bench offers easy storage through its foldable design
It is padded and cushioned with super foam for comfort
Pops up and folds easily when one is storing stuff in it
It is versatile and can be used for a variety of purposes
Lightweight and easy to handle or move around the room
Cons
The quality isn't up to par with the standards of benches of the same type
The storage interior of the bench smell terrible when still new
The construction is poor
For the same price, you can get a better bench on the market
4. ClosetMaid – Wooden Storage Bench with Cubbies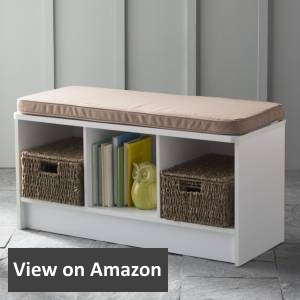 Unlike other products classified as benches on the market, the ClosetMaid 3-Cube bench is more of a drawer with a cushion top than upholstery. It is highly multi-purpose with convenient and spacious storage space. Add that to the white color of the product, and your room is left looking as stylish as never before.
The construction incorporates three cubbies that are designed to hold three drawers, which are not included, for the keeping of a variety of items in your home like shoes, clothes, blankets, hats as well as those accessories you need when you want to leave the house. This is one reason why the perfect and the easiest place to install is by the door. The top of the three cubies is a cushion soft enough to act as a seat.
The fixture offers easy assembly and comes with all the necessary components required together with an installation guide. You can choose from up to three types of finishes and over 20 colors, depending on your taste. Each cube comes with a full back up for the storage of the items. To get the best out of the ClosetMaid 3-Cube Bench, using it with fabric drawers of your choice will offer maximum storage and concealment.
Pros
Available in a wide variety of colors one can choose from
Highly versatile and convenient for storage of items
Can be customized with drawers with locks for ultimate protection
Easy to assemble and comes with an assembly guide
Strong enough for two adults to sit on top
Cons
Others are concerned about the cheap design
It is a whole lot smaller than many anticipate
If not properly assembled, the bench falls away easily
5. Sorbus – Black Faux Leather Storage Bench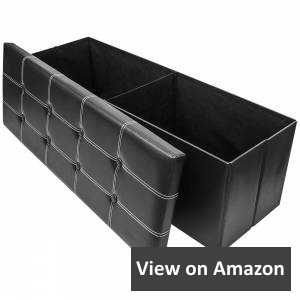 Everything about the Sorbus Faux Leather Folding Ottoman Bench is amazing. The bench has an attractive build, which makes it a perfect choice for a functional, stable and an elegant accent piece that also works as a storage compartment.
The bench is superbly crafted with high-end faux leather that is easy to clean and does not easily stain. It comes with a padding cushioned for comfort, precisely stitched and button-tufted for a luxurious feel and look.
The meticulous build blends well with every other upholstery in your living room and makes the bench a substitution to your plastic storage baskets. It accommodates dorms, bedrooms, and small apartments. It is also perfect for the closets and children rooms. The storage space is for storing magazines, pillows, blankets, among other items. It also is a perfect fixture to sit on while relaxing or by resting your feet on them.
Anybody looking to create a cozy home with a variety of upholstery needs Sorbus Faux Leather Folding Ottoman Bench. It can also work as a subtle toolbox to conceal most of the items you want to put away. It is foldable, lightweight and is easy to put together without any complicated tools. The lid opens simply by being lifted.
Pros
Gorgeous stylish look with a luxurious feel
It is lightweight and can be placed anywhere in your home
It has a durable build with an easy to clean faux leather
The bench has a multi-purpose build and can be used in a variety of ways
Can be assembled without any tools
Cons
The sides fold up and cannot remain folded out unless with an insert to support it
Like other new benches, the chemical smell is frustrating
Some do not have beautiful finishes
6. Linon Carmen – Entryway Bench with Shoe Storage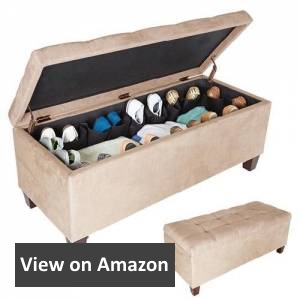 The Carmen Shoe Storage bench is ideal as a closet addition and can also be installed at the foot of the bed. The lid is adequately cushioned for comfort when using it as a footrest, or when you are sitting on it and watching the TV, or doing other things.
It comes with a silent safety hinge to protect you, your children or any other person using the bench, from potential accidents, and to ensure its durability. The lid doesn't detach from the rest of the furnishing.
It is made from premium quality beige microfiber that effortlessly blends perfectly with your home décor design and the primary color of your home, adding a cozy and warm look in your guest room, living room, or in front of bed. The gorgeous look is further facilitated by the shape of the top of the bench, which is tufted to make it much more attractive.
The lid opens to give way to a lavishly designed interior spacious enough for the storage of shoes. The inside has been installed with shoe holders to enhance and maximize compact shoe storage to save on more space. It requires some assembly and is also available in red if you are looking to enliven your space with a bold color. The bench also comes with a warranty period of six months.
Pros
Has storage pockets to store many shoes
Made from high-end microfiber upholstery for durability
Strong enough to act as a relaxation seat
Comes with a safety hinge for protection
Perfect for closets and the bedrooms
It offers easy assembly, and the finished product has a rich accent
Cons
The red Carmen Storage Bench stains clothes, especially the white ones
Comes with stains as some users have noted
Other testimonies cite poor quality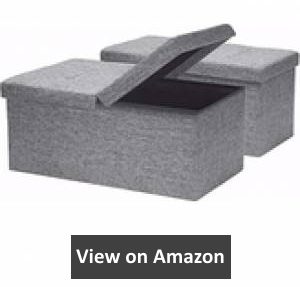 Designed for multipurpose use, the Otto & Ben Smart Lift Top, is a footrest, a toolbox, a bench, and everything else all rolled into one. It is padded for comfort with a high-quality foam and a cushioned top, which makes sitting on it such a pleasant experience.
On top of these amazing features is another high-quality material, the tweed fabric that makes the bench look lush, snug and modern accent to the storage space. It easily folds flat for easy storage with the lid opening on either side, which means clearing the top to access the interior is unnecessary.
It is constructed from medium-density fiber board for strength and stability. If you are a color person, the bench is available in brown, dark and light grey colors, for your taste. It is ideal for space saving in your home and can serve as a perfect entryway storage fixture for sitting on when removing your shoes and for storing them as well.
Also, it acts as a toolbox and a box to store magazines, blankets, pillows among other personal items you don't want lying around.
The bench is for bedrooms, closets, play rooms, among other places in your home. Why worry about all that clutter lying around when you can use this bench to declutter? Set it up easily and put it wherever you want in your home. The interior partitions in the storage space are Velcro and can be detached easily.
Pros
Highly cushioned and padded for comfort while sitting on it, or while resting your feet
Opens sideways for convenience
Stable and vigorous from the fiberboard used to make it
It is finely polished and has a spacious interior
Cons
With Velcro interior, after a while, it will wear off and make the interior part unstable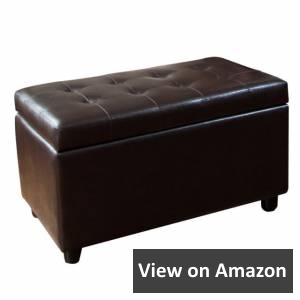 It has an elegant build with a dark brown finish that matches almost any home color design. The frames are crafted from wood and reinforced with plywood to support the upholstery; as a result, it is fairly durable.
The bench is strong and long enough to support two persons. The upholstery is made from PU faux leather, making it easy to dry wipe while cleaning. The exterior is tufted, but has a smooth finish for comfort. It has a lid that pops up easily and is hinged to protect you from harm and ensure that maximum performance and long life is achieved.
The interior is spacious enough to accommodate shoes, pillows, blankets, boxes and other items for concealment. Aiding the storage is a flip under the lid for supporting rugs, linen, and other small items.
Simpli Home Cosmopolitan Faux Leather is available in different colors including brown, black, blue, red and cream. It fits perfectly the living room, bedrooms, closets, guest rooms among other places and can be used as a bench, a footrest or a substitution to your plastic and wooden storage fixtures.
Pros
Available in various kinds of colors to choose from
Tufted and with a faux leather make for durability and easy cleaning
Hinged for safety
It is lightweight for easy handling around the house
Cons
Some users have issues fitting the legs
Wears off easily after several uses
Some users cite that the leather is thin and sitting on it feels like plastic
Storage Benches – Buyer's Guide
As functional as storage benches are, many people are at a loss on what to look for while choosing them. The benches serve a variety of functions with the primary being a seat. One can sit on them while relaxing and watching the TV, reading, or even balancing while doing some exercises. Also, they serve as footrests when one needs a place to stretch their legs, or as a table. Apart from the bench use, these fixtures are used to store toys, shoes, pillows, magazines, books, clothes, blankets, tools, among other small items.
Depending on what you want to store, the following are considerations to make when buying a storage bench.
Where do You Want to Place?
Where to put the fixture influences the type that you will buy. A bench storage for shoes and hat, for example, is put on the entryway or the door. A perfect bench for this purpose should be stable to withstand heavy use. On the other hand, a bedroom storage bench needs a proper cushion top as they are often placed at the foot of the bed for feet resting. Kitchen or patio storage benches should be strong and soft as they serve as tables or seats.
The placement also affects the size of the bench storage to purchase. A closet storage bench, for instance, is not the same as the entryway or the living room benches, which tend to be longer and stronger.
What is the Material of the Bench?
Storage benches are available with various materials. There is wood, metal, wicker, plastic among other materials. Focusing on the build material is dependent also on the location of the bench. Wicker and plastic storage benches work outdoors and are designed to withstand unfavorable weather conditions like the rain.
Finely finished wood benches require ambient settings like guest rooms, bedrooms, and the living room. Paying attention to the material determines how long the bench will last. Metal benches suit workshops while leather ones are the top for indoor use like living rooms and entryways.
The type of Storage You Want
The ease of retrieval and the kind of items you are looking to store determine the type of storage bench you will buy. The most traditional types are the flip tops and the drawers. They are ideal for shoes, blankets, pillows, and the likes. Flip tops sometimes feature a single lid or double lids for ease of access.
Cubby storage benches for books and other items that require frequent and easy access. There are also cabinet storage benches that feature accessibility through the front surface. These types also have doors to conceal things away.
What Style Are You Looking for?
While considering the style of storage bench you are looking for, paying close attention to your home décor and personality is crucial. There are traditional wooden styles with carved features like arms, backs and lids with hinges, which are ever long lasting and have a timeless appeal. However, nowadays we have the contemporary, cottage, industrial and modern styles.
While you may not need the industrial type in your home, the current models, like the above-reviewed storage benches, will transform your home and make it look luxurious. They incorporate a fusion of utility and high-end aesthetics to evoke a style that is the desire of many.
What is its Purpose?
The primary purpose of the storage bench you are looking for is another factor to consider before making a purchase. Many seek the storage benches for storing a variety of items ranging from books to blankets. Books require cubby types, personal items need storage benches with a closure system, perhaps, while shoe benches need supporting fixtures to hold them all neatly in place. Here, you can also consider the storage space you require, depending on the size or amount of items you are looking to keep concealed.
If the storage bench will double up as a table, a footrest or a cushion to sit on, buying one with stable feet, durable leather and proper cushioning would be ideal.
Discover a whole new world of storage benches. You don't have to struggle on which one to choose and what to consider anymore. Whether you want a storage bench for your interior or outdoors, if you want a bedroom or a kitchen bench, wooden or leather material, the above buyer's guide will guide you into choosing the right one that meets all your expectations.
If unsure of what type, or what features a storage bench you want has, the reviewed products are satisfactory enough. Clearly, the versatility, strength and the lightweight nature of the Seville Foldable Classic make it the winner. It also has a great price!