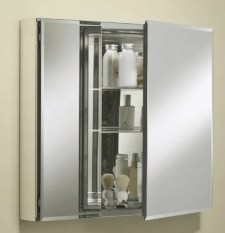 The best medicine cabinets can make a world of difference when it comes to bathroom organization.
Getting the correct size, the right style, and the bonus features you're after might just help you manage your family's essentials with ease , cutting down on the time you spend hunting around for the right product in the morning.
If you've been looking to update your existing cabinet, or if you're building a home from the ground up and you're not sure what you need, you might be overwhelmed by the options you have at your disposal. But we prepare the test for you!
Best Medicine Cabinets of 2018
Best Medicine Cabinets Brands, Color
Overall dimensions (WxHxD), inches
Shelves and door
Installation
Construction; plug profile
Check Price
Croydex Halton Bi-View Medicine Cabinet (

Editor's Choice

)
30x26x5.2
5 shelves, 2 doors
Hardware included, hang 'N' Lock Fitting System.
Aluminum; recessed, surface mounted.
Check Price
Kohler Archer Mirrored Cabinet, full overlay door design(

Editor's Choice

)
20x31x5
2 shelves, 1 door
Includes mounting hardware and side mirror kit.
Anodized aluminum construction with a durable rust-free and chip-free finish; recessed, surface mounted.
Check Price
Kohler Aluminum Medicine Cabinet with Oil-Rubbed Bronze Framed Mirror Door
20x26x5
2 shelves, 1 door
Includes mounting hardware and side mirror kit.
Anodized aluminum construction; recessed, surface mounted.
Check Price
Elegant Home Fashions Neal Collection Mirrored Medicine Cabinet, White
20x24x6.5
1 shelf, 3 cubbyholes
Hardware included.
Sturdy engineered-wood construction, pure-white finish; surface mount.
Check Price
Homfa Medicine Cabinet with Mirror Double Doors ,White
23x22x5
3 shelves, 2 doors
All mounting hardware is included.
Solid MDF material, with the glass door; surface mounted.
Check Price
Kohler Double Door Medicine Cabinet
30x26x5
2 shelves. 2 doors
Hardware included.
Anodized aluminum construction; recessed, surface mounted.
Check Price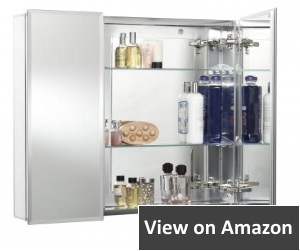 The truth of the matter is that we're not all savvy when it comes to assembly, and if the thought of hinges and screws makes you nervous about making your medicine cabinet purchase, this might option might just make you forget your worries.
Simple in design and utilitarian in nature, this cabinet can give you everything you want and nothing you don't, with a basic and no-frills approach to bathroom organization.
That doesn't mean you have to sacrifice storage space, however, as this unit has an impressive five modifiable shelves hidden behind its double doors.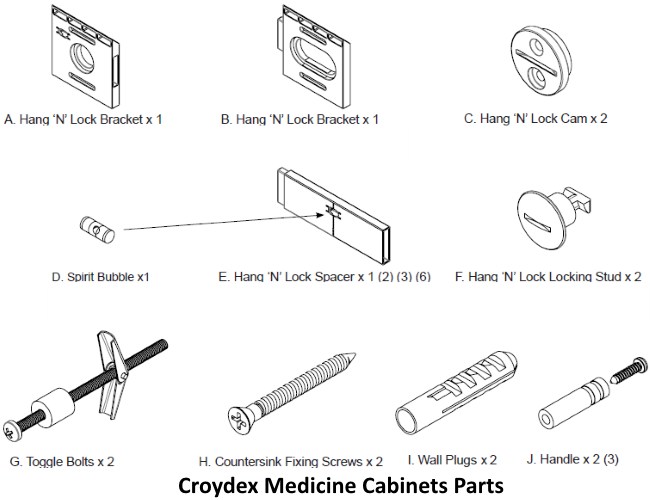 Installation
When it comes to getting your medicine cabinet up and functional quickly and easily, this piece has it down to a science. A "Hang 'n' Lock" system lets you put your new cabinet in place all by yourself, using an included bracket and just a few minutes of spare time.
Aluminium medicine cabinet from Croydex is both stylish and versatile providing the ideal storage solution for any bathroom.
Supplied fully assembled this mirrored medicine cabinet really do optimize space by offering the flexibility to be recessed all fitted directly onto the wall using the patented Croydex hang and lock system.
Fitted with fashionable double-sided mirror doors fixed decorative mirrored glass side panels and internal mirrors throughout optimum viewing angles are provided for every occasion.
With decorative beveled edges to the front mirror or the option to fit the door handles provided these cabinets are easy to open without adding fingerprints ensuring the mirrored finished stays clean.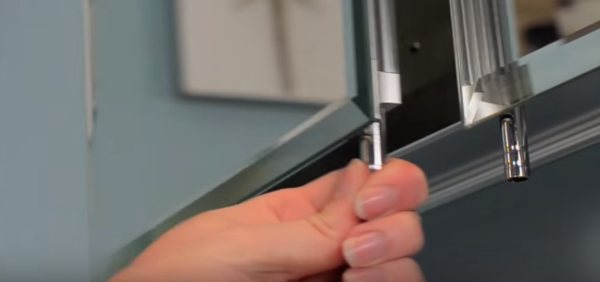 Croydex medicine cabinet provide great value for money with increased flexibility both inside and out. Externally doors can be left or right hand opening by turning the cabinet around and wider opening hinges provide greater accessibility into all the cabinet space.
With everyday toiletries varying in size fully adjustable internal shelves cater for all requirements. All fixtures and fittings are included and installation couldn't be easier with Croydex hang and lock system. Assemble the bracket provided and using the paper template supplied decide on the cabinet position and mark the wall .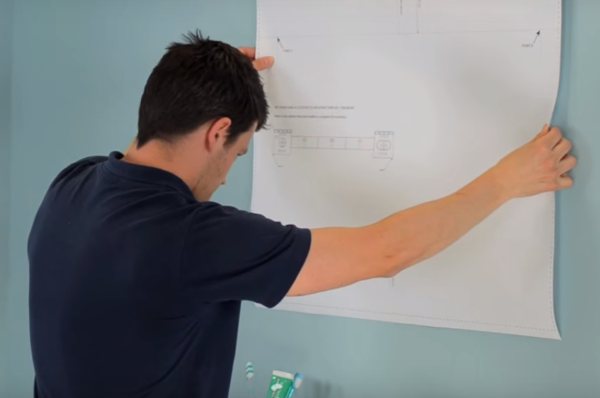 Fix the hang and lock bracket to the wall making sure you leave the screws slightly loose
and use the built-in spirit level to ensure it's horizontal.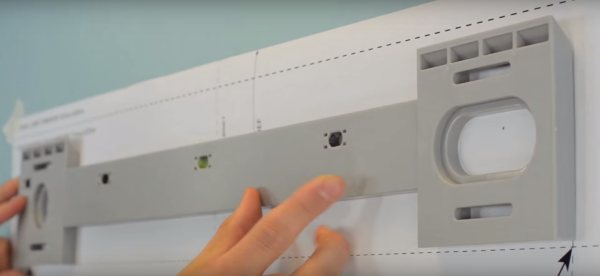 Adjust the level by turning the rotation cams on the bracket
and then tighten the screws when you are happy with the position.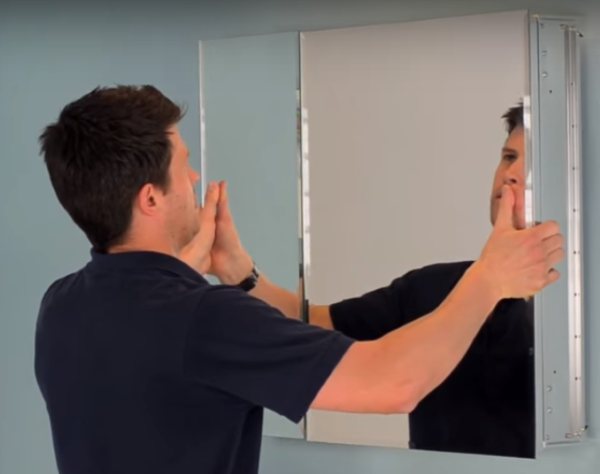 All that is left to do is place your medicine cabinet on the bracket and put the locking studs in place which have fitted inside the bathroom cabinet itself.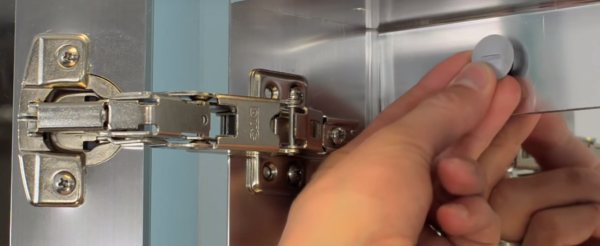 At this point you can still adjust your cabinet to the left or right and then you lock the studs into position
.
It's so easy and safe to use transforming a two-person installation into a one-person job.
Alternatively for additional room space you can fully recess the medicine cabinet into the wall by firstly drawing a template on the wall.


Cutting the marked lines with an appropriate tool, then frame the cutout to provide a mounting surface.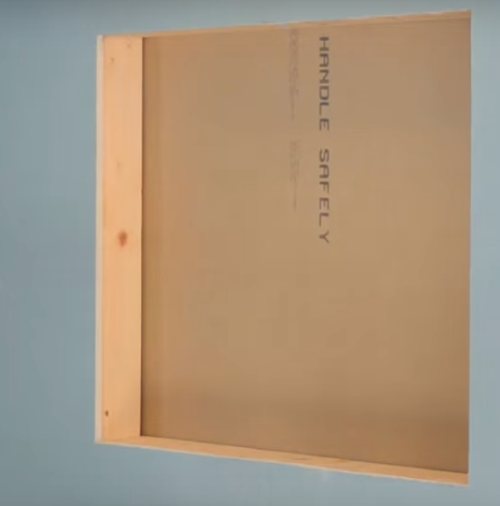 Place the medicine cabinet in the cutout
and secure firmly in place.
Finally insert the shelf brackets and clip the glass shelves into place to finish
.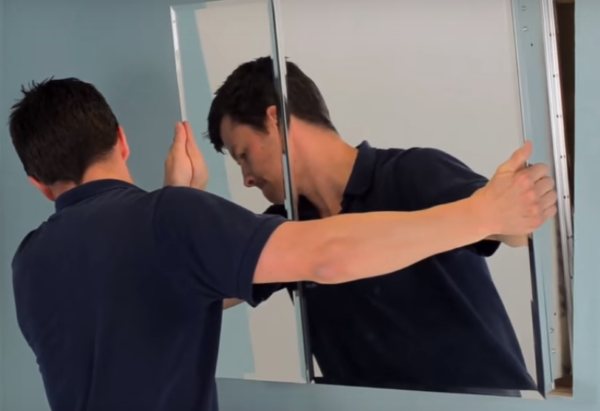 Croydex mirrored aluminium medicine cabinet is the perfect choice for any bathroom.
In this video you can see how to install medicine cabinet (surface and recessed way):
You must see this video, it's a step by step instruction how to install croydex medicine cabinet!
Recommendation
This unit may be ideal for someone without a lot of technical know-how or time, and for someone with a lot of bathroom goods to store. Do you have a large family or a spouse that cannot be without the latest and greatest in hair care? This could make your neatness concerns a thing of the past.
Pros
Fast and simple installation
Tons of storage space
Double-door design
Fits both flat against the wall or into a recession
2. Kohler Archer – Oval Mirror Medicine Cabinet For Small Bathroom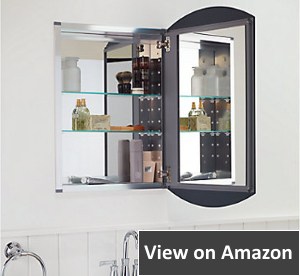 If you're the type of shopper who loves both Kohler and clean lines, this may be the medicine cabinet that is right up your alley. Smooth and subtle, the mirrored door is not framed, so it appears to be chiseled and floating right before your very eyes.
In addition to that, it comes with two interior mirrors on the back of the cabinet and the door, so you'll be able to catch a glimpse of yourself even while you're rooting around for your toothpaste.
Modifiable shelving lends a custom air to the piece, and the door opens a full 180 degrees, so your necessities are never far from your reach.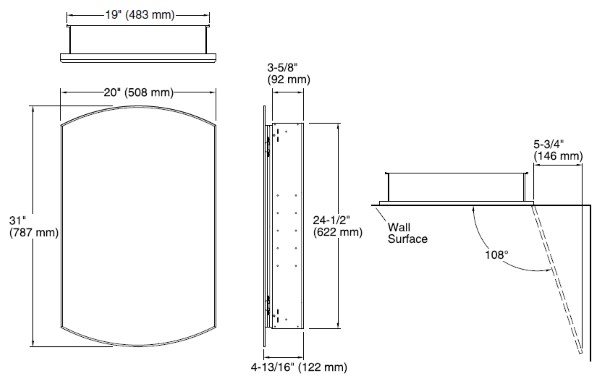 Installation
This piece can adhere directly to the wall or be recessed, and it's narrow enough to not be obtrusive and bulky, but sufficient enough to house the products you need on a day-to-day basis. It also comes with the screws and hinges you'll need to hang it up and make it usable, which is another perk to those who love the ability to do it all themselves.
Installing Kohler aluminum framed medicine cabinet: surface mount installation
This instruction will cover the general installation procedures for mounting your cabinet on the wall.
Choose your installation location

to allow for ample clearance to open the cabinet door allow at least three inches above and below the cabinet door for lighting and faucet clearance (medicine cabinet can be installed with the door opening from either the left or the right by simply rotating the cabinet).

Determine the desired installation location, if desired lightly

draw the cabinet outline onto the wall

. Using a stud finder locate any studs along your marked line, mark their locations, position the mounting bar against the wall level and mark this position onto the wall.


Note: the mounting bar does not need to be centered with the cabinet.

Move the bar as needed to intersect a stud, transfer the stud locations onto the mounting bar,

drill a hole at the marked location

, drill a second hole one inch or more from the opposite end of the bar. Reposition the mounting bar on the marked line, verify level and mark the hole locations onto the wall.

Note: anchors are not included choose anchors suitable for your wall material.

For any marked hole locations that do not intersect a stud drill a hole for the anchor, insert anchors into the drilled holes.

Secure the bar with two screws.

For ease of installation this step requires two people:

lift the cabinet

and rest on the mounting bar, hold the cabinet in place.

Important:

to ensure the cabinet will not slip from the mounting bar verify the mounting bar is fully seated in the groove on the underside of the cabinet.

Position a clip on the top corner of the cabinet as shown one leg of the clip should rest against the side of the cabinet, ensure the slots of the clip are fully engaged, mark the slot location, repeat for the other side. Carefully remove the cabinet and set aside.

Note: anchors are not needed if studs are located at each marked slot location.

Drill a hole for the anchors at the top of each marked slot location

, insert an anchor into each hole.

For ease of installation this step requires two people: lift the cabinet and rest on the mounting bar, hold the cabinet in place, reposition one of the clips ensure the slots of the clip fully engage the cabinet. Secure the clip with a screw repeat for the other clip.

Open the door and

locate the four mounting holes on the outside of the cabinet.

Position one of the brackets to align with a mounting hole, from inside the cabinet secure the bracket with a screw, repeat for the three remaining brackets.

Clean the backs of the side mirrors of any dust or debris,

remove the adhesive backing from the brackets

. Position the mirror flush against the cabinet frame apply pressure for 20 seconds to set the adhesive, repeat for the second mirror.

To install the shelves firmly press the shelf clips into the side of the cabinet, verify the clips on both sides of the cabinet align. Position the shelf at an angle with one end resting on the shelf clips, firmly press the other end of the shelf into place.

Note: shelf fit is tight to ensure shelves will remain firmly engaged during everyday use. Verify the shelves are at the desired height, plug any unused holes.
Installing Kohler aluminum framed medicine cabinet: recessed mount installation
This instruction will cover the general installation procedures for mounting your cabinet on the wall.
Choose your installation location to allow for ample clearance to open the cabinet door, allow at least three inches above and below the cabinet door for lighting and faucet clearance.
Refer to your installation guide for the wall cutout dimensions using a pencil, mark the outline for the cutout onto the wall. With a stud finder locate any studs within your marked cutout mark their locations.

Caution:

risk of electrical shock, turn off the electricity to the installation site before cutting into the wall!
Cut a small opening to assess the wall cavity. Note the location of any electrical wiring, plumbing or other in wall obstructions.

Important: any electrical wires or water supply piping will need to be rerouted from the wall cavity. Consult a professional before proceeding if you encounter drain or vent piping if your wall is load-bearing or if you are installing to an exterior wall.

Cut the drywall along the marked lines, remove the drywall, cut away the studs within the wall cavity. Be careful not to cut through the wall of the adjoining room.

Measure for the header and footer pieces to frame the wall opening,two by threes must span the distance between the uncut studs. When framing the opening make sure the two by threes do not extend beyond the cut edge of the drywall. While holding each two by three against the back of the drywall nail to each stud to hold in place. Measure and cut two lengths of 2×3 to span between the installed header and footer pieces.
Insert the cabinet into the newly framed opening to verify fit. Secure the drywall to the framing with screws. As needed repair and paint the drywall. Insert the cabinet into the wall opening and hold in place, check the cabinet for level.
Open the door and locate the four mounting holes, secure the cabinet with the four screws.
To install the shelves firmly press the shelf clips into the side of the cabinet verify the clips on both sides of the cabinet align position the shelf at an angle with one and resting on the shelf clips firmly press the other end of the shelf into place.
Watch this video to see all this instruction:
Recommendation
This medicine cabinet is a great combination of form and function, and as it's forged from adonized aluminum, you will likely get years of use out of it without a ding, chip, or rust spot. Do you love a seamless finish and a cabinet that is more artistic than utilitarian? This is likely one that you're going to want to check out.
In this video you can see how looks like Kohler Archer Medicine Cabinet, man said that the medicine cabinet looks pretty good, it's got this cool reflective mirror on the inside, he likes how the curves sort of compliment the curve there and then the vanity is going to have a front basin that curves. Look if you want to see to!
Pros
Attractive
Easy to match
Simple installation
Clean design
Cons
The lack of a working clasp could make keeping the door shut a tough task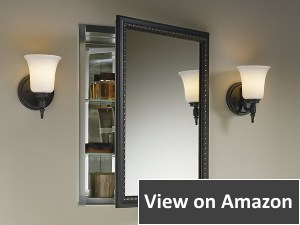 When it comes to shopping for your home, it's all about you, and some level of customization can go a long way to making your daily usage experience easy and convenient.
Coming from a household name in bathroom accessories, this Kohler option might just be tailored to your individual needs, featuring a right or left hinge that puts you in control of its opening, as well as two changeable shelves to make it a fully adjustable space.
Additionally, the stylish appearance of a mounted mirror is only the beginning of its reflective capabilities. The inside is also lined with glass, allowing you to clearly see everything lining your shelves even when one product gets tucked behind another.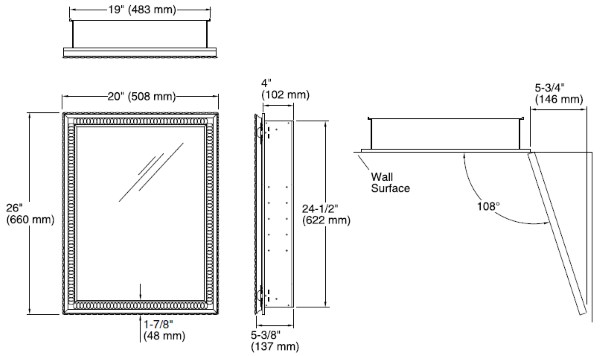 Installation
One of the perks of this option is that you can place the cabinet flush to the wall or into an existing recession, making it so versatile, it has the potential to fit seamlessly into nearly any bathroom. Plus, it comes with everything you need to get started, so you don't have to wait for a contractor or handyman to put it in for you! Just mount it, place the hinges, and you're ready to give the room a whole new look.
How install recessed medicine cabinet
I want to put mirrored medicine cabinet in the bathroom above the sink. First of all, I found out the location of studs, measuring from power outlet, here on my wall. Measure it over, drilled some marked down with one edge wise and the other edge was.
Looks like it's going to be directly centered by the sink, was job but I was hoping, so I can just use them vertical studs for the side. The model I've got is these a 14 and a quarter inch opening which is just the distance between the studs, and then it'll be mounting into the studs.
So what I'm going to do is cut a hole to make sure I don't have any electrical wires or anything I'll be going into and then we'll go from there. Okay I've got my initial small hole cut insulation here because this is a exterior wall I was able to reach in and verify that our studs they're reaching up.
Making sure there's no electrical wires because I do have a light fixture here. No plumbing at this height so I don't have to really worry about cutting in and made sure I was cutting just through the sheetrock so if there was anything I wouldn't hit it normal water gushing out of a wall or getting shocked by electricity.
So from here I'll be able to measure my exact opening when I did was cut out what was in the instructions.
This twenty five and a quarter tall by fourteen quarter wide opening roughed it out some cardboard side have my general idea where I was going to put. So from here make sure I've got my studs and then I'll go from there level everything up.
Okay, here we've got just finished finish using this is a craftsman multi tools what they call it was basically a reciprocating saw easy to make nice and precise cuts don't have to be craftsman there's tons of brands out there let me get this one on sale like that rates it very very high speed.
See it but um table to cut this out to my appropriate dimensions.
Work out nice having the UM the template you know was just cardboard make marking the opening much easier there have my students worked up just right.
To cut up this insulation you know do a test fit and then what I'll do later is but study across the bottom instead across the top.
It's not required but just something I want to do kind of tie it in nicely provide some insulation so you don't get air coming in around here the gaps or anything and I already here with our stud walls or studs in the wall I've already cut a piece up here and put it in here this one I did just cut it's 2 by 4 14 1/4 inch long drove me out some holes in an angle I can put it in there and screw it in place so make a nice parting put put the bathroom mirror.
Already put in our mirror that was just a matter of making sure the whole thing and we'll be attaching it from the inside with four screws let's see how it looks never have installed ready to go good luck and uh thanks for watching and as always enjoy.
Watch the video with Charles to see all the instructions!
Recommendation
This piece might be a great fit for a DIYer who likes things that have the appearance of being expensive but are easier on the wallet than a custom design might be. The intricate design and quality that you've come to love from the Kohler name are ever present, and it can be a great option for the budget-conscious who still have a sense of interior design.
Pros
Inexpensive
Recent quality
Beautiful finish
Customizable interior
Multiple mirrors
Recessed or flush installation
Cons
May be difficult to place in a recessed area without the correct measurements and some knowhow
4. Elegant Home – Surface Mount Medicine Cabinet With Mirror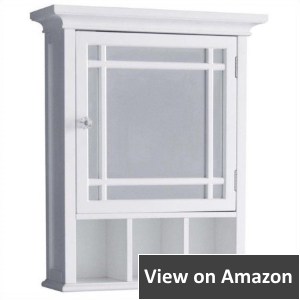 If you've got a lot of stuff to stash and you don't mind some of it being on display, this shabby chic style cabinet from Elegant Home Fashions could be your dream come true.
Yes, they have interior storage space with one shelf that you can put wherever you wish, but the real perk comes with the 3 smaller, open cabinets that sit along the bottom. Extra defined space means more organization, from folded washcloths to cosmetics and beyond.
Installation
This design is meant to be placed flush to the wall, so it will work if you have open space directly above your sink. Additionally, you could place it on the side of or over the toilet if it suits you better, and the white structure is slightly antiquated without looking like something from another time.
Recommendation
For obvious reasons, this cabinet will be ideal for your home if you don't want to stash your essentials all behind closed doors. The open cubbies can be great for kids to easily access their hygiene products, or for you to display pretty decorative items while using the interior functionality of the unit for organization.
Pros
Very reasonably priced
Charming design
Open spaces for instant access to products
Beautiful finish.
Cons
Can be difficult to assemble
5. Homfa – Cheap Wood Medicine Cabinet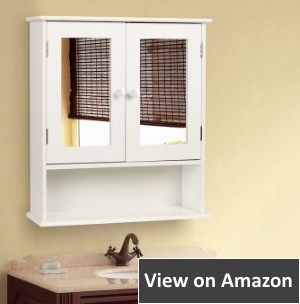 The cabinets in our homes get used heavily and often, and if you're looking to make an investment that's going to last, you're likely going to want a piece of furniture that can hold up against whatever your household puts it through.
This HOMFA option might be perfect for those who are rough on household effects, providing you style and organization without the fragility. Beyond that, the open concept of the lower shelf can put everything you need right at your fingertips.
Installation
This model comes with all of the accessories you need to place the cabinet securely, and it is designed exclusively to be mounted on a flat wall. However, it's great to keep in mind that it doesn't necessarily have to be a bathroom wall. The modern style and convenient size of this unit could go in virtually any room, so if there's a bedroom or den in your home that could use some tidying up, this might be a way to do just that.
Recommendation
Forged from tough MDF-engineered wood, this unit may be a great option for families with little ones, or for those who seem to break everything they touch. The design suits many different decor styles universally, and the shelf on the bottom may be ideal for those who want their soaps and sponges within grabbing distance at all times.
Pros
Aesthetically pleasing look
Bonus open bottom shelf
Durable construction
Cons
May need to have the provided hardware modified or reinforced to ensure it will support the weight of the unit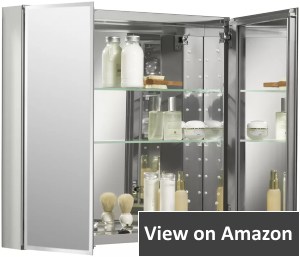 Some of us want it all, and if that sounds like you, this Kohler model might be just what you've been searching all over the web for. It has the sleek, clean lines of aluminum and beveled glass, the convenience of double doors, and the functionality of 2 interior shelves whose locations are fully customizable.
If you're the shopper who has to have a product look as good as it performs, this one may just check all the right boxes on your list.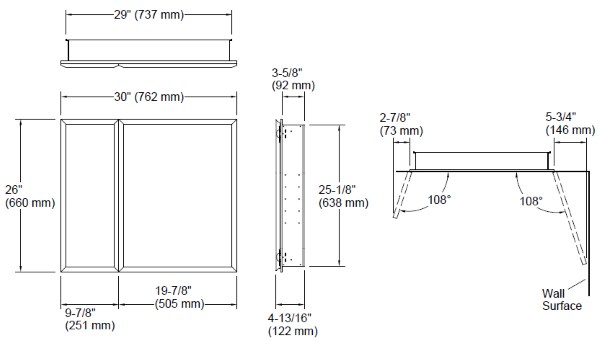 Installation
This cabinet is apt to fit in most recessed wall areas, as well as being able to be mounted flat if you so desire. If you pick a flat wall as the destination for this model, you may be pleased with the optional side mirrors that you can install to give it an all-over reflective finish. The hardware comes in the packaging, so you don't have to make a special trip to your local big-box store in search of screws and brackets.
Recommendation
The timeless design of this medicine cabinet may flow perfectly with your existing furniture and color schemes, plus the multiple mirrors which give you a reflection whether the door is open or closed. If you're the type to obsess over style, but you want it without sacrificing any of the quality or organizational tools you crave, this might be your bet, as it truly has the intricacy and attention to detail that is sometimes hard to find.
Pros
Simple installation
Stylish design
Ample storage space
Cons
Included hardware may not be durable enough to sustain the weight of the cabinet
Doors may not close smoothly over time
Best Medicine Cabinets – Buyer's Guide
Finding a size to suit every member of your household, matching the cabinet to your existing decor, and making sure it fits in its designated space are all important considerations, which is why we've put together this guide to give you our list of the top 6 medicine cabinets on the market.
We've also fleshed out some specifics with our buying guide, so you'll never have to go it alone.
When picking out a medicine cabinet, the first thing that you need to keep in mind is that they're not created alike. When deciding on a material, aesthetics matter, but so does durability. For example, it's important to note exactly what the unit you like is made of, and whether or not it's been treated to withstand constant humidity.
Even if you run an electric fan in your bathroom while you bathe, it's still likely to steam up now and again, and untreated wood or metal will wind up buckling or rusting, making your investment an eyesore at best and completely dysfunctional at worst.
Rust actually eats away at metal, which can result in the entire unit falling apart if it's left untreated, not to mention it can spread all over the items you have stored in the cabinet and render them completely unusable.
Keep your eyes open for materials like anodized aluminum and treated wood, and always check that the finish on your model is meant to take some moisture in stride.
Beyond that, it's imperative that you take measurements before you go shopping, particularly when you're dealing with a recessed area.
An open wall may give you enough space so that a marginal difference in size is irrelevant, but when the wall is recessed for a specific cabinet size, make sure to take down the width and height to avoid having to make a return or two.
Also, keep depth in mind. If you don't want a cabinet that is too shallow or one that sticks out too far from the wall in a way that is awkward or obstructs the use of your sink or toilet, the depth of the unit is a prime consideration.
Finally, one commonly overlooked element to cabinet purchases is hardware, and making the right choice here can make all the difference in the appearance of the room.
According to the brilliant minds at DoItYourself.com, you should make it a point to have the same style of hardware on your medicine cabinet as you do on your other storage options in the bathroom, if not using the exact same brackets and hinges altogether.
Buying from different brands and you're not sure if they're going to match? Don't stress out about it! Make sure your hinges are the same color on all of your cabinetry, and if the knobs on the model you've fallen in love with are a far cry from the rest of the room, consider changing them out.
If you purchased your drawer knobs separately from the rest of your cabinet, you can always grab some extras for your medicine cabinet, although it may take a little time with a drill and some knowhow to get the perfect fit. If you purchased a one-unit vanity and you're not sure where to find knobs that are identical, contact the store you got your vanity from and see if it's possible to order more from the same brand.
You also have the option of selecting a cabinet that locks on the interior, and that would eliminate the need for matching knobs altogether.
Whatever the reason for your hunt for a medicine cabinet that suits you just right, it's easy to get swept away in a web search that doesn't get you any closer to utilizing your purchasing power than you were when it started.
We hope that this list of the top 6 medicine cabinets puts you in the driver's seat and that you get a piece of furniture that you and your family will love for years to come.
Keep in mind that you'll be gazing into this cabinet for the foreseeable future, so don't hesitate to give it some thought and make certain you love the design and functionality of your product before you shell out your hard-earned cash.
Some things are necessary no matter what happens, and these units certainly fit the mold, so buy the one that's going to mesh with your lifestyle today and tomorrow.
Required tools and materials: