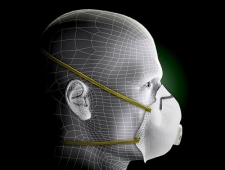 Particles such as brick dust, drywall and saw dust are all repelled by the best dust mask or respirator. There is a governmental agency that approves safety equipment such as the following dust masks and respirators (National Institute for Occupational Safety and Health, abbreviated as NIOSH).
The NIOSH has different guidelines and standards for different materials. For example, sawdust or drywall dust requires a certain amount of filtration, while asbestos and mold need a different type of filtering. Vapors and fumes are different than solid wood particles, so it just makes sense that they look at masks and filters through different lenses for different reasons. The rating have both a letter and number: N -Not oil proof, R -Oil resistant (up to 8 hours), P -Oil proof (beyond 8 hours), Number -particulate filters are rated 95, 97, or 100; a 95 rating means that the filter removes 95% of particles from the air.
Highest level of protection in the widest variety of situations is P100
, which will filter out 100% of both oil-based and non-oil-based particles.
| Best dust mask for | NIOSH rating |
| --- | --- |
| Allergens | N95 or higher |
| Asbestos | N100 |
| Cutting Grass | N95 or higher |
| Dust | N95 or higher |
| Lead | N100 or HE |
| Mold | N95 or higher |
| Paint | R95 or higher |
| Pesticides, Sprays | R95 or higher |
| Pollen | N95 or higher |
| Sanding | N95 or higher |
| Welding | N95 or higher |
Best Dust Mask of 2018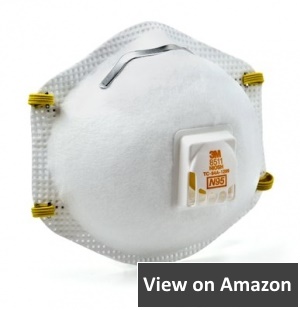 If you've ever ripped off a hot, sweaty dust mask because you just couldn't stand the heat build up under the mask, you will surely appreciate this 3M product. The 3M Coolflow Valved Respirator is designed to be a comfortable way to protect your lungs without trapping hot air with every exhale.
The Cool Flow Respirator was designed in a way that people who wear glasses can avoid having their glasses steam up from wearing the mask. The valve works in a way that draws the hot exhaled air out and away, avoiding the glasses and making it easier to see and work efficiently.
This mask has a nose clip that is shaped like the letter "M". This shape of clip helps the mask to fit comfortably along the bridge of the nose in a soft, flexible way. This model is approved by the NIOSH (National Institute for Occupational Safety and Health), meaning it is safe to use in a variety of industrial settings.
The 3M straps are designed to be tangle free, so even though they can fit a bit snugly, they don't get tangled up in the toolbox too often.
3M 8511 N95 dust mask has elastic straps and they still nicer, than a rubber band and they don't get caught in your hair, also they're secured to the mask with staples.
This dust mask has an exhalation valve and metal aluminum adjustable nose bridge.Inside the mask soft white material and the exhalation valve in the middle.
The part that's going to contact your face – that's important to get a good seal, but you not have any facial hair, if you have a beer or a couple days grow the beard, the mask is going to seal the things, that you want to come through the filter are going to come around and not be filtered out.
What's really cool about an exhalation valve is that air comes in through the filter and out through the valve – this is going to a constant flow of air.
So the mass isn't going to get a bunch of build-up of moisture and heat the other thing though is keep the mask breathing easy once you get a bunch of moisture in the filter material is a little bit harder to breathe through.
Lastly if you're wearing glasses especially safety glasses though the heat and moisture starts to rise will fog up your glasses.
3m 85 11 really is my favorite mask if I'm going to be glam doing some work it's going to be good for sanding, grinding, sawing, sweeping, insulating with fiberglass, not good for asbestos or LED.
Pros
Cool Flow technology keeps the wearer cool and comfortable
Able to purchase in bulk (save some money!)
Cons
Disposable-only designed to be used one time
Tight elastic straps can leave indentation marks along the side of the face after wear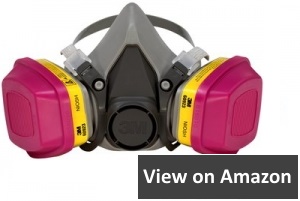 When choosing a mask that will work as well if you're cutting the lawn or working on a mold removal project, it's nice to have a mask that works in a variety of applications. This 3M Professional Multi Purpose Respirator is not only very effective and durable, but can also be very comfortable to wear.
This 3M Multi Purpose dust mask is not disposable. The non-disposable design is made to last, meaning you'll only need to buy replacement filters throughout the life of this mask.
You can purchase a variety of filters to use with this mask; each filter is designed for different needs. Spray paint application, asbestos removal or contact with pesticides will require that you have the proper filter to be fully protected when wearing this respirator.
With no cooling features, this mask can get very hot, very quickly. It filters great, but is good to wear in cooler temperatures or for shorter periods of time.
What I did, I ordered a full box of twelve of these P100 filters just like the large pink filters (reviewed below) but they're fully enclosed inside hard plastic and you can see inside there's like a pleated filter in there.
Thing about these box filters it's nice is you can use these things in a wet area maybe wear some spray might be landing on this and the filter won't get wet like pink round filters.
This filters also designed for use while welding
so that hot embers and sparks and stuff don't come up and burn holes through the filter so these have a couple interesting uses now the hard covers like this mean you could use this outside.
The heat build up can feel a bit claustrophobic and make you not want to wear it, so make sure to wear it in climates that are more appropriate for this kind of valve mask.
Pros
Easy on / Easy off
Available in a variety of sizes to fit most people
Comfortable, sturdy design
Cons
Straps could stand to be more easily adjusted
Mask can trap hot air leading to a hot and sweaty face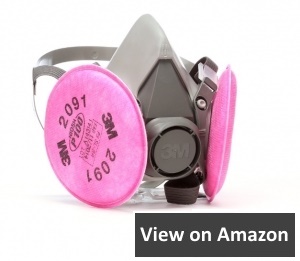 This 3M Half Facepiece respirator mask is an ideal one for using around the home, or in certain work environments. Since it passes the NIOSH safety guidelines, this mask can be used (with the appropriate filters) in work where you may be exposed to gas vapors, oil and non oil based particles and asbestos.
As a multiple use mask, this one is easy to wear doing yard work or home interior projects. Even a project as simple as tiling a bathroom floor can require the use of a mask like this one.
If you have chemical sensitivities or simply can't stand the odor of whatever chemical it is that you are working or cleaning with, throw this mask on and you won't even notice that the offending fumes are there.
Soft, comfortable straps help to keep the mask on your head without digging into the back of the head or around the ears. The smaller size of this mask helps you wear your safety goggles without worrying about the mask knocking your glasses off.
These big pink filters on here are called p100 filters and they are replacement. The new standard is called p100 (99.97% of solids like dust and aerosols that wouldn't get into your lungs). If you see right on the filter it says it's for dust, fumes, mists, radionuclides and asbestos. So these things will actually stop radioactive dust and radioactive particles.
You can actually remove the filters and go ahead and change them out. The cool thing about these masks is they're really lightweight, you can wear them all day long pretty much.
These filters here if you're just using it for sanding or whatever you can blow them off with compressed air and clean these things off, you know they last a really long time.
I've had masks like this since 1995 and I've only used two or three filter changes on them even doing like some heavy auto body work like sanding entire cars and everything because you know you can like I said you can clean these off pretty easily.
That's a good thing is they have an exhale valve on the front so all the hot air that would normally like you know if you see those regular white masks that people wear all the hot air your exhaled breath gets trapped inside them so these have an exhale valve which gets rid of all that and that's pretty pretty good.
Pros
Very lightweight and comfortable to wear
Accommodates a variety of filters for a variety of uses
Meets NIOSH safety standards (Government regulatory agency)
Cons
Short straps may make it hard to get a proper fit on a larger head
The included filters have a chemical odor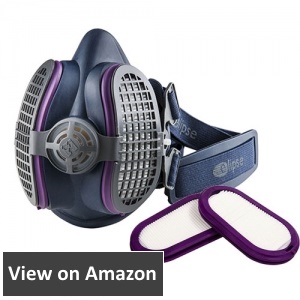 The GVS Elipse half mask is designed with both comfort and safety in mind. It's great for working in tight quarters where larger respirators can get in the way or get knocked off of your face. Times when you're crawling under a tiny crawl space or wriggling between sheets of drywall, a few inches to be able to move your head really makes all the difference in being able to get the job done or not.
Full face masks can be really bulky and uncomfortable to wear, so this half face design is great to wear on a regular basis.
The large valve in this respirator is a non-return valve, which means that hot air goes out when you exhale and cannot come back in.
When the only air allowed back into the mask is cooler new oxygen, it prohibits moisture buildup and creates a really comfortable mask that is easy to wear for long periods of time.
This kind of valve is also great for men with beards, as facial hair tends to trap heat when wearing a mask. Non-return valves help to keep your face cool and dry.
Pros
Multiple settings for strap adjustment help to fit on a variety of head/face sizes
Compact in size and weight
Non-return valve ensures that the facial skin under the mask stays cool and comfortable
NIOSH 42 CFR 84 P100 approved
Comes with 2 filters
Cons
Can interfere with larger framed eye glasses or safety goggles
Has a strong initial chemical smell (dissipates over time)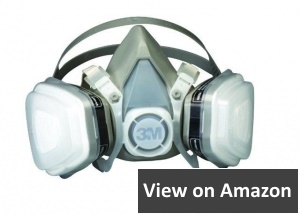 It can be hard to find a mask that specifically works to keep you safe when spray painting. Many masks only filter out larger particles and do nothing to keep spray paint particles and vapors out of your lungs. The 3M Paint Sprayer Respirator is designed just for the painter who wants to avoid toxic paint fumes.
The dust filters that come with this mask are removable and disposable. The convenience of being able to change these filters is great for times when you need to block dust, sawdust, lawn clippings and the like. It is the vapor cartridge that poses a little bit of a problem in this mask.
The vapor cartridge is not removable on this mask, making it unable to be removed and cleaned or replaced. Once it gets clogged, the whole mask will need to be replaced.
Depending on the materials you use while wearing it, this may not take long to happen. It does a great job when the filters are clean and clear, but if you are a painter or sprayer by trade, this mask may not last long enough for your needs.
Pros
Effective filtration design helps to filter paint fumes and vapors
Can be used in non-paint applications as well
Helps to create an odor free experience when working with paints, solvents or industrial strength adhesives
Cons
Non-replaceable vapor filter makes this mask eventually disposable
Can be hard to get a proper fit due to the rigid plastic design
Half mask design offers no eye protection
Best Dust Mask – Buyer's Guide
Dust masks are the kind of safety equipment that novices may scoff at until they're coughing up sawdust and finding tiny fiberglass particles in their tissues. Dust masks are masks that cover the mouth and nose in order to protect the wearer from inhaling any harmful particles.
Many workplaces and unions will have their own regulations about which NIOSH approved products are acceptable for use on the job.
Those with working experience know the intrinsic value that a good dust mask brings to their ability to work efficiently and comfortably.
Dust masks range widely in price points, quality and effectiveness. You'll see that it doesn't matter if you have a lot to spend or not. Your health is important and it's wise to choose the top dust mask for your individual needs.
Dust masks and respirators are designed for different uses. Knowing how you will be using yours most often will help to narrow down the list of masks available to you. Allergy sufferers can get by with a simple dust mask or a respirator with a basic filtration system. People who are industrial car part paint sprayers, house painters, asbestos mitigation teams and the like need masks that are long lasting and provide the proper filtration to keep the toxic substances out of their lungs.
Some of the issues that arise around dust masks is the fact that there are times that dangerous substances that can cause lung or other health damage and invisible to the eye. We can all see sawdust and fiberglass pieces but vapors that emit from chemical solvents need just as much attention.
Price doesn't always matter the most when choosing a dust mask. Really, it's the fit and style of filtration that are the most important. In so many things, the higher priced item is the better choice, but it's just not so with dust masks. If you find one that is comfortable, fits well and filters effectively, it doesn't matter if it's the lowest priced one out of the lot.
Dust Mask Technology
The most effective dust masks have an air filtration system that filters the air every time the wearer breathes in. The technology that has gone into making these filtration systems reduce particle inhalation can be seen in the variety of masks available.
Filters are broken down into categories based on the amount and size of particles that they are able to filter. When choosing the appropriate filter it is necessary to know the substances that you will be working with and what mask you will be wearing.
Good fitting dust masks have valves built into them to help control and direct the flow of air. Valves are responsible for the removal or build up of heat within the mask and can also play a part in pointing the air towards or away from the wearer's glasses or safety goggles. One way valves are what to look for, as they allow the hot air to escape without allowing any of it to seep back into your mask and into your lungs.
Dust masks are designed in a way that they will fit comfortably without slipping or falling off. Many come in a range of sizes; it can be hard to find a good one size fits all mask that stays put. Masks generally utilize an elastic strap technology that fastens at the back or towards the top of the head.
Problems and Solutions
Any mask is only effective if it is comfortable enough for you to wear it the entire time that you're being exposed to particles in the air. The main problem with dust masks is that they are too hot, make it too hard to breathe and are just plain uncomfortable.
The solution to the comfort problem is to find a mask that fits you properly. It's similar to the idea of Goldilocks…mask A may be too small, mask B may be too big, but mask C may be just right. Assume that it may take some trial and error before finding your perfect fit. A great way to avoid unnecessary expense when finding your ideal mask is to try them on in a store or ask friends if you can try out the make and model mask that they have.
So many of us wear eye glasses for vision correction or safety goggles to protect our eyes, making the fit of your mask around the eye area of great importance. Masks that leave gaps under the glasses frame may cause condensation from heat to rise and cause the glasses to fog up, making it hard to get any work done. Masks that are too large can also bump up into your glasses. Many masks come in different sizes, so taking the time to find a good fit (while wearing your glasses) is a good idea.
Several of the dust masks mentioned above have been known to arrive with a strong chemical smell to them. It can be confusing to open a package of a safety item meant to filter harmful fumes and have it smell. It does seem that most of the time, these odors go away with time. It it's something that really bothers you, you can purchase the mask a few weeks before you will need to wear it. Take it out of the package and allow it to air out (outside, in a shed or in the garage) to let the smell go away.
Paper Dust Masks vs. Respirators
Paper dust masks are similar to the kinds that you may see doctors and nurses wearing to protect themselves and their immunocompromised patients. Basic dust masks are great at repelling dust, but they do not filter the air particles that can be potentially very harmful should they be inhaled.
Respirator masks not only protect from dust, but from particles as well. Respirators create a tight seal around the nose and mouth and the air you inhale must pass through a filter before reaching your lungs. Filters are available in a wide variety of specifications to fit a variety of needs.
Not all masks are intended for the same use, so be sure to pay attention to the kind of mask that you purchase.
Conclusion
In conclusion, it's great to see that there are so many high quality dust masks available for purchase, and that more people are becoming aware of the need to wear this kind of protection. For most users, the GVS SPR457 Elipse P100 Half Mask Respirator is the ideal all around choice. It can be worn to protect against allergies while doing yard work just as easily as when used in an industrial or shop setting. This model is the one that sports the quality non-return valve, making this respirator so easy to wear.
When it comes to comfort, the 3M Coolflow Particulate Respirator and the 3M Half Facepiece Respirator are neck and neck. The Coolflow nudges out the Half Facepiece by just a hair thanks to the innovative cooling design that keeps users breathing comfortably and with no worry about fogging up their prescription glasses or safety goggles.
Be sure to follow the recommended wear information that comes with your chosen dust mask. Disposable masks simply won't be as effective when worn more than once. Respirators that use disposable filters will need to have their filters changed as needed. Maintaining your mask and remembering to provide proper care will keep you breathing clearly for the long haul.