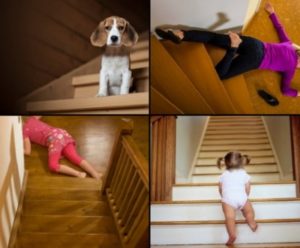 You can buy these stair treads to:

help your baby or dog to get up wooden stairs (reduce the likelihood of injury)
reduce noise
prevent slips on your hardwood stairs when you're walking down the stairs in socks
protect your newly refinish wooden stairs (reduces wear and tear on your hardwood stairs, with no adhesive to ruin your wood)
What is the best carpet for stairs with high traffic? Carpeting the stairs doesn't only serve to beautify your home, they also help to protect one from potential and severe accidents like slipping, apart from protecting your floors from wear and tear.
The following is a review of carpets for stairs and a buyer's guide to help you choose the top carpet, depend on its place:

hall stairs (entry stairs)
basement stairs
floating stairs
high traffic areas
Best Carpet for Stairs of 2018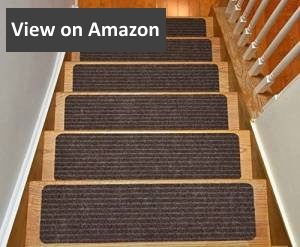 The RugStyleOnline Stair Treads Collection is a product made in the USA, and it features a beautiful set of 13 striped treads made from UV treated, slip and skid resistant, marine backing olefin that feels like plastic.
It incorporates a design built to withstand the toughest conditions that a stair rug is faced with and is ideal for most floor types.
The rug provides maximum protection to your stairs and features a corrugated build, which is for creating traction. The material is resistant to all kinds of stains, mildew and doesn't quickly fade.
Apart from all these features, how do you fancy a stair rug that is waterproof? That's right Stair Treads Collection doesn't allow liquid flow through it.
It is easy to vacuum and ever keeps a low clean profile, leaving your stair looking elegant and stylish. What is even more impressive is that the stair treads can be easily installed in place securely with a double-sided carpet tape.
The tape, however, is proprietary and can be bought from local stores separately. If what you are seeking is a rug that has plastic and not a cushion feel, then the RugStyleOnline Stair Treads Collection is for you.
Pros
It is made in the USA, which is a sign of quality and durability
Easy to install and sticks securely in place
It is highly resistant to mildew, fading and stains
Easy to vacuum
Cons
It quickly attracts and embeds fuzz, dust and lint, meaning that regular maintenance is required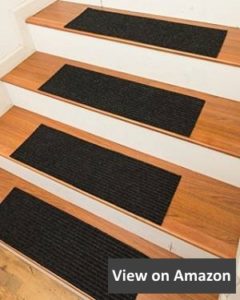 NaturalAreaRug Halton Polyester rugs are some of the highly rated products that don't allow you to slip or trip as you move up or down the stairs. Installing them in your home will make your mobility around the house feel like a visit to a rich and exotic art gallery.
Made out of quality Polyester, the rug features a soft and contemporary. The material is durable with vivid colors and highly resistant to fading.
It comes with a set of 13 treads, each beautifully crafted and equipped with characteristics that are friendly to most types of floors. Apart from the elegant look, it creates in your home, the treads reduce risks of slipping and are built to resist stains, and solid particles, which means it is also easy to clean.
Also, the rug is made to make your stairs incredibly resistant to wear and tear, and they add a cushion feel beneath your feet, which is a good way to provide warmth, comfort and safety to the floors.
Say goodbye to the irritating noise the floor makes with the heels of your shoes by installing these treads.
Although they do not feature any primary color, it adds a sophisticated accent to your home decor. Nonetheless, it is also easy to clean and vacuum.
Pros
Made of hundred percent polyester, which is durable and soft for comfort
Resistant to stains and fading
13 treads to cover every stair case
It is eco-friendly
Comes with peel and stick stripes for installation
Cons
Available only as charcoal colored, no primary color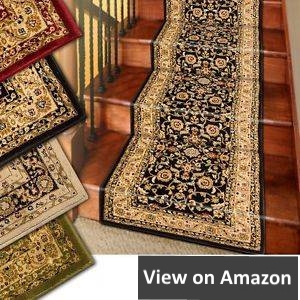 Nothing beats beautified stairs with Marash Collection 25" Stair Runner, which adds a bit of Turkish art into your home.
The carpet features plush woven patterns sewn into a durable rug fabric that is resistant to stains. Furthermore, the fibers in the carpet have been individually treated to add more strength and to ensure that mildew, sunlight and abrasion do not wear the material away.
This Marash Collection 25" Stair runner is a construct pure heat-set olefin with premium fiber. It is big and long enough, which is ideal for most staircases. Should it be longer than your preferred measurements, you can cut it in half and use it somewhere else.
Its quality is supported by the numerous points per square meter, which is high to put it among the top luxurious stair runners on the market.
The rug offers a high pile to provide adequate cushioning felt beneath the feet. The pile height is way greater than that of any other cushion you will expect to find in typical non-speciality retailers.
The carpet has an excellent finish that doesn't require any aftermarket hassling task. To get the top out of it, vacuum regularly and blot with a clean cloth or sponge to get rid of spills immediately.
Pros
The design is beautiful
It is available in a variety of colors; black, sage, red and ivory
Resistant to sunlight and mildew
Incredibly soft
Cons
If inappropriately installed, there's a possibility of bumps and crimps
There are other rugs, which are thicker
Carpet hold doesn't firmly stick it in place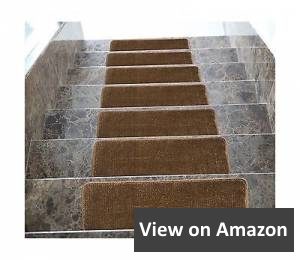 When all your home needs is an elegant and stylish addition to your fabulous décor, what you should get are the Ottomanson Softy Stair Tread Mats. The rugs create security and a comfortable surface for your family and also your pets by reducing chances or risks of falling.
It comes with grips and rubber backing pads as well as double sided tapes, for easy installation on many kinds of floors including tile, hardwood, marble among others.
The stair treads are incredibly resilient and are meticulously and intricately constructed from high-quality polypropylene material. They feature a soft surface with a luxurious pile height ideal for comfort and protection.
They are brown, and with the rubber backing and double-sided carpet tape, they holds perfectly in place and prevent your stairs from scratches and other possible damages. The purchase, however, doesn't come with the double-sided carpet tape, it is proprietary.
The long-wearing soft surface that the rug features can be easily cleaned or vacuumed, which means that it requires little maintenance.
But, for continued security and to make sure that the Ottomanson Softy Stair Treads last long, wash off the stains with mild soaps or detergents immediately and vacuum in case of dust or soil particles. The treads come in a set of seven to cover several of your stairs.
Pros
Machine woven with state-of-the-art material for beauty and precision
Easy to maintain
Comes with a rubber backing
Bound on the edges to rid it of fraying
Cons
They don't grip the surface as good as is required
Not thick enough
Available in several colors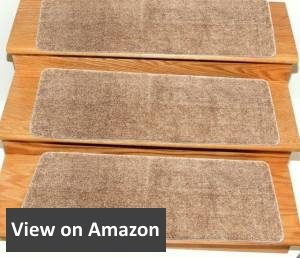 Featuring a long wearing piled surface, the Comfort Collection Treads are yet other stylish rugs by Ottomanson that provide comfort and elegance while at the same time protecting your stairs from wear and tear.
Like the Softy Stair Treads, they feature a rubber backing pad, which is incredibly engineered for quality maintenance and to ensure that the high traffic areas are always safe.
These particular treads feature long soft naps that come in a solid-grey color ideal for the lovers of grey home décor designs.
Although the treads are not thick enough like other high-end stair runners on the market, they provide a relatively soft surface enough for you to sit on or comfortably walk on. They have been designed for home use and are the ideal choice suitable for many types of floors including marble and hardwood.
The treads are made by machine with durable materials and are also bound on the edges to make sure that they do not fray. Furthermore, they come in a pack of 14 in case you have many stair cases, and can be easily vacuumed and spot cleaned with a detergent or soap.
As a precaution, it is not recommended to machine wash the rug or dry clean it for that matter.
Also, buy from the manufacturer if you want guaranteed quality.
Pros
The treads are easy to clean
Comes with a set of 14 treads
Comes with rubber backing for traction
They are durable
Cons
Doesn't come with the double-sided tape for installation
Users cite slipping problems and that they need to be put back in place often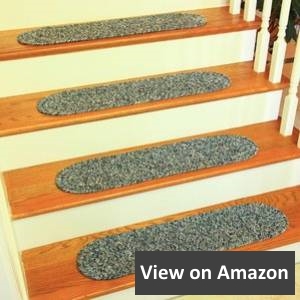 These Stair Treads fulfil the desires of those looking for carpet rugs that bring an oriental look to their house. They are the preferred choice for a colorful, convenient and stair case carpeting that you can solely depend on.
All you have to do when ordering these carpets is choose a color from the beautiful assortment they come in, and beautify your home.
The treads are versatile and are not only designed for the stairs, but also the outdoor. The treads feature a rugged design that makes them withstand the outdoor abuse.
Their resistance to mildew
, weather and fading makes them even more attractive not to mention the broad range of patterns they comes with that include dark shades, neutral and light.
The material also incorporates a waterproof design, which is easy to install without any difficult to use tools. As a precaution, it is up to you to decide how to install them for if you glue them heavily on the floor, they might leave a bit of a mess when you choose to remove them.
The material make of these treads has a thick rubber backing that provides traction and security to your stairs.
They, however, have a plastic feel and may not be the choice for those who want rugs that can reduce floor noise. Also, they are safe to cut in case you want to use them for other purposes.
How about cleaning them? Well, the manufacturer offers little information on that, but you can easily vacuum or spot clean with detergents.
Pros
Easy to install
Available in several patterns
They blend well with your home decor
Come in a set of 13
Fit several types of floors including metal
Cons
Not bound on the edges
Not properly finished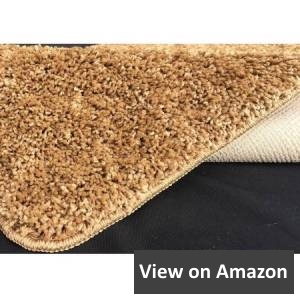 Worried of your pets always slipping on your stair cases? Are your staircases few? Get yourself the Ottomanson Comfort Collection Soft Solid Plush Carpet Stair Tread 7 Pack treads.
They come from a reputable manufacturer that produces high-end rugs designed for durability and floor protection.
The rugs have an almost perfect finish and are bound on all the edges to ensure that no fraying occurs.
The traction these treads offer is adequate to ensure no slipping, or wear and tear happens on your floors, regardless of whether they are metal, wood or marble.
It consists of seven packs with a high pile for good comfort and ease of cleaning, which can be done by spot cleaning in case of stains or vacuumed if the carpets have attracted dust.
A detergent or a mild soap suffices in the process, and machine washing is against the recommendation of the manufacturer.
The camel color these treads come with blends well with the autumn color home design and is highly applicable in interior designs for its plush, luxurious pile height and the resilient nature it packs.
They have a rubber backing to even further their durability. The installation is easy and only involves the use of double-sided carpet tape, which is sold separately.
Pros
Come in a pack of seven
Bound on all the edges
Easy to clean
Made from premium polypropylene to make it durable
Cons
Doesn't come with a tape required for installation
The size might be too small for other stairs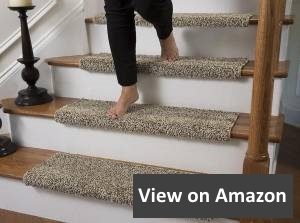 Unlike most stair rugs on the market, the Tread Comfort Caprice Bullnose rugs are the most stylish carpets you could ever buy. They are precisely finished with bound edges to add accent, elegance and security to the staircase.
It comes with a bullnose design that meticulously blends well with the edges for beautiful, great finishes. They are the most commendable rugs to use around children, pets or anyone moving up and down the stairs.
The Comfort Caprice Bullnose treads are sold individually, which is both an advantage and a disadvantage. On the one hand, you will get to buy the exact number of treads, depending on your staircase, but again, the cumulative price might be higher than if they were sold as a pack.
The treads, however, are each available in standards sizes that enable you to choose the right size for your floor.
They are easy to clean and can be vacuumed whenever the need arises. Also, depending on the type of installation you choose, they are highly unlikely to damage your floor. The installation is also aided by the adhesive backing.
The treads have been built with padding for durability and safety. They are made in USA and are available in five colors to choose from. They are also highly resistant.
Pros
Premium quality materials
Made in the USA
Comfortable with ideal pile height
Available in many colors
Cons
They slip if not taped to the stairs
Carpet for Stairs – Buyer's Guide
Still unsure of which stair tread or rug to go with? The following is a guide that shines a light on the factors to consider when buying one.
What is the best carpet material for stairs (fiber options)?
There are several types of materials used to make treads and runners. Woolen fibers are willing to spend a little more on a quality carpet. They are sustainable and bring a luxurious and elegant touch to your floor.
They are also soft and safe to lie on when you get bored of the couches. Woolen carpets are also for insulation and noise reduction. Then there are polypropylene fiber mats, which are available in different hues that can hardly be achieved with woolen rugs.
These carpets are stain resistant and can hardly be worn out. Finally, there are those rugs made from polyester. They are remarkably durable, are soft, and resistant to stains.
Should You Get a Tufted or Woven Staircase Rug?
The most famous carpets on the market that are selling the most nowadays are the tufted and woven carpets. While tufted carpets are easy to make from any yarn and give it a velvety finish, woven mats are more traditional and they take time to finish.
They are also quite expensive. They also have an impeccable finish and are considered the most high-end products for those looking to give their homes a luxurious look.
They are available in choices of in and out woven fibers through the surface backing and the continuous strand types.
Tufted carpets, however, are the most popular compared to woven rugs. They are available in a variety of patterns including twist, looped piles, flat weave, Saxony, shag, and velvet, depending on the choice you desire. Each has a slightly different price.
Underlay or Not?
The primary purpose of buying a staircase rug for some is to prevent slipping on the stairs. This is the reason why it is highly appropriate to consider the underlay of the carpet.
You should look for a rug that has cushioning for underfoot comfort, which will also be a nice addition to ensure insulation is maintained.
A good underlay, a heavy-duty, one will act as the perfect shock absorber and ensure the rug lasts long. The carpet will sit well and reduce pile compression. As a recommendation, invest in premium quality backing.
There is a broad range of materials one can choose for an underlay. Waffle is a rubber product and is for areas with less traffic like bedrooms or guest rooms.
Crumb backing is made from recycled vehicle tires and granulated into rubber particles ideal for backing rugs.
They are resistant to high traffic and are excellent for stairs. Foam carpet backing incorporates materials like polyethene, polyurethane, jute, felt and rubber. All are mostly suitable for concrete floors and high traffic ones for that matter.
What about Maintenance?
The easier the maintenance, the better. Most carpets when still new, shed fluff. In such a case, you should vacuum it as soon as you lay it on the floor. As that wouldn't be the end, repeatedly doing the cleaning is commendable. This will also get rid of any dust or soil particles.
However, there are other problems that carpets face, stains. You should highly consider buying a carpet that is resistant to stains and if not, at least buy one that can be easily cleaned using soap, detergents, or any other stain inhibitor as soon as spillage occurs.
Getting the Top Out of Carpets
To get the most valuable out of your carpets, ensure that you carry out maintenance and cleaning as following.
Maintenance:

If your carpet allows vacuuming, do it at least twice or thrice a week
Light carpets should be kept away from stairs on the entrance doors
Suction head in a cylinder cleaner should only be used to vacuum looped pile carpets
The best cleaning way for cut pile carpets is by vacuuming with an upright cleaner
Woolen fibers should be regularly and as soon as they pick dust particles
Cleaning:

Clean spillages immediately and should they remain even after cleaning, use a clean and damp cloth, which is soaked in warm water to ensure that the stain is blotted
While removing stains, do not make the carpet too wet or rub the pile surface of the carpet
Work from the surface inwards when removing stains to minimize the spreading
The availability of some many runners and treads on the market today has left so many drowning when they want a carpet that suits all their needs.
Poor choices have been made by many because they didn't know what to look for while looking for an ideal carpet that provides insulation, prevents stair accidents and ensure that their children, pets or anyone using the staircase is safe.
However, the above review and the buyer's guide as well as the maintenance tips go a long way in ensuring that you buy a perfect carpet that will see it withstand the test of time.