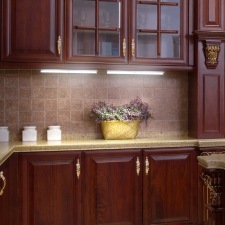 Best Under Cabinet Lighting is a solution for situations where you find yourself wanting to avoid turning those bright, singular overhead lights on when you really don't need that much light (workshops, bathrooms and kitchens).
We created 3 comparison tables of top under cabinet lighting kits (click to jump there):
Also you can choose these comparison tables at right.
Best Under Cabinet Lighting of 2017-2018 with Manual Switch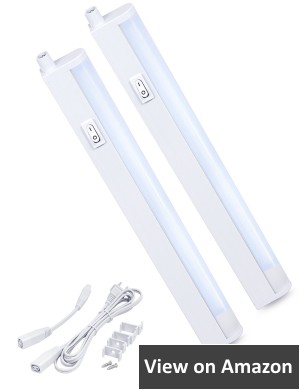 Not all under cabinet lighting solutions are perfect for every application, of course. While there exist some flexible, diverse systems that specialize in nothing, those often fall short in the more "extreme" or demanding uses.
Bathrooms, closets and stove areas are more demanding, needing the lighting to be more central and the device more rugged. That's where this model really has a good niche worked out for itself.
This singular light bar, modeled after the small scale fluorescent form factor already common to most people, mounts easily, and casts a solid, single soft light source.
It's more rugged than some other LED lighting solutions, meaning it's usually less susceptible to the heat and steam of stoves and bathrooms, and provides a uniform light ideal for closet spaces.
Packaging
This 12" light comes with four mounting brackets, a package of wall screws and a modular two-piece power cord. The switch is on the actual light itself. The power adapter is also internal, eliminating the noisome "wall brick" plug.
This light weighs a decent 9.6 ounces, due to being a heftier design than some.
Performance and Technical Issues
This light's power switch is on the physical device itself, which some may find inconvenient depending on the application. To eliminate this, a motion sensor would have to be placed between it and the outlet on its circuit, or an outlet with a switch be used.
This is a bulkier design, which means it can't go in some places more flexible light bars, strips and "puck" lights can be placed with no issue. This is probably not an ideal solution to light multiple countertops in a kitchen, nor for showcases.
Is it Recommended?
Unlike the previous kit, this one is unideal for some of the broader scenarios where under the cabinet lighting is required. However, it's a good candidate for solutions where that kit wouldn't likely hold up.
It'll stand up better to heat and moisture, and is closer to an "appliance" light which means it's probably more viable for working environments or those who like to cook in softer light.
These would probably be obtuse to light a whole kitchen's counter space due to the non-modular design.
Pros
Modern design and form factor are familiar.
Rugged design will hold up against heat and steam better.
Durable.
Singular light source is ideal for closets and pantries.
No "wall brick" plug.
Cons
Light cannot be dimmed.
Light is a little heavy meaning adhesive mounting might be a gamble.
Cord is short.
Onboard switch is inconvenient.
Not really a good solution for lighting a lot of counter tops, or lighting cases or inside cabinets.
FAQ About this Product
Q: Are extensions available for the cord?
A: No, unfortunately. Traditional extension cords would need to be employed to compensate for the limited length of the cord.
Q: Can this be hardwired to light switches, sensors or other sources?
A: It certainly can, if you know what you're doing. Those less experienced in electrical work would be better suited to install an outlet with a light switch attached to it, rather than straight wiring and splicing.
Q: Can this be mounted on metal?
A: Using strong adhesive mounting like what 3M produces would be fine, as the light produces no real heat. Make sure it's strong, like the outdoor or bathroom Command strips, though.
2. Albrillo LED – Dimmable LED Under Counter Kitchen Lighting
Homes aren't the only places that need pleasant, low-voltage under cabinet lighting. Office spaces actually have a great many nooks and crannies that benefit from this kind of soft lighting.
Given the variety of people and work being done in these environments, a more industrially-minded design is probably a better choice.
These lights were designed really for larger, more complex kitchens (another role they probably fill well), but their use is probably for office kitchens, work stations and other places of productivity.
Packaging
This pack of three LED light bars includes six mounting brackets, two end brackets, two patch cables, a dimmer switch, and a power cord. Each one weighs about 12 ounces.
Performance and Technical Issues
These light bars are larger, and are probably a bit of an overkill solution for the average home kitchen, bathroom or closet. They're almost definitely not suited to light the inside of cabinets or display cases either.
The cord is a bit short and utilizes the undesirable "wall brick" form factor.
Is it Recommended?
These are probably suited to houses with large kitchens with high ceilings and a lot of counter space, or office environments. Lighting an office kitchen with these is a breeze, and their soft light probably matches the professional atmosphere most companies want to keep up in such places.
These are not really suited for casual lighting, but may also be ideal for garage work shops.
Pros
Is dimmable.
Is large, lighting a decent bit of counter space evenly.
Light is soft and "generic", making it ideal for professional environments.
LEDs are long-lasting and durable.
Cons
Lights are heavy, meaning adhesive mounting is probably a bad idea.
Price and power makes them excessive for a lot of home solutions.
Cord is short and utilizes a "wall brick" plug. Nobody likes those things!
FAQ About this Product
Q: Can more than three of these be linked to the same series?
A: It's not physically impossible but finding a compatible power supply that works with the dimmer could be difficult.
3. Lux – Plug in Under Cabinet Lighting for Over Sink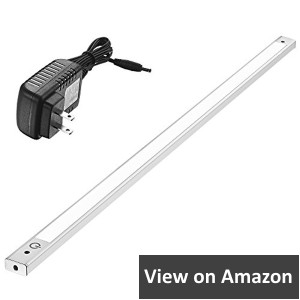 Finding a singular, slim under cabinet solution suited for work shops and computer stations can be difficult. A lot of solutions are excessive or insufficient for this kind of thing.
Fortunately, whether intentional or not, this Lux Light solution is probably the most ideal.
Packaging
This solution is available in four lengths – 12, 24, 36 and 48" as well as two colors, warm white and clean white. It also includes two mounting screws and a power supply.
Performance and Technical Issues
This form factor is designed to be "monolithic", meaning it isn't intended to be used for a series of lighting in a large area. This makes it likely unideal for kitchens or bathrooms, and a bit much for closets.
The mounting is a bit primitive, and it may or may not be difficult to use adhesive mounting for it, depending on the environment and surface.
The cord is a paltry five feet, and uses that "wall brick" design that, despite being obsolete and much-despised, is largely inescapable even now.
Is it Recommended?
This lighting solution is probably ideal for small work areas. This would probably suit a garage workbench, a computer station or small home office, or an area where traditional art is done.
This is not really an ideal solution for kitchens unless they are small and with limited counter space. However, the variety of sizes and the choice of something besides "bright white" does mean it may be worth getting a few of these to light larger areas, if you want a softer, creamy white.
The touch switch to turn it on or off is a bit polarizing.
Pros
Multiple sizes available.
Two colors of light available.
Slim design is unobtrusive.
Is a nice even light for areas just big enough to need it, but too small for other solutions.
Cons
Light is intended to be more or less singular, making it challenging to light large areas evenly.
Short cord has a "wall brick" plug.
Primitive mounting limits the placement of this light.
Touch sensor may make mean light switch outlets don't govern it properly. (Results vary with this.)
FAQ About this Item
Q: Do these get hot?
A: LEDs produce basically no heat. Technically, any light is a form of heat, but these can't even melt ice.
Q: Do timers work with these?
A: If you use the appropriate end of the light to plug it in, it will.
Q: Can I turn this up side down to light a glass shelf?
A: You will be unable to access the onboard on/off switch if you do. But otherwise, there's no reason you can't.
4. LiteverUnder – Kitchen Under Cabinet Lighting for Granite Countertops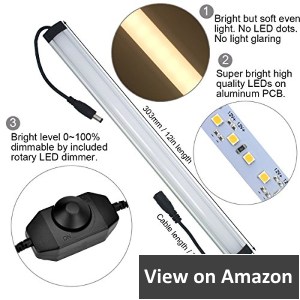 Large kitchens and closets can be a challenge too. While the Abrillo lights were more or less designed with this solution as the target goal, these might be a better alternative. Vast kitchens, bathrooms and storage areas are tricky.
Packaging
This six-piece kit contains two brackets for each light, a dimmer switch, patch cables, ties and a power cord. The cord is fortunately not a "wall brick", though the transformer block is still part of the cord. Each light weighs about 2.72 ounces.
Performance and Technical Issues
These lights have a similar issue that other series layouts with dimmers have, making it hard to patch more kits together on single circuits. The mounting on these has been known to be a little uncooperative, though once in place, said to be pretty solid.
The power converter isn't a "wall brick" but is still obtuse being in the middle of the cord.
There are quite a lot of parts to this kit which can complicate things.
Is it Recommended?
This kit can be complicated, and there are a lot of parts that can have something go wrong.
However, their particular light diffusion and mounting capacity means they would likely serve big, open areas, illuminating the nooks and crannies or reducing the need for overpowered ceiling or floor lighting.
They've got a bit more of an organic light to them, which is why these are recommended for home use over the Abrillo alternative.
Pros
Sturdy mounting.
Dimmable.
Excellent diffuse light is ideal for larger rooms.
Cons
A little complicated.
Doesn't work well in multi-series, slightly thwarting their advantage for large area lighting.
Still has a power brick, even if it's less obnoxious than the "wall brick" style of plug.
A little pricey, to see their full potential.
FAQs About this Product
Q: How do I get longer connections?
A: The 4-piece 1 meter connections can be made into a single 4 meter cable. Aside from that, you're out of luck.
Q: Can these be hard-wired?
A: There are both hard wired kits and plug-in kits. Only the 6-piece version offers hard-wiring.
Q: Can extra parts like power supplies and so forth be purchased from the seller?
A: Yes.
Under Cabinet Lighting of 2017-2018 with Remote Control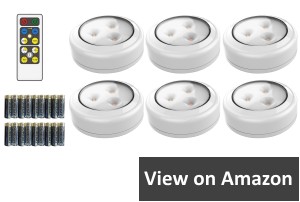 Not all under cabinet lighting involves kitchens, bathrooms or other indoor, semi-private locales. Those with patios, pool areas and other mostly outdoors locations need distributed lighting like this as well.
Central lighting on the outside of houses and so on are harsh and make it difficult to enjoy the evening's ambience properly.
These wireless puck lights may not have been designed specifically with outdoor under cabinet lighting in mind, but they're a good potential solution for it.
Packaging
This set of six wireless puck lights includes a remote control and 18 AAA batteries included. The pucks weigh a paltry 2.56 ounces, making them very compatible with adhesive mounting.
Performance and Technical Issues
These are wireless lights. This results in a lot of convenience in them being able to be put basically anywhere. However, it also means they are difficult (but not impossible) to wire to central switches or sensors.
While they do get quite good battery life, they still use traditional AAA batteries. In an age of rechargeable Li-Ion power packs, these are becoming somewhat archaic and inconvenient.
They aren't as bright or diffuse as some other lighting solutions on this list, meaning they really aren't as ideal for kitchens or bathrooms.
The only way to turn them on or off is via the remote or the touch-lens, the latter being "nifty" but not as intuitive or reliable as it sounds.
Since one remote will work for multiple sets of lights, that means any remote for this system will work for any and all of the pucks in range. This is probably not usually an issue, but there are definitely cases where it could be.
Is it Recommended?
Being dim and battery-powered, these are probably less ideal for actually lighting kitchens or bathrooms. However, they would work probably work well for closets, garages and sheds.
The most likely use for these, however, is outdoor areas where picnics, barbeques or pool parties are held.
Their soft, modular light will likely help maintain the ambience as well as not annoy neighbors with excess light.
Pros
Timers and brightness may be easily programmed via the remote.
Good, brand-name batteries will last up to 100 hours.
Wireless design and light weight makes them able to be put almost anywhere.
Actually a good deal, price-wise.
Cons
Lights are powered by outdated AAA batteries.
Lights are only capable of being turned on and off by touch or by the remote.
Lights are too dim and directional to suit kitchens or bathrooms.
Remote is not secure, any remote for this product will control any puck.
FAQ About this Product
Q: Can I operate two sets of these with the same remote?
A: Yes. This can be seen as a possible inconvenience if many people are using these within a close proximity, or many sets are close by when a remote is being used. It does mean replacing the remote isn't a big deal, though!
Q: What kind of battery life do these get?
A: The included batteries are, to be honest, crummy generic ones. They may last 24-48 hours of constant use before they die. Grand name batteries can last up to 100 hours though this can vary wildly. A set of high-quality Lithium-Ion rechargeable AAA batteries is the good idea.
Q: Are these water-proof?
A: They're pretty hardy against rain or being splashed. It's not a good idea to submerge them, though if this happens accidentally, disposing of the batteries immediately, soaking the product in alcohol and allowing it to dry for 24 hours will probably ensure it will still work.
6. SUNTHIN – Under Cabinet Lighting with Wireless Remote Dimmer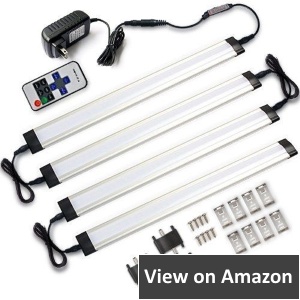 Finally, we come to what's more or less a special mention. This is an example of the more advanced (while remaining simplistic) lighting systems.
This one is an example of what will be common for most lighting in the near future, even the cheaper solutions offered on this very list.
This is probably solution for the tech-minded whom use a lot of dynamic lighting in their environment.
Packaging
This is a set of four lighting units each with two mounting brackets and an end connector. AN RF remote, dimmer, and power supply are included.
Performance and Technical Issues
This one is actually pretty advanced, all things considered, meaning the only real issues are the horrible "wall brick" power plug (it's back) and the remote which is as unsecure as the one for the puck lights.
It's also a pain to get multiple kits working together, as these form factors really don't like being in series.
Is it Recommended?
This is probably a good solution for those whom want to impress, or do a lot of dynamic lighting as they appreciate atmosphere.
It's not expensive for what it is, but is one of those kit types that's a bit annoying to get wide distribution working with.
However, this represents where affordable smart lighting is headed as "IoT" takes over the costly, high-scale ones not covered here.
Pros
Remote control is convenient.
Nice, soft light is appropriate for most applications.
Dimmable lighting means it's never too bright for dim the ambient lighting.
Cons
Remote control isn't secure.
Hard to get working in multi-kit series.
"Wall brick" power supply with annoyingly short cord.
FAQ About this Product
Q: Can I buy two sets and link a 7th one to the first set?
A: Yes. However, these sorts of lights don't like being in long series, so do this sparingly.
Q: How long is the power supply cable?
A: About 2 feet, sadly.
Q: Does the remote come with a battery?
A: No, unfortunately.
Under Cabinet Lighting of 2017-2018 with Motion Sensor
7. Torchstar Led – Under Cabinet Lighting for Gun Safe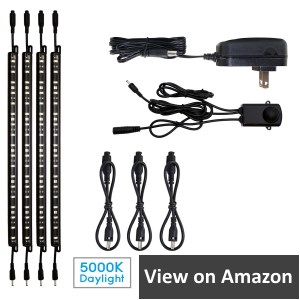 Under cabinet lighting is of course not just for illuminating counter tops. Many people also use these solutions to light showcases, tool or gun cabinets and other such otherwise dark compartments. This is important for safety if nothing else.
This kit is designed with such diverse uses in mind. Making use of LED technology, which has revolutionized lighting as a whole, these produce a soft but powerful, low-power form of illumination ideal for a lot of different scenarios.
Packaging
This kit includes 4 light bars, which you'd be surprised to know is more than sufficient for most small-scale illumination needs. It also includes a motion sensor and power adapter.
They weigh a minuscule total of 13.6 ounces, most of the weight actually being the power supply's "wall brick" – these hold a small but hefty transformer.
No real assembly is required, and they mount with almost no effort.
Performance and Technical Issues
These lights require a 100-240V – DC 12 V adapter which takes the form of a traditional "wall brick" plug. Unlike a lot of modern designs where this is done via a modular USB-capable adapter, this uses the traditional "big brick at the end of the cord".
These are much maligned due to the space they take up on outlets and surge protectors.
The sensor can take up to 20 seconds to warm up when first plugged in, and after power outages or being unplugged for any real length of time. This may lead to minor accidents if you're reliant on this sensor immediately after installation.
The sensor may also become annoying if the lighting is installed somewhere where you may not always want the lights to come on. Pets will also definitely set these lights off if the sensor is turned on.
Those especially interested in the sensor technology may find the 4 minute lights-on duration to be either too long or too short, depending on the application. The cords are a bit short, and extensions are sold separately.
Is it Recommended?
This is probably the all-around solution. This means it's actually not perfect for any one application, but works satisfactorily for most uses that call for them. The light is soft and attractive, but is a bland white which may make it undesirable in some home uses where colored light compliments the environment better.
The sensor works well, meaning the old problem of fumbling for light switches is a thing of the past where these are used. It also means a more or less guaranteed even lighting solution the moment lit cases, cabinets, pantries or other enclosures are opened.
These focus on convenience and diversity/flexibility and they honestly achieve their goal. This is probably a "yes" if no other solution is more specialized to your needs.
Pros
Lights produce no UV or perceptible heat, making them safe for any application.
LEDs are very long-lasting and use very little energy, reducing the power bill and strain on your infrastructure.
Light sensor makes it ideal for dependable lighting in kitchens, bathrooms, and enclosures like closets, pantries, display cases and cabinets.
Flexible design means they can be mounted pretty much anywhere.
Cons
The cords are short, and extensions are an additional purchase.
The sensor takes quite some time to warm up when it's been without power for a measurable time.
These lights are not dimmable.
"Wall brick" power plug is of an archaic, inconvenient design many other electrical devices are moving away from.
FAQ About this Product
Q: Can I tie multiple sets of these together in series?
A: Up to 11 sets have been tested together in series with no issues. However, it's better to set them up in parallel where possible for optimal results.
Q: Are these safe to install over sources of heat and moisture, such as a stove?
A: It's not a good idea. LEDs are a conductive plastic, and plastics as we all know don't enjoy exposure to hot steam.
Q: Can additional sensors be purchased?
A: Unfortunately, the manufacturer and seller do not sell the kit's items individually, meaning entire kits would have to be purchased for this.
Q: Are the lights dimmable? Can a dimmer switch be added?
A: The lights are not dimmable, which is a shortcoming many but not all LED lighting systems have.
8. OxyLED Motion – Cordless Rechargeable Under Cabinet Lighting for Wardrobe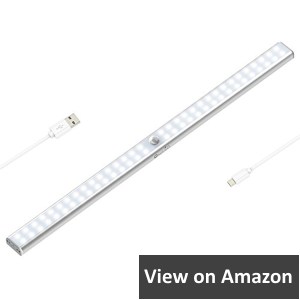 One of the recurring issues a lot of these kits have is that they're expensive and not very versatile when trying to strategically place them.
The puck lights solve the flexibility of configuration, but they eat batteries. AAA form factor rechargeable batteries aren't quite as retentive as true power packs, and the bells and whistles of that model make it costly.
This model, while less versatile than puck lights, solves some of the problems others have, and save a few bucks in the process.
Packaging
This pack of three 20-LED strips comes with a standard USB-micro charger cable, an adhesive mounting strop and built in standard bracket slots. It weighs 12 ounces.
Performance and Technical Issues
These are one of the more affordable solutions, and are some of the modern "cost effective" technology that's become quite popular. The problem there is, USB rechargers can be unreliable at times, and are also at times fragile.
The cable is very short, and unless you want to dismount it to recharge it, will still have to be adapted to a wall socket.These are cost-effective, but you get what you pay for.
Lifespan of these LEDs can be a tad hit or miss, though the shorter lifespan is still considerably longer than old fashioned incandescent or fluorescent lighting by far.
The recharging is Lithium-Ion, which is the battery type going on, but means the battery memory problem exists. These must be completely drained before charging, and charged to 100% before use, lest the pack lose its charge retention.
There is no practical way to replace the battery, meaning if it fails, the entire thing is dead.
Is it Recommended?
This is an affordable solution that can double as diverse, wireless lighting. Unfortunately, unlike the puck lights, this one isn't going to hold up against outside conditions reliably. This means it's really only good for indoor lighting.
Its luminance and distribution is right in the middle of the pack, meaning this light system can theoretically work as a cheap alternative to most solutions on this list, with some severe handicaps.
The use of these is actually as an emergency distributed lighting system in the case of power outages, or for lighting areas only rarely in need of it. They might be good for camping, to add some comfortable lighting in tents.
Pros
Very affordable.
Rechargeable power pack and modern USB charger.
Multiple mounting solutions.
Motion sensitive.
Cons
Somewhat short battery life.
Modern "affordable chic" design means these may be a little less rugged.
FAQ About this Product
Q: Can it withstand freezing temperatures?
A: Lithium batteries actually thrive in freezing temperatures. Just remember, USB ports don't like nasty weather.
Q: Is this a gradual brightening light?
A: No, it goes to full bright immediately.
Q: Is it easy to dismount if USB charging?
A: Magnetic mounts make it easy to dismount. Adhesive can wear out if torn off too often.
9. RXWLKJ – Small Rechargeable Under Cabinet Lighting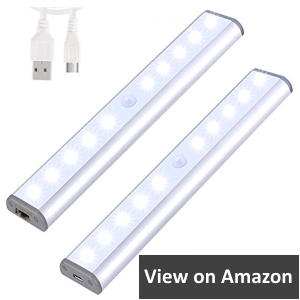 Sometimes smaller spaces need a little light shed on them. This may be small efficiency kitchens, drawers, hallways, compartments in closets, any number of places.
Expensive, large lighting like many of the models above are impractical for this due to a number of reasons.
This small, USB-rechargeable, motion-sensing light is intended to be portable, and easy to place in these small spaces as needed.
Packaging
This pack of 2 USB lights includes a USB charger, adhesive mounting and, for the batter-powered model, a pack of batteries as well. There's not much to this one, which is the point. Each weigh 11 ounces.
Performance and Technical Issues
This is meant to be an on-the-fly lighting solution, and as a result can be inelegant. The battery life is hit or miss at times, and the sensor has been said to sometimes not work by some consumers.
USB model is a chore to recharge.
Is it Recommended?
This is likely most suited for tiny kitchens or bathrooms, drawers or small closets where just a little extra light is needed.
It lacks the ambient elegance many of these lighting solutions offer. However, this is probably another good one to have around in case of emergency.
Pros
Perfect for small spaces where integrated ambience is unimportant.
Easy to mount and dismount.
Very affordable, good for emergencies.
Motion-sensing.
Cons
Affordability makes it slightly cheaply made.
Light is soft but not as well-dithered as some others.
USB can be a pain to recharge.
FAQ About this Product
Q: Can this be used outside?
A: It doesn't like wet weather, because USB ports are sensitive to it. Aside from that, sure.
Q: How long is battery life?
A: Not very, about 10 hours per charge. This is one of the reasons this is ideal for less heavy use solutions.
Buyer's Guide
Lighting is vastly more complicated than people tend to assume. It's not just about how bright a light is. The type of light, the way it dithers, the source, how it's powered, how it turns on and off, how the sources are distributed through a space – all of these matter tremendously.


When choosing under the cabinet lighting, which we all know isn't just for under cabinets, you have to consider the size of the room. Some kits may not be enough light to handle each area, while others may be overkill.
Some lights may be more difficult to mount, meaning you may need adhesive, bracket or magnetic depending on the situation.
Once you know what kind of actual light you need it to produce (home lighting in kitchens and bathrooms tends to be softer and muted, while offices or work spaces tend to be brighter but more diffuse), you need to factor in how it's powered.
Battery-powered or rechargeable options may mean dismantling the thing to recharge it, and could result in surprises when you thought you charged it but didn't.
Finally, you really need to consider whether or not you want the light to come on by itself when it senses movement. In some cases this is almost a requirement – drawers, closets, inside cabinets. In other cases, this could startle or annoy some people, especially if pets are around to casually set them off.
In the future, the IoT, or "internet of things" will be drastically changing the way we handle lighting in some respects. However, the variables of size, distribution and light type itself will never change.