You've just moved, you love your new hardwood floors. You took great pains on moving day to protect your floors. How can you be sure to keep them looking as good as new in the years to come?
On the left your's laminate floor after 1 year without using best furniture pads for hardwood floors, on the right with felt pads :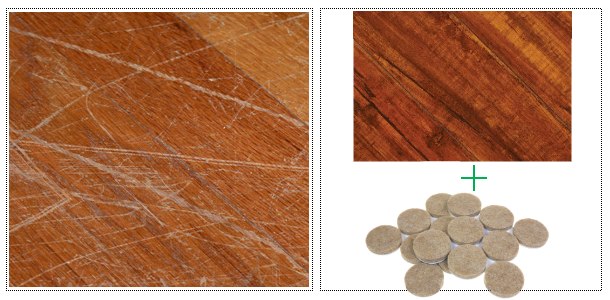 Which one do you choose?
Felt furniture pads are a great place to start. Felt furniture pads are those felt pads that you put on the bottom of your chairs to prevent scuffs. There are so many different kinds of furniture pads out there. Choosing a cheap furniture pad can leave you with a sticky, gluey mess, and a scratched floor to boot. How do you choose the right furniture pad? What are the things you should consider?
Best Furniture Pads for Hardwood Floors of 2018
furniture pads to protect hardwood floors + function
Surface type
For what furniture
Check Price
SoftTouch Self-Stick Furniture Felt Pads Starter Kit (with Mesh Storage Bag), protects from mars and scratches (

Editor's Choice

)
hardwood, ceramic tile, linoleum floors
tables, cedar chests, chairs, desks
Check Price
X-PROTECTOR Heavy Duty Felt Sheets, protects surface from scratches and scuffs
wooden, laminate or tiled flooring
chairs, recliners, couch
Check Price
Dugan Hardware Systems Heavy Duty Felt Nail-on Slider Glides Pads (

Editor's Choice

)
hardwood floors
chairs, stools, benches, tables
Check Price
Alimitopia Round Heavy Duty Nail-on Anti-Sliding Felt Pad Anti-slip, prevent from marring, reduces friction vibration and noise
wooden floors
oak chairs, kitchen chairs, tables
Check Price
Seddox PREMIUM Felt Furniture Pads Large Set - with Bonus Rubber Bumper Pads - Extra Adhesive
wood and laminate floors
chairs
Check Price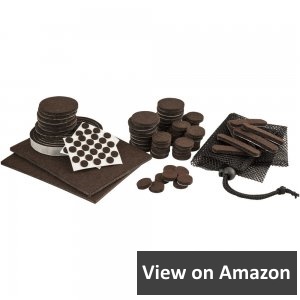 The SoftTouch self-stick furniture pads are a quick solution for preventing scuffs and scrape marks for many household items. This 108-piece set is designed to work for furniture like chairs and tables, and also smaller household items like lamps and jewelry boxes.
These pads are self-adhesive , so they can quickly be applied at the first sign of friction with the floor or table top. They are thick and will protect the surface of wood, tile, and linoleum floors from marks and scratches. The heavy-duty adhesive will keep the pads in place better than cheaper alternatives.
The adhesive backing easily peels off. The pad itself is a dark brown color on both sides and blends in well with all colors of decor.
We recommend keeping a collection of SoftTouch self-stick furniture pads around the house for all kinds of household uses. They come with a mesh bag for handy storage.
The kit includes:
8 – ¾-inch round brown
24 – 1-inch round brown
16 – 1.5-inch round brown
6 – 2-inch round brown
1 – 1/2 x 30-inch roll brown
8 – ½ x 2 ⅝-inch strips brown
2 – brown felt blankets 4 1/2 x 6-inch
42 – ⅜-inch felt bumpers brown
1 mesh bag
Pros
Easy-peel adhesive backing
Variety of sizes
Storage Bag
Pre-shaped into circles
Cons
May not be heavy-duty enough for very heavy furniture like a refrigerator
Over time, adhesive may wear out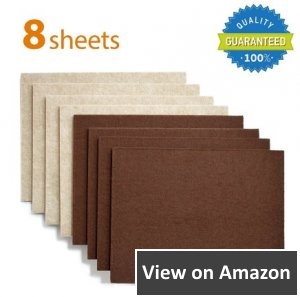 The X-PROTECTOR heavy-duty felt sheets are ⅕-inch thick, which is thicker than most household felt pads. They can be placed at the foot of chairs, tables, lamps, and decorative items, and they are strong enough to protect floors under heavy appliances like refrigerators, washers, and dryers.
These pads do not come in pre-cut shapes. They come in 5 ⅘ X 7 4/5-inch sheets. They can be cut to fit exactly the size and shape of the furniture leg in need of a protector. The heavy-duty adhesive backing allows the pads to be applied anywhere. These pads will protect wood, tile and laminate floors from scuffs and scrapes.
One package includes four brown sheets and four beige sheets to match the decor of different rooms. These two shades will work with light and dark furniture alike. The strong adhesive stays in place while moving even the heaviest items.
We recommend purchasing the X-Protector felt pads if you are planning to move heavy furniture and appliances.
X-PROTECTOR furniture pads come with a money-back guarantee.
Pros
Very heavy duty
Cut-to-fit design
Two colors included
Durable adhesive
Money-back guarantee
Cons
Cut-to-fit can be a hassle for simple jobs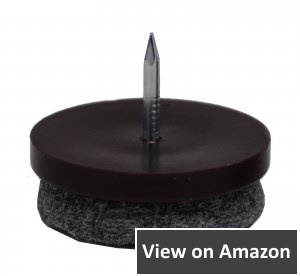 The D.H.S. nail-in felt furniture pads permanently attach to the legs of your furniture protecting your wood, laminate, or tile floors from marks made by chair legs. These pads will not wear down and fall off the chair legs like some of the adhesive varieties.
This felt is high-quality and very dense and will stay thick even after much wear and tear. The felt pads are factory installed inside the plastic casing and are guaranteed to stay stuck forever. The gray felt blends well with dark-colored furniture and hides dirt well.
These furniture pads come in a set of 32, which is enough for eight chairs. If you don't use them all, they come with a handy reclosable box for storage.
I recommend pre-drilling holes before trying to nail the pads into the legs of your chairs.
These furniture pads come with an unconditional 30-day money back guarantee.
I recommend the D.H.S. felt furniture pads if for kitchen or dining room chairs made of wood. The nail-in design does not work for plastic or metal chairs.
Pros
Permanent installation
Dark gray color
Storage box
Dense felt
Cons
Only work with wooden furniture
Designed for tables and chairs, not smaller household items
Hammer or drill may be required
4. Alimitopia – Pads for furniture on laminate floors (for a large set of kitchen/dining room chairs)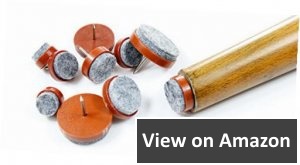 The nail-in felt furniture pads are a longer-lasting solution for protecting your wood, laminate, or tile floors from scrapes and scratches caused by moving a chair in and out from the table. The nail-in design stays in place longer than adhesive designs. If a pad needs to be replaced, it's easier to remove than an adhesive pad.
These pads are made with a steel nail protruding from a plastic casing, which holds a thick felt pad. The felt pads must be hammered into the legs of your wooden furniture.
I recommend that you pre-drill holes to prevent the nail from bending. One package includes 40 pieces, which would protect the legs of up to nine chairs and one table, or ten chairs.
The design of the Alimitiopia nail-in felt furniture pads and the design of the D.H.S. are very similar. If you are trying to choose between them, I recommend choosing based on color. The D.H.S. pads are a charcoal gray. The Alimitopia pads have a brown plastic casing and light gray felt.
We recommend the Alimitopia nail-in felt furniture pads for large dining or kitchen table sets made of wood. Adhesive pads would work better with plastic or metal furniture or appliances.
Pros
Longer-lasting than adhesive pads
Easier to replace than adhesive pads
Thick pads are meant to be solution mainly for tables and chairs
Cons
Only work with wooden furniture
Designed for tables and chairs, not smaller household items
Hammer or drill may be required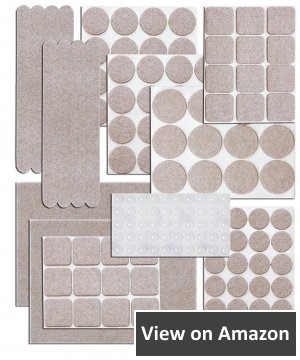 The Seddox Premium Felt Furniture Pads are a variety pack of beige, adhesive furniture pads. They are designed to be used to protect floors and tabletops from scrapes and scuffs caused by furniture, lamps, vases, and other home decor items. 152 pieces come in the set.
The high-density felt on these pads is ⅙-inch thick. ⅙ of an inch is slightly thinner than the other pads reviewed in this article. This is the only set of pads that defined what they mean by "high density," citing that they are 900 g/m2. Industrial 3M adhesive keeps them in place.
These Seddox premium felt furniture pads come in different shapes and sizes. They can be placed as footings on ceramic or glass tableware and as pads for large chairs and stools. They even come in long strips, which can be used to pad drawers and cabinets.
Two 5 ½ X 4 ½ -inch sheets are included for padding larger furniture. You can use these as they come or use scissors to cut out the right shape and size. These pads come with a 100% lifetime warranty.
The kit includes:
32 – 1-inch round
24 – ¾-inch
12 – 1 ¼-inch
8 – 5 ½ X ½ inch strips
1 – 5 ½ X 4 ½ inch
1 large pads
Pros
Large set of different shapes and sizes
High-density felt
Comes in strips
Lifetime warranty
Best Furniture Pads – Buyer's Guide
Do Furniture Pads Work?
Any furniture that gets moved often has the potential to cause scrapes, scratches, and scuffs on flooring. Mainly, this would be chairs around a table or stools at a countertop. When the furniture is new, you may conduct a quick test to see if it appears to be causing damage to the flooring.
Often, the chair or stool will pass this test, simply because it is new. Then, months later, the sun hits the floor just right, and you can see that the floor is scuffed where the chair has been moved.
This is caused because over time, the chair legs pick up debris, like dust, dirt, and hair. That debris can make tiny scratches in your flooring. The chair legs, or the glide that is installed on the leg, will start to splinter or fray. The rougher the pre-installed glide gets, the more friction is caused when the chair is moved along the floor. Now the tool that was installed to protect your floor, is adding to the damage of the floor.
Felt pads are an ideal solution to these problems of keeping your flooring protected from the frequent moving of furniture.
Another example of a time when felt pads should be used is when moving furniture that is not frequently moved, like a couch, or a refrigerator, or even a coffee table. When a person thinks of protecting their floors, kitchen chairs and stools quickly come to mind, but those items you think aren't moving may be.
That coffee table gets scooched a little each time someone bumps it with their leg or props their feet up on it. The fridge is opened and closed many times each day. Small movements are happening and could be damaging your floor. Simply taking the precaution of placing felt pads beneath their footings will help protect your floors.
When it's time to move furniture, pads can come in very handy. Maybe, you want to replace your refrigerator. It's heavy, you don't want to pick it up and carry it out of the house, you may choose to slide it. This can devastate your flooring. Using felt pads can prevent this damage from happening.
Installation
Furniture pads are relatively easy to install, especially the adhesive ones. Make sure you follow directions when you install them. When installing adhesive pads, you will be instructed to thoroughly sweep and mop the floor before installation. For good results, keep flooring as clean as possible. As mentioned above, dirt and dust can cause damage to flooring, especially hardwood floors.
The installation directions will ask you to thoroughly clean the footings of your furniture legs. This could be more difficult, especially if the furniture isn't new. Dirt and grime have already been ground into the plastic or metal footings typically installed on chair legs. The more carefully, you clean this area of the chair leg, the longer your adhesive felt pads will stick on your chair legs.
If you are installing nail-in chair legs, it's critical that they are installed properly for a couple of reasons. First, the fact that these pads must be nailed in means that if that job is not done properly, the chair leg could be damaged. Second, you want to make sure that the pad is securely installed. The friction caused by scooting a chair in and out could bend the nail of a furniture pad causing damage to the furniture or injury to the person moving the chair.
Maintenance
Felt furniture pads are not a set it and forget it kind of home good. Periodically, they need to be inspected. For one thing, you want to make sure that the pads are relatively clean. You don't want to see a lot of ground in dirt and dust in the felt pad. Use a wire brush to remove dirt from the pads. Debris in the pad can cause damage as if no pad had been installed.
Next, make sure the adhesive area, if you used adhesive pads, is not collecting dirt. Dirt in the adhesive area will cause the adhesive to be less effective, which means the pad could become unstuck. If this happens through the course of using the chair, the adhesive could become stuck on the floor. This can be as big a mess as the scrapes and scratches caused by having no felt pad.
Periodically inspect the pads to make sure they are still secure. If they are becoming worn or flattened, it's time to replace them with high-quality pads. Carefully remove the old pads and reinstall new ones.
All About Felt
Felt is the key ingredient of felt furniture pads. Felt is made of compressed fibers. Over time, felt can become compressed and therefore, less effective at protecting flooring from furniture scrapes.
Felt is the oldest known textile and was widely used in the ancient world. Originally, it was made of wool. Now, most felt is made from synthetics.
Many furniture pads describe their felt as high-density, which would allow it to keep its thickness, even after being compressed over time. The felt used in each of the pads reviewed below is described as high-density.
How Important is Color?
Felt furniture pads come in colors ranging in shades from light to dark and usually in the beige, brown, or gray tones. Is the color you choose important? After all, these are getting stuck or nailed into the bottom of your furniture.
The answer here is that color really isn't as important as shade. If you have light-colored furniture, try for a light shade of pad. If you have dark-colored furniture, try for a dark shade of pad.
These felt pads are hardly visible once they are installed. If you have a home with neutral (brown) tones and you end up with dark gray pads, it doesn't make much of a difference visually. The important thing is that the felt pads are doing their job.
How Should I Choose the Right Furniture Pad for Me?
Felt furniture pads come in many different qualities and styles. It can be overwhelming to see all the different kinds they have to offer.
The first step is to think about how much work you are willing to put into the process of installing your felt furniture pads. If there is no way you are going to pre-drill and hammer in the nail-in pads, then you can eliminate this type of pad right away from your contenders.
If you would be willing to hammer in the pads, do you have wooden chairs? If your chairs are metal or plastic, a nailed-in felt pad will not work and will only cause damage to your chair.
If nail-in pads are not for you, then you should consider the adhesive pads. Where do you want to place them? Are you thinking only of kitchen chairs, or do you want all your furniture protected? Would you like to use some pads to protect your tabletops from scrapes caused by home decor? Would you like to soften the sound caused from closing drawers and cabinets? Some kits, like the Seddox felt furniture pads have a solution for each of these uses.
Top all-around Felt Furniture Pad
All of the furniture pads reviewed here are made of top-quality products. The stick-on varieties all have very strong adhesive that will outlast cheaper furniture pads. All five furniture pads cite that they use high-density felt.
To make a recommendation for the furniture pad, we considered usability as a major factor, which placed the adhesive varieties on the top of the heap. For the average consumer, it's much easier to peel and stick a pad, rather than drill and hammer a pad. That being said, the nail-in varieties for kitchen chairs is a strong choice, if you are up for it.
The SoftTouch felt furniture pads emerged the winner of the best-all-around title. These pads out-perform the others in variety of shapes included, the number of pads included.
The Seddox set is the largest set reviewed. It includes pads in different sizes that are round, square, strips, and sheets, which makes them useful for lots of different purposes around the house.
Conclusion
If you want to protect your wood, tile, or linoleum flooring from scrapes and scratches, felt furniture pads can help. Choosing a quality furniture pad over cheaper alternatives, will save your floors and save you from constantly having to replace the furniture pads.