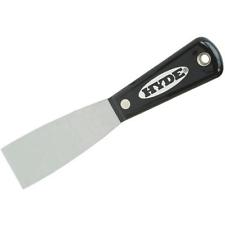 A paint scraper is a must-have tool for a variety of craft and home improvement projects. If you want to quickly and efficiently remove paint from walls, trim, and a variety of surfaces, you need the best paint scraper. Unfortunately, not all paint scrapers are created equal.

By the end of this article, you're going to learn how to choose paint scraper depend on:

surface type (wood, metal, cement, glass, concrete; interior or exterior)
paint scraper type (hand, electric)
When it comes to choosing a paint scraper, there are plenty of options to choose from. However, some are better than others.
After putting dozens of paint scrapers to the test, we've pinpointed 10 of the top paint scrapers on the market today. Keep reading to learn all about paint scrapers for your project needs.
Best Paint Scraper of 2018
Name
Blade size, inches
Blade Material
Surface Material
Specialties
Link
Bahco 665 Premium (

Editor's Choice

)
1 – 2.5
Carbide
wood
effective result
Check Price
Porter Cable Multi Surface Tool Kit (

Editor's Choice

)
6
Sanding sleeve
metal, wood, cement
different roller sleeves
Check Price
Purdy Surface Prep Tool
2.5
Carbide
wood
comfortable handle
Check Price
Titan Tools Mini Razor
1
Titan replacement blades
ceramic, glass
super sharp
Check Price
Red Devil Painter's 6-In-1-Tool
1.25 - 6
Rust-resistant steel blade
metal, wood, glass
multi-use tool
Check Price
Hyde Tool Stiff Scraper
2
Steel
metal, wood
stiff
Check Price
Hyde Tools Glass Scraper
1
Steel replacement blades
glass, cook tops
precise control
Check Price
Hyde Tools Contour Scraper
0.2 – 1
6 Changeable blades
metal, wood
difficult paces
Check Price
Metabo Paint Stripper
3
4 reversible carbide blades
metal, wood
powerful
Check Price
Wagner Power PaintEater
4.5
Spun-fiber 3M disc
wood, steel, masonite siding, concrete
powerful, good for paint off wood siding
Check Price
1. Bahco 665 Premium – Carbide Paint Scraper (for Comfort and Ease of Use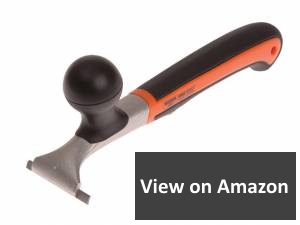 The Bahco 665 Premium Ergonomic Carbide Scraper is an excellent all-around scraper that's comfortable and easy to use. It features a dual-component handle allowing for improved grip and a large plastic knob that's ideal for two-handed operation and heavy-duty scraping, allowing you to use extra strength to remove more material faster.

The premium carbide blade of the Bahco 665 is also extremely sharp. Although the 2-1/2″ blade is prone to chipping like other carbide blades when too much force is used, it can be easily removed. Plus, it stays sharp for an incredibly long time.
The Bahco Premium Ergonomic Carbide Scraper is also quite versatile. In addition to paint, it can be used to remove glue, varnish, chalk, and even mortar and grout. If you want a high-quality, easy-to-use paint scraper that will stay sharp and last for years, this popular Bahco may be for you.
Pros
Very comfortable and easy to use
Solid grip
Handy knob for extra leverage
Sharp, long-lasting carbide blade
Blade is easy to remove and replace
Cons
Blade is super sharp but chips easily
Replacement blades can be costly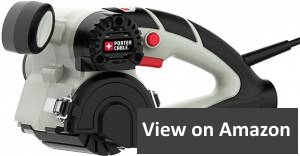 The Porter-Cable Multi-Surface Restoration Tool Kit is able to replace several tools and tackle a variety of tasks. Despite its more than reasonable price, it can sand, buff, grind, scrub, and polish an array of materials.
The budget-friendly restoration tool can be used on wide-variety of wet, dry, flat, and curved surfaces. Upping the value factor even more, it can be fitted with sanding sleeves, wire wheels, Scotch-Brite, and any other type of roller.
Unlike some power scrapers, it's also incredibly easy to use. Equipped with a pistol grip, it can comfortably be used with one hand to work horizontally, vertically, or overhead. As an added bonus, it can also vacuum up scraped debris, allowing you to clean as you go. Everything considered, it's one of the top budget-friendly power restorers you hard-earned money can buy.

Pros
Great value
Easy to use
Perfectly powered motor
Convenient pistol and palm grips
Accepts several different roller sleeves
Can be used on a variety of surfaces
Vacuum function
Great customer service
Cons
Sanding sleeves work well but must be replaced often
Sanding sleeve may move and cut into housing with side-to-side action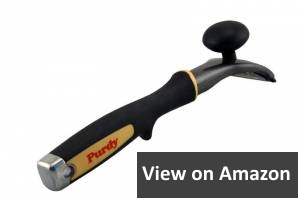 Purdy is known for making durable, high-quality hand tools, and the Purdy 2-1/2" Premium Carbide Scraper is no exception. Ranking highly in blade performance, flex, comfort, and durability, it's made to get the job done and last a lifetime. In fact, it comes with a lifetime guarantee!
The Purdy's carbide blade is sharper than steel, making it capable of handling the toughest of scrape jobs. It also comes equipped with a soft grip handle and a nail set end. If you're on the hunt for a tough and durable paint scraper that will last for years and won't let you down, this sturdy surface prep tool deserves a spot at the top of your short list.
Pros
Well-designed and made to last a lifetime
Sharp carbide blade
Provides just the right amount of flex
Comfortable handle
Great on both flat and curved surfaces
Cons
Blade is curved on both sides
Not ideal for scraping glue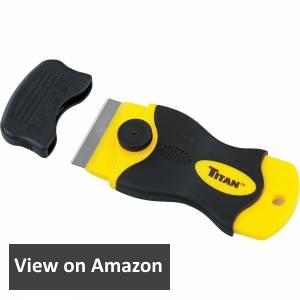 The Titan Mini Razor Scraper features a durable polypropylene construction and a TPR comfort sleeve, offering an ideal blend of comfort and toughness. Combined with its extra heavy-duty blade, which is twice as thick as regular razor blades, it's designed to last longer and work well on a variety of surfaces.
The real selling point of the Titan Mini Razor Scraper, however, is its compact size. It can comfortably fit in your back pocket and scrape paint, glue, and whatever else from hard to reach places other scrapers simply can't get to.

Pros
Miniature size is perfect for scraping hard to reach places
Durable, polypropylene construction
Extra-thick blade
Protective cap for safe storage
Comfortable, ergonomic design
Cons
Not compatible with standard sized blades
Protective cap can be a little difficult to remove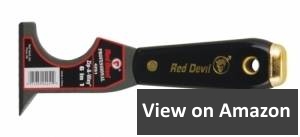 If you love multi-use tools, the Red Devil Painter's 6-in-1 Tool won't disappoint. Designed for use as a scraper, putty remover, gouger, spreader, paint roller cleaner, and nail setter, it's a versatile tool any experienced painter or DIYer is sure to appreciate.
Beyond its versatile design, this unique paint scraper is compact in size and features a rust-resistant handle, carbon steel blade, and a steel nail setting head, making it suitable for a bevy of hammering jobs. It really can just about do it all!

Pros
Extremely versatile
Durable carbon steel blade
Handy nail setting head/hammer function
Very compact
Inexpensive price tag
Cons
Comes with a sticker that leaves glue behind when peeled
Inexpensive but wears out quickly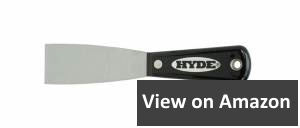 For the most part, a little flex is a good thing when choosing a paint scraper. Other times, however, a stiff paint scraper is needed to get the job done. When to stiff paint scrapers, few can match the Hyde Tools Stiff Scraper.
With a two-inch carbon steel blade hardened for durability and long-term use, it's tough enough to tackle the most demanding of scraping jobs. Its patented hammer head is also great for popping nails and screws. If you require a little more flex, brass blade options are also available, adding to its versatility as well.
The small blade size of this stiff scraper also provides excellent control and allows it to be used on both large hardwood surfaces and smaller, delicate items. Although it's tough on paint, the Hyde Tools Stiff Scraper is gentle on surfaces, making it an excellent option if you're in search of the right combination of toughness and finesse.
Pros
Well-made
Super stiff blade
Flexible blade options also available
Comfortable over-molded grip
Hammer head is great for taking out nails and screws
Inexpensively priced
Cons
Small size may not be ideal for larger projects
7. Hyde Tools – Glass Paint Scraper for Windows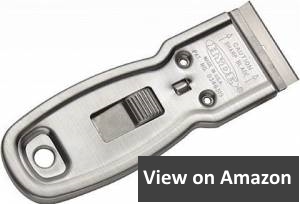 The Hyde Tools Delta Heavy-Duty Glass Scraper is perfect for scraping paint, stickers, and other adhesives from windows and glass. Unlike many other paint scrapers, its blade is offset by five degrees to easily get underneath paint and cleanly taking it off of glass mirrors, windows, and more.
This popular razor scraper is also extremely sharp and ergonomically designed for precise control. As an added bonus, the Hyde Tools Delta Heavy-Duty Glass Scraper also comes with five blades, which is a nice surprise given its low price.
Pros
Great for glass windows, mirrors, tables, cooktops, and more
Sharp, perfectly angled blade
Comes with five replacement razor blades
Great low price
Cons
Blade is a bit difficult to retract
Slider mechanism could be improved for greater safety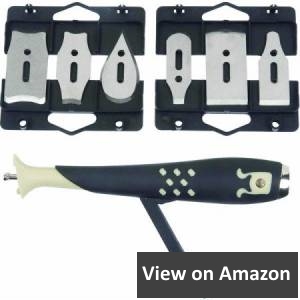 The Hyde Tools Contour Scraper is perfect for moldings, turnings, furniture, and a variety of woodworking projects. Thanks to its excellent contoured design, it creates the smoothest possible finishes on the most difficult to scrape surfaces.
This nifty paint scraper also comes with six different blades and a quick-change blade system that works better than advertised. Not only does this make it extremely versatile and easy to use, but it allows you to create a smooth, elegant finish on virtually any surface.
In addition to paint, it can also remove varnish, putty caulk, rust, and more. While it's not for flat surfaces, if your special project requires a special scraper, the Hyde Tools Contour Scraper is a wise choice.
Pros
Can scrape and clean any curved surface
Great quick-change blade system
Six blades included
Excellent for elegant, polished finishes
Cons
Handle could be improved
Not for large, flat surfaces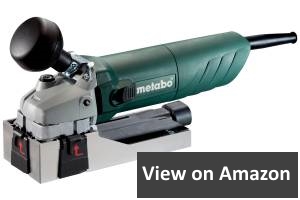 Electric paint scrapers provide serious scraping power, and when it comes to scraping power, nothing outperforms the Metabo 6.4-Amp Paint Stripper. Powered by a 6.4-Amp Paint Stripper that supplies a whopping 11,000 RPM, it can blast the paint off of the largest and toughest of surfaces with ease.
If time is a priority, it's hard to top this Metabo as it can strip surfaces up to 70 percent faster than traditional handheld scrapers. With a 3-1/8" cutting edge, four reversible carbide blades, vacuum adapter, and a handy carrying case, it's easy to see why many consider it the ultimate stripping tool. Just be warned, it's not for the faint of heart.

Pros
Incredibly powerful
Can scrape, strip, and sand just about any surface in no time at all
Relatively lightweight
Easy to control given its power
Cons
A little too aggressive for light paint
Not the safest of paint scrapers
Only ideal for serious woodworkers, craftsmen, and painting pros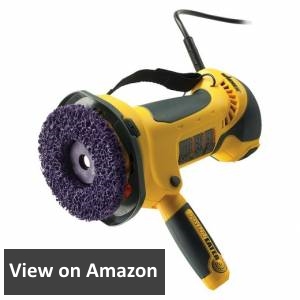 If you're searching for a power paint scraper but want a machine that's a little easier to tame, the Wagner Paint Eater might be right up your alley. With a 3.2-amp motor and 2,000 RPMs, it has plenty of scraping power but is less expensive and noticeably easier to handle than the Metabo above.
While the Wagner's high-performance disc can quickly remove paint from any surface, it's gentle enough to preserve a hardwood's original smoothness. It also features several ergonomic handholds, which minimizes fatigue and increases safety and ease of use. Speaking of ease of use, it also weighs in at under four pounds, allowing you to comfortably use it for hours on end. However, due to its scraping power, it finishes projects in mere minutes.
Pros
Perfect balance between power and ease of use
Lightweight and easy to handle
Can be used on hardwoods, Masonite, concrete, steel, and more
Several handholds for comfort and safety
Removable disc
Cons
Chews through discs rather quickly
Fuse is non-resettable and prone to blowing when it gets too hot
Best Paint Scraper – Buyer's Guide
Whether you're giving your porch a fresh coat of paint or refinishing antique furniture, a quality paint scraper will help provide a smooth surface and ensure your new paint sticks exactly how it should. However, there are some things to know when shopping for the paint scraper for you and your needs. Here are some key considerations to keep in mind:
Edge Type
If you're a beginner, opt for a double-edged scraper. Many paint scrapers are designed to be pulled, not pushed. Double-edged scrapers, however, allow you to do both, making them easier for novices to work with.
Blade Size
Smaller blades are for tight, hard-to-reach spaces, while larger blades are ideal for bigger surfaces. If you're scraping the paint off of furniture, a one or two-inch blade is best. However, if you're scraping paint from a floor or wall, a scraper with a larger blade will allow you to get more done in much less time.
Specialties
If you're refinishing furniture, crown molding, or another wood surface with a sophisticated profile, a specialty paint scraper may be top solution. These often have curved edges or triangle-shaped blades to scrape paint from tricky turned surfaces.
Comfort
A paint scraper should be comfortable to use, especially if you have a large project that will take some time to finish. If you're a beginner, a smaller scraper will likely be more comfortable for you to handle, but the comfort of a scraper largely comes down to whether or not it's the right type of scraper for the job at hand.
Workload
Small and compact paint scrapers are fine for smaller jobs. On the other hand, large surfaces and heavy-duty work generally require large scrapers with bigger blades and heavy-duty features. For really big workloads choose an electric paint scraper.
Handle Design
A poorly designed handle can make you fly off the handle in no time at all. Therefore, when shopping for a quality paint scraper, choose one with an ergonomic handle that will allow you to use one or two hands for minutes on end. In addition to providing you with increased leverage when needed and comfort during long and tedious jobs, this will give you greater flexibility in terms of the surface you're refinishing.
Size
Compact scrapers are lightweight and ideal for small, intricate jobs. However, large surfaces and heavy-duty scraping generally requires larger scrapers with bigger blades capable of scraping more paint in less time.
Blade Material
Stainless steel blades are impervious to rust, while carbide blades are unusually sharp and hard, giving them better scraping performance. Unfortunately, due to the hardening process, carbide blades are also more brittle and prone to chipping. That being said, many painting professionals prefer the performance of carbide blades. Plus, replacement blades are usually readily available.
Surface Material
Some paint scrapers work for glass, some are better for masonry, and some are suited for hardwoods. Therefore, think about the surface you'll be working with and choose accordingly.
10 Tips to Get the Most from Your Paint Scraper
Some paint scrapers are made better and more durable than others, but even the toughest paint scraper can break or fall apart without proper maintenance and care. Like anything else, you need to know how to take care of your paint scraper in order to get the most from it and keep it working like a champ for as long as possible. Here are 10 handy tips to allow you to do just that, scrape safely, and achieve the possible results:
Tip #1 – Handle with Care.
Paint scrapers should be handled with care, especially if you're doing woodworking. Pushing it when it's designed to be pulled, or applying too much pressure and unnecessary force may cause it to eventually break.
Tip #2 – Don't Use It On the Wrong Surfaces
Never use a paint scraper on a surface it's not intended for. For example, a scraper designed for wooden surfaces shouldn't be used on concrete, and vice versa. Not only will this destroy the blade, but it will also cause less than stellar results (paint scraper for wood: Bahco 665 Premium).
Tip #3 – Use Large Blades for Heavy Work
Don't use small blades for heavy-duty work. The blade may break and cause an injury. It may also damage the scraper, resulting in the need for a replacement.
Tip #4 – Use a Drop Cloth
When scraping paint, it's wise to use a drop cloth to catch all of the bits of old paint.
Tip #5 – Wear Safety Goggles
Safety goggles should be worn whenever you work on any paint scraping projects. If not, little bits of paint can get in your eyes and cause some serious irritation.
Tip #6 – Scrape One Area at a Time
Whenever you're scraping paint, especially on large projects, divide the area and do one section at a time. Not only will this help keep your work organized, but focusing on one areas at a time will allow you to pay greater attention to detail as well.
Tip #7 – Clean the Area First
Before you begin scraping, make sure to clean the area and free it of any loose debris. While you're at it, take note of any raised or indented spots that may cause the blade to slip or stick.
Tip #8 – Scrape Before You Sand
Generally, you should scrape walls, cabinets, and any other projects prior to sanding them. Although a quality scraper can be used for some finishing work, you should let your sander handle the pre-paint finishing touches.
Tip #9 – Cover Your Arms and Legs
Shorts and short-sleeved shirts can be worn at your own risk, but paint chips may contaminate and irritate your skin, so be warned. To be on the safe side, it's useful to wear pants and a long-sleeved shirt.
Tip #10 – Get Familiar With Your Scraper
Like other tools, you should get familiar with your paint scraper and learn how to use it properly, especially if you choose an electric model.
Buying the Paint Scraper
When buying a paint scraper, make sure it's exactly what you need for your home improvement or craft project. If bought online from the wrong source, returning it could be easier said than done. Also, make sure to choose a paint scraper from a reputable brand known for manufacturing quality products.
Lastly, be informed. Read trusted reviews like ours to help narrow your options and select paint scraper for you and your project needs. By doing so, you're sure to end up with a quality paint scraper that will serve you well time and time again.
Paint Scraper – The Bottom Line
There are plenty of paint scrapers out there to choose from, and we put several to the test. However, only a handful stood up to the challenge.
You're here in search of a great paint scraper, and one of the choices above is sure to suit your needs. So, think about what you need out of a paint scraper, the projects you plan on using it for, and pick one out today.
If you follow our tips and read the reviews one more time, you're guaranteed to end up with a quality paint scraper that will serve you well for years to come!