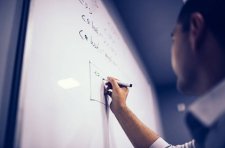 Choosing the best dry erase board for your home or office comes down to just a few questions:
How often will you be using it? (there are three main types: melamine for light use, porcelain for heavy use, glass is the top dry erase board)
Where will you be placing the whiteboard? (home, office, fridge, kitchen, coach board, etc.)
What size do you need? (We have made dry erase boards size comparison table, click here to see)
We have spent 46 hours doing the research and testing most of these dry erase boards so you
don't have to waste your hard earned cash
— so, sit back and enjoy reading our dry erase boards reviews.
Best Dry Erase Boards of 2018
Dry erase board brand, spec.
Dry Erase Board Material (Surface)
Size, HxW, inch.
Mount options
Check Price
Bootstrap Boards Magnetic Whiteboard (

Editor's Choice

)
Porcelain
4,8
18x24
5 adhesives, 2 hanging hooks
Check Price
Audio-Visual Direct: Magnetic Glass Dry-Erase Board Set (

Editor's Choice

)
Glass
18x24,
24x36,
36x48,
36x72,
40x60,
solid metal mounts and quality wall anchors included
Check Price
Dapper Display:
Magnetic Mobile Dry Erase Board, On Stand, Double Sided, Flip Over (

Editor's Choice

)
Porcelain
36x48
included screws (you can hang whiteboard on the wall)
Check Price
Cinch: Magnetic Dry Erase Whiteboard Sheet: with Stain Resistant Technology (

Editor's Choice

)
Porcelain
11x17,
13x20
magnetic
Check Price
XBoard: Magnetic Dry Erase Board, Aluminum Framed
Porcelain
24x36,
30x40,
36x48
Mounts with 4 screws (one in each corner) on the wall
Check Price
Quartet: Dry Erase Board, Magnetic, Black Frame
Porcelain
18x24
Wall mounting (3M Command picture hanging strips)
Check Price
Viz-Pro: Dry Erase Board, Silver, Aluminium Frame (Non-magnetic)
Melamine
18x24,
24x36,
36x48,
36x60
ABS plastic corner with screw-fixing in corners
Check Price
U Brands Contempo: Magnetic Dry Erase Board, White Frame
Porcelain
9x11,
11x14
double sided mounting strips
Check Price
Viz-Pro: Magnetic Dry Erase Board, Silver Aluminium Frame
Porcelain
18x24,
24x36,
36x48,
48x72
ABS plastic corner with screw-fixing in corners
Check Price
Coavas: Removable Dry Erase Sticker
Vinyl
18x78
totally smooth surface that is clean and free from dust and moisture
Check Price
Viz-Pro: Magnetic H-Stand Dry Erase Board (One side)
Porcelain
24x36,
36x48,
36x60
Stand
Check Price
Navy Penguin: Dry Erase Board Set
Porcelain
12x12,
12x15,
18x24
Hanging hooks
Check Price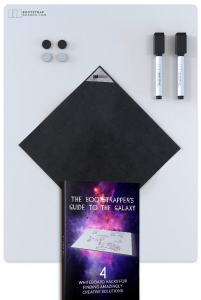 Despite the prevalence of email, texts and the like, there's something less informal and classic about a small dry erase board to put up in your dorm, kitchen or small office.
Leaving short messages that can't be misinterpreted, with identifiable handwriting can actually go a long way towards avoiding miscommunication for one. It's also a lot faster if you need to leave a quick note – texting is an awkward, time consuming affair.
This is an ideal, convenient little white board for just such an occasion. Smaller than a professional white board, but large enough to leave detailed messages or the like, while able to fit in most confined spaces unobtrusively.
It's also a friend to walls, with tack and nail-free mounting solutions readily available.
Dorm room denizens will enjoy this convenient, reusable writing space where they can express themselves and make sure everyone knows what's going on when necessary. Available in two sizes, this white board matches most casual needs quite nicely.
Packaging
This white board comes in 4×8 foot and an 18×24 inch varieties, and includes peel and stick mounting magnets, an elegant microfiber cloth eraser, two thin tip expo markets, four magnetic pins and additional mounting adhesive strips.
This board can be mounted with nails, and includes facilities to do so. It's ill-advised to do so, as its portability is another major feature that makes this board stand out, despite its size.
Performance and Technical Issues
This is absolutely not an industrial/commercial white board. This board performs quite well, and serves its purpose as a simple casual white board quite well. However, even the larger one is too big to serve some of the heavier uses white boards see.
The stereotypical image of intellectuals resolving mathematical problems or planning projects would be ill-served by a white board of this scope, not only due to its size. The markers would go dry or their tips wear out quite quickly with such heavy use. The microfiber eraser is quite capable, but cannot keep up with such heavy volume either.
Moreover, some heavier dry erase markers don't work that well on boards like this. They can actually permanently stain boards without industrial laminate.
You will need to exercise some mild caution when selecting replacement markers, with this in mind.
Is It Recommended?
All things said and done, this is a nice board for casual use in homes, dorms, apartments and small offices. For leaving notes, lists, or doing simple "solving things on paper", it's more than sufficient.
However, as said earlier, this is not recommended for any situation where "commercial" levels of use are called for. While it can be big enough for some of these needs, the markers just can't handle the abuse nor can the eraser. This is definitely a solid recommendation for those casual uses, though.
Pros and Cons
Pros
This board is portable, which means it's excellent for use on tables, laps, etc. as well.
This board is very reasonably priced, and it's a complete kit with all you need to easily mount it. It also includes a book of legitimately interesting things you can do with these boards.
Easy to care for.
Cons
Markers are too small for heavy use, and the microfiber eraser has a finite capacity before it needs cleaned.
Can't hold up to stronger third party markers, meaning caution needs to be exercised when selecting replacements.
Too small for sophisticated applications.
Mounting is finicky.
FAQ
Q: Can this be used in a picture frame?
A: Provided the thicknesses match up, absolutely.
Q: Will this mount on stucco?
A: Varied and granular surfaces don't actually work that well with this type of mounting, unfortunately.
Q: Will there be smaller sizes?
A: The company is currently working on smaller sizes, including a 2×4 foot pack of 4.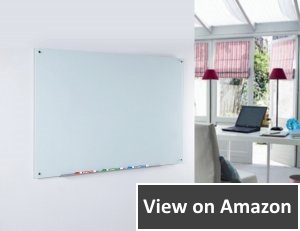 The Magnetic Dry Erase Board Set by Audio-Visual Direct is a beautiful glass option – most durable dry erase board material (surface). It is easy to install and features solid metal mounts. The whiteboard set arrives with high-quality wall anchors, five heavy-duty magnets, and an aluminum marker tray to keep your dry erase markers handy at all times.
The glass composition of this model makes writing extremely easy and clean up a breeze. The surface will not stain from dry erase marker use like other versions. This board measures 35.5 inches by 47.25 inches and is a perfect option for offices and homes needing a reliable model.

Pros
Glass surface resists staining
Easy to wipe clean
Fast installation process
Includes five heavy duty magnets and an aluminum marker tray
Magnetic
Moderately priced
Erases completely for no ghost marks
Cons
Requires very strong magnets to hold anything up
Heavy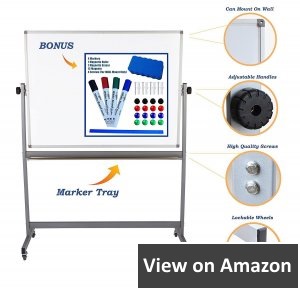 The Magnetic Mobile Whiteboard by Dapper Display is like having several whiteboards in one. Its versatility is fully apparent in its ability to roll on its included legs or hang on a wall. The 3 feet by 4 feet board can even be hung vertically or horizontally, making it completely customizable to your needs and space.
The Magnetic Mobile Whiteboard comes with four dry erase markers, a magnetic eraser, 12 round magnets, a blue magnetic ruler, and a long holder tray to store your markers safely.
Additionally, this board erases completely, so you won't need to worry about ghost marks ruining it after only a few uses.
Pros
Versatile with option to hang or roll
Includes markers, magnetic eraser, magnetic ruler, magnets, marker tray, corner screws
Erases fully for no ghost marks
Easy to clean
3 feet by 4 feet
Affordable
Cons
Very lightweight at 5 pounds, so it is a bit easy to knock over when on the rolling legs if you aren't mindful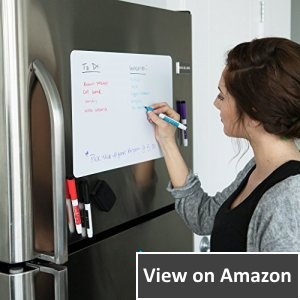 The Magnetic Dry Erase Board by cinch is a terrific model that is smaller and meant for use on your fridge. It arrives rolled up and will flatten quickly once placed on the fridge. At 17 inches by 11 inches, this option is great for making grocery lists or planning out your week.
The Magnetic Dry Erase Board arrives packed with four colorful markers and an eraser. This item is backed by a guarantee that marks up to 40 days old can be completely erased using the included eraser. This choice is great for moms on the go.
Pros
Comes with four markers and an eraser
Sticks to any flat or curved metallic/magnet surface
Easy to clean
Marks up to 40 days old will erase completely
Unframed dry erase board
Cons
May not be large enough for anything other than small lists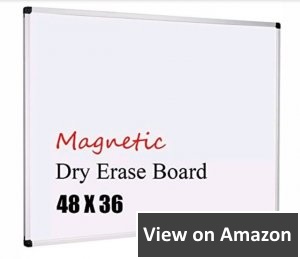 The Magnetic Dry Erase Board by Xboard can be mounted vertically or horizontally to maximize your workspace. It features an anti-scratch, highly protected, magnetic surface. The board is composed of a high grade, extremely sturdy and durable aluminum frame and ABS plastic corners.
This 47.3 inch by 35.2-inch whiteboard is not only affordable, but it doubles as a bulletin board thanks to its magnets. You can pin messages, memos, calendars, and more to it. It's easy to mount on the wall and can be moved and remounted as needed.
Pros
Easy to mount on wall vertically or horizontally
Attachable marker tray works no matter what way the board is mounted
Durable
Easy to clean
Affordable
Cons
May not be large enough for bigger rooms or projects/classes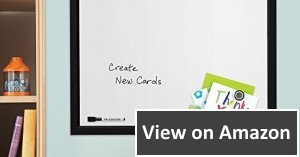 The Quartet Dry Erase Board is a great option for individuals in the market for a smaller whiteboard at home. This option is magnetic so you can pin notes and other important documents to it. In addition to magnets, it is packaged with a magnetic marker and a magnetic eraser so you won't need to worry about misplacing them.
The Quartet Dry Erase Board is a smaller choice at 17 inches by 23 inches. It is enclosed with a black frame, making it easy to blend into any design scheme . It isn't made from as expensive materials as some more expensive options, but it is a good board for personal use at home.
Pros
Magnetic
Comes with magnetic marker, magnets, and a magnetic eraser
Easy to hang
Lightweight
Cons
Smaller sized whiteboard
Will stain and ghost easier as it is not made from more expensive materials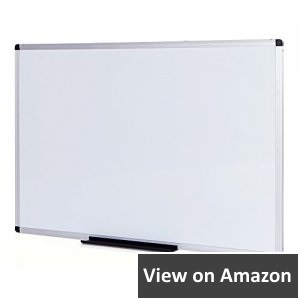 The Viz-Pro Melamine Dry Erase Board features a super smooth surface that makes writing effortless. This whiteboard is framed by a durable aluminum frame that's also lightweight to enable easy installation. It can be mounted either horizontally or vertically to maximize impact and space.
The Viz-Pro Dry Erase Board is an affordable option and is fitted with an anti-scratch surface to keep it looking new and working correctly for years. At 4 feet by 3 feet, it is a terrific size for offices and classrooms. This board arrives with a fixing kit to enable you to set it up and begin using it quickly.
Pros
Affordable
Durable
Lightweight
Great for offices or classrooms
Versatile
Cons
Doesn't come with markers, erasers, or other useful extras
Is not magnetic
8. U Brands Contempo – Dry Erase Basketball or Hockey Coaching Board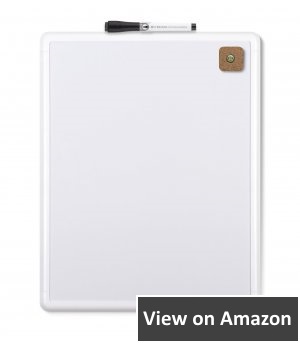 The U Brands Contempo Magnetic Dry Erase Board is inexpensively priced. This model is extremely versatile thanks to its magnetic surface and a pin it corkboard. The whiteboard is part of an extensive line that creates accessories that attach by snapping onto the board's frame.
The U Board Contempo works well with any brand of dry erase marker. It wipes off easily and resists staining and ghost marks. Not only is it priced incredibly but it works efficiently and is extremely customisable and versatile.
Pros
Magnetic and has a corkboard
Great for younger kids and students
Easy to use and clean
15-inch frame with 10-inch blades
Cons
Smaller board is not suitable for larger projects
9. Viz-Pro – Porcelain Dry Erase Board for Home Use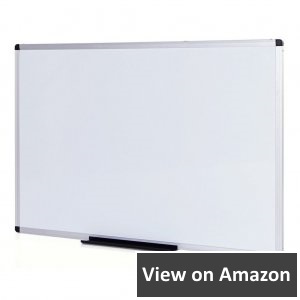 The Viz-Pro Magnetic Whiteboard is a fashionable option decked out with a silver frame. The frame is composed of aluminum, making this a lightweight yet durable choice. The corners of the board are crafted from ABS plastic with screw fixing that makes installation a breeze.
The Viz-Pro Whiteboard is a terrific choice for businesses, educators, and home use. It is 36 inches by 24 inches, making it a medium size that is suitable for smaller rooms and spaces. This erase board is a high-quality choice at an economical price making it a great option for college students to use in presentations or as a study aid.
Pros
Affordable
Lightweight and durable
Easy to mount on walls
Easy to clean
Magnetic
Cons
May not be large enough for larger spaces
Does not come with any accessories such as a marker, eraser, or magnets
10. Coavas – Vinyl Dry Erase Board for Toddlers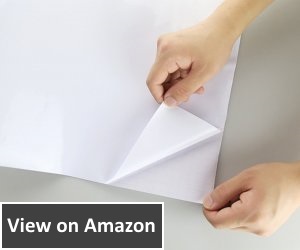 The Coavas Removable Whiteboard is a peel and stick wall decal. It can be removed and moved to a new location quickly and easily. It works good on smooth, flat surfaces as opposed to rough or textured walls.
The Coavas Removable Whiteboard is 17.5 inches by 78.7 inches, making it great for home use, schools, offices, or anyone you need a writing surface that can be moved. This is the perfect option to let kids draw on the wall without hurting it. Top of all, it is extremely affordable.
Pros
Peel and stick wall decal dry erase board
Removable and reusable
Easy to clean
Fun for children
Cons
Can't be used on textured walls
11. Viz-Pro – Large Magnetic H-Stand Dry Erase Board with Eraser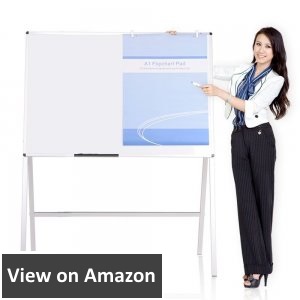 The Viz-Pro Magnetic Dry Erase Board H Stand is a whiteboard set into an easel. At 24 inches by 36 inches, it's a perfect size for office or classroom presentations. The easel itself is adjustable from 51 inches in height to a maximum of 60 inches.
The Viz-Pro Magnetic Dry Erase Board feature a pen holding tray and a movable hook. The hook can be used to hang paper, adding to the versatility of this model. The writing surface is smooth and erases completely.
Pros
Super smooth writing surface
Adjustable easel h-stand
Marker holding tray and paper hook
Easy to clean
Big dry erase boardn
Cons
This model may be somewhat difficult to assemble the first time
12. Navy Penguin Set – Small Portable Dry Erase Board with Hooks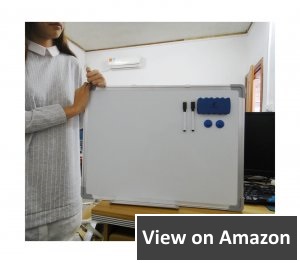 The Navy Penguin Whiteboard set consists of one wall mountable magnetic dry erase board, one blue magnetic dry erase marker, two black magnetic markers, and two magnets. The surface is a resin painted steel that makes writing, painting, drawing, and working fun and easy. It is framed by a heavy-duty aluminum for lightweight durability.
The Navy Penguin Whiteboard Set is easy to install and can be wall mounted vertically or horizontally. It has a convenient marker tray to keep your accessories handy. Measuring at 24 inches by 18 inches, this option is affordable and perfect for dorm rooms to help college kids stay organized.
Pros
Affordable
Magnetic
Durable
Easy to clean
Perfect size for a dorm room, door, or bedroom
Cons
May have a tendency to stain more easily than higher priced models
Best Dry Erase Boards – Buyer's Guide
Dry erase boards are also called whiteboards or markerboards. They have become the standard surface used in most classrooms from kindergarten to college. They are also handy to keep at home for everything from shopping lists to homework.
Dry erase boards can be created in many different sizes. They are also available in different materials. Selecting the right one can seem overwhelming, so we've taken the guesswork out by compiling a guide to help you better understand the many features of dry erase boards.
Comparing Dry Erase Boards Sizes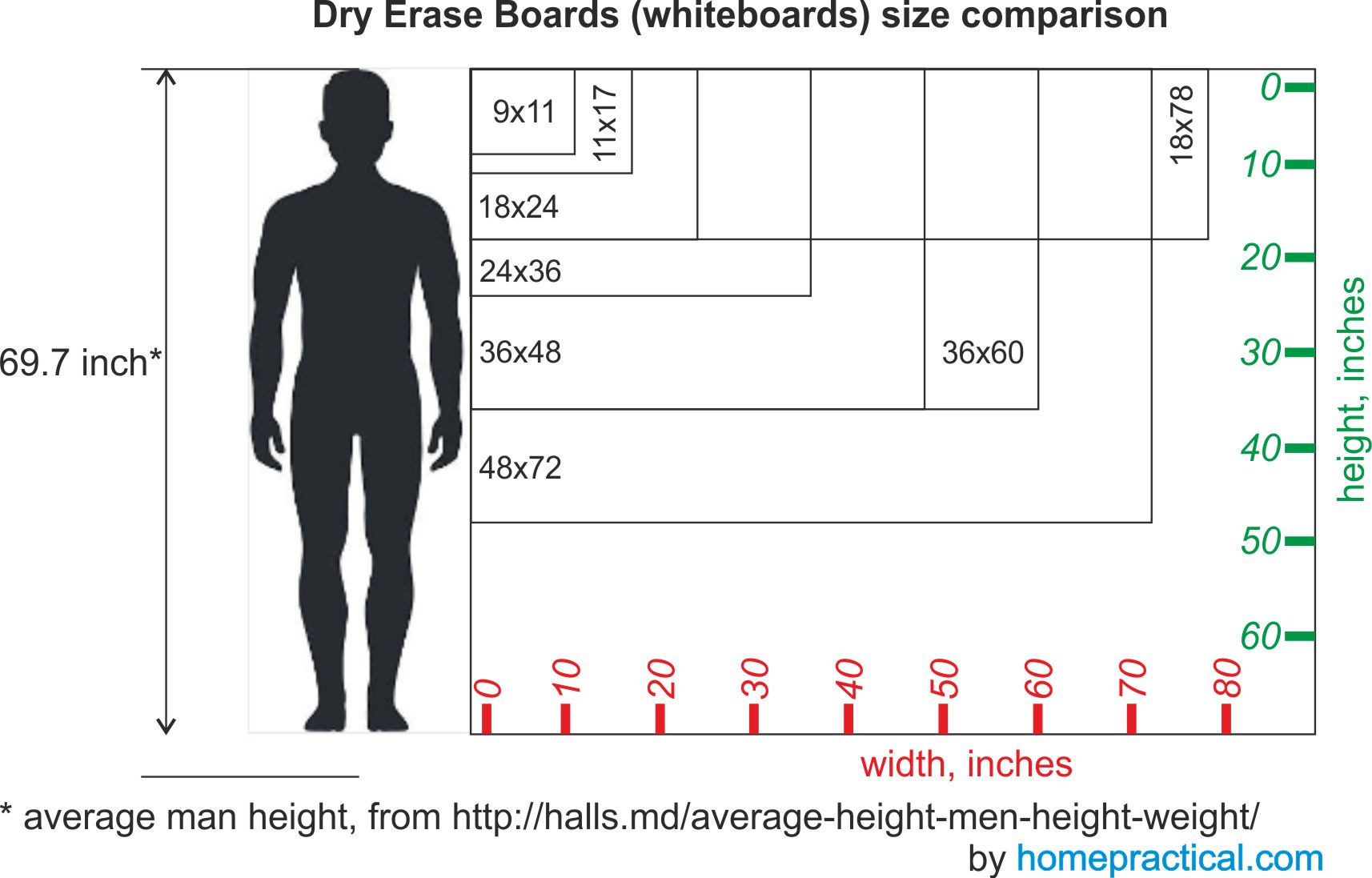 Material Matters
The materials used to compose a dry erase board vary widely. The elements they are made from has a direct effect on the board's durability, uses, storage, ease of cleaning, versatility, and cost. Understanding the different materials most commonly used can help you decipher which will work for your needs.
The most commonly used surfaces for dry erase boards include melamine, Magne-Rite, Dura-Rite, Glass, and porcelain steel.
Melamine
Dry erase boards that are created with melamine are less expensive than other models. The surface is actually a plastic and features a clear coat. It is attached to a hardboard measuring at ¼ of an inch. These boards are suited for areas that do not see too much traffic. Excessive use of this type of board results in it wearing out faster.
Magne-Rite
This type of dry erase board consists of a PVC coated steel surface. It is then applied and bonded to a ¼ inch MDF backing sheet. The inclusion of steel makes this dry erase board magnetic, extra durable, and strong for a lower price. We love how easy and smooth it is to write on this surface and the ease which it can be wiped away.
Dura-Rite
Dura-Rite dry erase boards are created using a high-pressure laminate surface over a ¼ inch MDF board. This version has outstanding dry-erase capabilities, is long lasting, erases completely, and is still an economical choice. Plus this material has a smaller risk of "ghosting," which means that you are still able to see previous marks faintly as they don't completely erase. These boards are excellent for heavy use.
Glass
Glass dry erase boards have become more common in recent years. They can be created in a wide variety of shades and levels of opacity. The glass dry erase boards are tempered, so they remain safe. They offer not only a solution to writing on walls but offer an attractive and stylish look for the wall as well making it an excellent option for hospitals or law firms.
Porcelain Steel
Porcelain steel is well known for its extreme durability. This type of whiteboard features an enameled porcelain surface that has been fused to a backing crafted from steel. These models are magnetic and have a lower gloss sheen. They can be found in ¼ and ½ inch thicknesses. While these items are costlier, they do provide superior ease of use and erase easier than other versions. This type of board is a terrific option for school and college classrooms.
Mounting Options
Dry erase boards can be purchased in a wide variety of sizes, shapes, and mounting choices. In a classroom setting, whiteboards are often mounted directly to the wall, serving as the focal point of the classroom. This is not the only option though, and there are other ways to utilize your new board.
Wall Mounted
Wall mounted whiteboards are a practical option for most classrooms and college lecture halls. They are crafted with hanging brackets or L-clips. Depending on the construction of the intended hanging wall, you may need special equipment or hardware to attach the board properly. However, once you have secured the board to the wall, it can stay safely for decades making this a great long-term solution.
Removable
Sometimes it is imperative that you be able to move your dry erase board easily. Some whiteboards are designed to be removable. They can be attached to an existing chalkboard without a complicated process of installation. This type of board is often less expensive and can be moved to different locations.
Mobile
Mobile dry erase boards are a lightweight yet durable option. This model is sturdily attached to locking wheels and can be found in multiple sizes and reversible board formats. This option is perfect for educators that use more than one room in a school, homeschooling parents, office conference rooms, and more.
Multiple Purpose Dry Erase Boards
A wall-mounted dry erase board can take up quite a bit of space. For this reason, many boards are designed to accomplish multiple purposes as a way to make the most use of them and get the most bang for your buck. Here's a look at some of the excellent features that you can find.
Magnetic Boards
Magnetic dry erase boards allow the use of magnets. This feature is perfect for teachers using letter or number magnets. This can also be perfect for home use, to attach notes or pictures.
Projection Boards
As technology improves the ways we learn and work, the need for spaces that offer higher capabilities for audio-visual demonstrations increases. Projection boards are perfect for multi-media presentations. The board features a matte finish instead of glossy and is grayish in color, which reduces glare while providing an optimum screen to project onto. This version is often thicker and perfectly flat to allow for the visuals. These boards tend to require more cleaning than others.
Combination Boards
A combination board offers a version that is composed of more than one surface. For example, a middle dry erase board that has a chalkboard to the right side and a corkboard to the left. This multiple surface format allows for educators to seamlessly transfer from one surface to another with no need to erase what they had previously put up on the board. This model is also helpful for allowing students to solve problems at the board.
Sliding Whiteboards
If you are short on space, a sliding dry erase board may be the good solution. This version features boards that are enabled to slide across a larger board offering additional writing spaces. It's akin to having several boards in one, so you'll need less storage space.
Graphic Dry Erase Boards
Depending on your needs, there are a plethora of dry-erase whiteboards designed to help. There are boards designed with maps on them that are excellent for use in learning about geography or politics. Others have blank music sheets that you can write notes into to allow everyone to see what to play in an orchestra or symphony. There are versions that aid in developing excellent penmanship or teach anatomy of the human body.
The Care and Maintenance of Your Dry Erase Board
Warranties on high-end models of whiteboards can vary greatly. We've seen warranties for anywhere between one and fifty years. As a result, it's crucial that you learn the proper methods to care for and clean the whiteboard to keep it looking brand new for years to come.
Get Writing with the Right Markers.
Using the right markers for your board is an essential part of its care. The only type of marker that should ever be used is a dry erase marker. Washable markers and permanent markers are not meant for the materials the boards are composed of and can permanently damage them.
Clean as a Whistle
Review the specific cleaning instructions for your whiteboard. Different surfaces require different cleaning methods. Some dry erase boards may need to have a special cleaning solution. Other boards may just need a quick wipe down with water and paper towels. Porcelain steel surface models usually require less cleaning compared to other materials like melamine or laminate. Melamine and laminate boards should be cleaned fairly quickly after use to avoid staining.
Daily Care
A great habit to form when you purchase your dry erase board is to start wiping it off each and every single day, without fail. This will keep your board looking new and fresh.
In closing, Dry erase boards have continued to improve with better materials and technology. They have almost entirely replaced chalkboards as the premier way to educate everyone from preschool to doctoral studies. They are excellent to use in offices and at home as well. We hope you enjoyed our dry erase board buying guide and reviews if our favorite products. Remember to leave us a comment with your thoughts below.